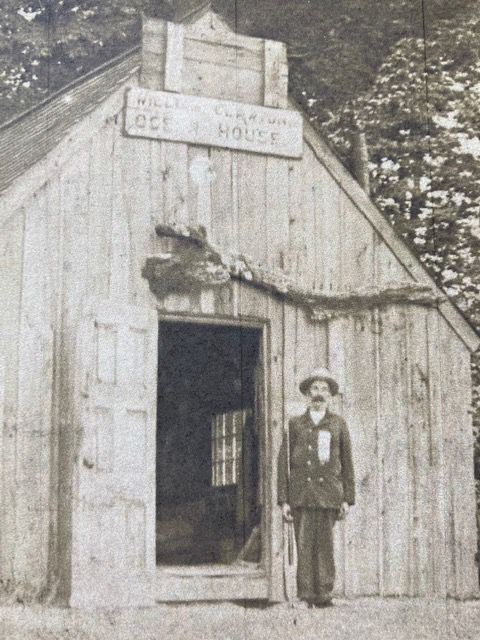 Proudly wearing his Civil War uniform, Billy Claxton (1843-1923), the "Hermit of Owasco Lake," is pictured above in front of his Koenig's Point ocean house.
Billy was born on Jan. 10, 1843, in Hastings, New York. In 1860, with his mother, Mary Ann, and sister Hannah, he moved from the Lake Ontario area to Mandana. Here they lived with their relative Alexander Hamilton Allen, who with his Revolutionary War tract of land, had built a tavern-inn. That site became today's Mandana Inn. Along the west side of Skaneateles Lake, the Claxton family worked harvesting teasel plants in the farm area of what is now Laxton's Florist Greenery. The Laxtons were in the teasel farming business for over 100 years until it died out due to the invention of mechanical "nappers" that could comb wool faster, and at a better price. The old 1840 teasel drying barn was taken down just a year ago. A new and booming industry at the time, with farming, harvesting, packaging and shipping around the world, the teasel business employed more than 300 persons. The town was coined "Teasel Town."
From the Skaneateles Historical Society:
The Teasel Industry. The cultivated teasel (not the wild ones) were first planted here in the 1840s by John Snook from seed he brought from England where they had been used for centuries to comb the nap of woolen goods. The soil in Skaneateles was ideally suited and locally grown teasels soon gained a reputation as superior to the imported varieties. As this reputation spread, it became a major cash crop for local farmers and Skaneateles became known as "The Teasel Capital Of The World."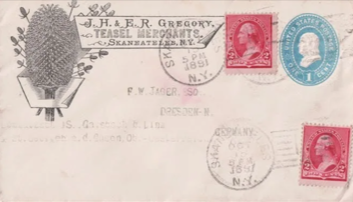 While delving into the teasel business, I came across a group of photographs on this long-gone industry. Pictured in "The Images of America: Skaneateles" book, one photograph depicts two men trimming teasels. One young. One old. The older man with a long beard looked just like Billy Claxton. This week while at the M&T Bank in Skaneateles, I took a longer look at Hall Groat's splendid and expansive 1979 mural of the old days in the village. It hangs behind the tellers. Each time I see this mural, I discover something new. This week's surprise was now seeing a painted image of the same two teasel trimmers seen in the old photograph! Dollars to donuts, I thought it was Billy. I'd love to share that image here, but taking photos behind the tellers is a no-no. Stop in and see for yourself. You don't have to open a checking account. I reached out to Skaneateles historian Jorge Battle, and he kindly dug out the original photograph. My fingers were crossed that Billy's name and a date were written on the back. Your mother always said to do that, didn't she? Billy was a local celebrity/character. An opportunist whom I am sure would have been delighted to pose. But it was not him! Bummer.
The Civil War
In late August of 1862, in Skaneateles, at the age of 19, Billy enlisted in the Union Army, Company G. Engaged in heavy artillery, his regiment was the 149th Infantry. That December he was injured, the details of which are not known, but he did require surgery that was performed in Philadelphia. It is noted in his surgical documentation that his eyes were blue, his hair was brown, his complexion was fair and his height was 5 feet and 3 inches. After recovery, he was discharged in June of 1863. He came back to Skaneateles and may have returned to teasel farming. In February of 1864, undeterred and doubly determined to get back, he reenlisted in Auburn. Now in Company D, 3rd Regiment, he was engaged in light artillery at Fort Totten, as part of the defense of Washington, D.C. In June of 1865, the war over, he mustered out at Albany.
And marching home he came. Census records indicate that he was a laborer on various farms on the east side of Owasco Lake. In 1870 he was working and living at the Mattoon Farm in Niles near Conklin's Point. In 1967, my Mom and Dad bought this house and raised five children here. Hence, my connection. A century prior, with the Mattoon brothers James Newton and John Watson, also veterans of the Civil War, Billy helped the family get back on their feet. There was much sadness at the time. Cornelius Wilson Mattoon, the son of Hannah and Morgan and twin of John Watson, had died during the war. He succumbed to "consumption," later known as tuberculosis. Brought back by Benton and Watson, he was buried in the Owasco Rural Cemetery. In addition, the Mattoon home, known as a halfway house, had burned to the ground in 1865. Halfway houses, with a much different meaning than today, were "stopover" establishments located in a family home for food and drink and lodging.
In a sad letter from 1865, preserved by Laurel Auchampaugh, the Owasco town historian and great-great-granddaughter of proprietress Hannah Mattoon, Hannah writes to her son (excerpted here):
I again seat myself to write you a few lines although with sorrowful feelings. For I have not writing to you since the relentless hand of death has took from us our loved one and we know that it is the hand of the Lord that hath done it, but yet how hard it is to give him up and think that he died away from home and friends but we hope he had good care and trusted in the Lord to & that he has gone to rest. but so it is ever in life for even in its midst we are in death. O how many hearts are draped in mourning for desolation this war has wrought among our people and yet it must be for good. Or God would not permit it. It will be hard when others welcome home their loved ones to know that some of ours can never come. i am alone and it seems quite lone some to, for it looks so different i sometimes think i ant home. o dear what a site of trouble i have seen since you left hear it seems it has been one trouble after another this year and losing our house. The trees they have cut all most all of them down and what they havnt will have to be cut down as they are adieing (dying) o it look desolate. its like the ruins of babylon.
This section of the east side lake road, not yet titled or fully built, was later named Koenig's Point Road. Then renamed the Rockefeller Highway, it is now called Rockefeller Road. The Mattoon halfway, many years prior, was only accessible from the road down nearer the lake and had been open since the 1840s. The brothers, being able carpenters, rebuilt the home and Hannah continued her business until the 1890s. Billy Claxton worked on their farm until 1884, when Hannah asked him to leave. According to Laurel Auchampaugh, Billy did not bathe. Ever. He was distinctly odorous and a hindrance to Hannah's business. Billy packed. Perhaps he had a PTSD condition from the Civil War. He left the house on the hill. But he did not go far. Just down the hill, the open shore line of Conklin's Point was the perfect spot to build a lakeside home.
The Claxton ocean shack
No doubt with help from the carpenter Mattoon brothers, Billy built his shack on Conklin's Point. The shore at that time was wide open. It was part of the pioneer Conklin farm that stretched up and over the hills going eastward and down through the woods to the south. The shack had windows, a stove for heat, a ceiling that was insulated with a packing of Citizen-Advertiser newspapers and a front door just steps from the lake. A sign overhead that read "William Claxton-Ocean House" hung like a marquee. Cold in the winter? Billy said the February snow drifts piling up kept him snug from the winds that swept over the frozen lake. When May rolled in, the lake jumped to life. Often, lost cows from the Conklin farm wandered down by his shack for a dip into the water. An able fisherman, Billy became known as a guide for other fishermen who were hoping to hook a whopper. He knew where the big trout could be lured from their deep watery haunts. Anglers would stop by to purchase fresh bait before they headed with their rods down to Long Point or across to Fay's Point. A popular storyteller, his tales were an added attraction. Billy was a sought-out weather forecaster. He gathered his predictions watching and listening to the birds and squirrels. A tradition began with those of local prominence to carve their names into the side boards of his shack. Having homes further down the lake and en route docking at Conklin's Point, I'd like to think that William Seward, Thomas Mott Osborne or Theodore Medad Pomeroy, with a jackknife, may have left their marks on Billy's shack.
In 1909, Conklin sold his farm to brewery magnate and Democratic Auburn Mayor C. August Koenig. A taciturn and generous man, August Koenig allowed Billy to stay. He even had the shack's interior painted white, making it a bit more cheerful. Stories note that Billy did not know what to make of such newfangled notions. Late in the summer of 1909, the Koenig's Point Hotel was ready for business. German societies and Masons from Cayuga and Tompkins counties held large picnics there each summer. It was reported that one event brought 1,500 persons to Koenig's Point, spreading picnickers east into the meadows. With each man bringing his own mug, barrels and barrels of Koenig Beer were emptied. Not as boisterous, the Groton Typewriter Club held an annual dinner at the hotel. To secure the fishing business, Koenig would yearly stock the lake with thousands of trout. In following seasons, opening day was always Decoration Day. Organized in Waterloo in 1866 to honor the Civil War dead, Decoration Day was in 1971 renamed Memorial Day and, by an act of Congress, declared a national holiday. It is noted in a 1911 advertisement for the hotel's dancing pavilion that in addition to strings of electric lights, "An orchestra plays waltzes and two steps in the afternoon and evening." There were 30 sleeping rooms. Romantic paths under the tall trees beckoned young lovers. The menu boasted soft shell crabs and frog's legs. And beer! Lots of beer. Ice cold Koenig bottled beer. It was not necessary to book a room if you wanted to escape the soot-filled industrial air, heat and humidity in Auburn; you could pack a lunch basket, take the morning steamer, The Nymph, and chug, chug, chug up from Lakeside Park, spend the day swimming, picnicking and perhaps waltzing at the hottest spot on the lake! Was this the seed for Studio 54? Evening sing-alongs around the campfire could be heard across the water over to Wyckoff Point. "A Bicycle Built For Two," "By The Light of The Silvery Moon" and "Let Me Call You Sweetheart" were popular then. Can I please get a ride in Sherman and Peabody's Wayback Machine? Pretty please?
With the hotel buzzing right next door, Billy's ocean shack ran a steady business. He not only sold bait, his merchandise now included tobacco, gasoline and candy. Children came running when he shouted "Cracker Jacks!" Everybody wanted to meet Billy. He became famous. A postcard of Billy and his ocean shack was printed, cementing his legend status.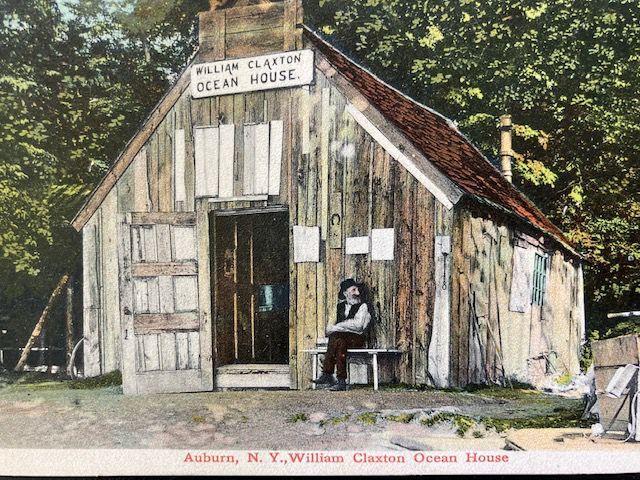 From a 1975 Syracuse Post-Standard story titled, "Lake Children Recall Colorful Characters":
Mrs. Charlotte Kruger, whose family's roots descend for six generations to Amos Underwood, A young carpenter who settled in Auburn 1819, described Willy. (Note: He was referred to in this article as "Willy.") "I was 10 years old and remember he looked about 100. He had a long white beard and I picture him grizzled and small." The Underwood cottage was at Long Point, south of Koenig's Point. Mildred M. Westlake, whose father purchased all the land on the north side of Long Point in 1888 mentions Willy in a 1969 history of the point. "Willy was highly insulted when my Aunt Louise appeared in a popular though scandalous Annette Kellerman one-piece bathing suit. This was a very shocking sight to Willy who told her to "Get out of his sight as he was expecting some respectable people any minute!"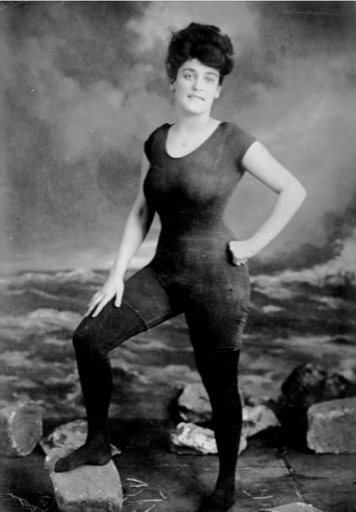 Billy leaves his shack
Age was catching up with Billy. No doubt colder in the winter than he let on. In 1920, now 77 years old, he moved to Skaneateles to live with his half brother Frank Claxton. There were motor car trips back to his beloved Owasco Lake for visits. It deeply saddened him not being able to stay on Owasco. His heart broken, he would sigh and sigh until back over the hills to Skaneateles. At his brother's home, Billy died on May 10, 1923. A loving tribute to Billy was headlined in The Citizen-Advertiser: "Death Beckons Billy Claxton, Owasco Hermit. Weather Sharp, Angler and Friend of Wildlife Dies In Skaneateles." It later states: "There was hardly an animal on four feet or a bird in the trees that did not regard him as a friend. Gray and red squirrels would advance boldly and chattering right into his kitchen for scraps of food. Kindness to birds and dumb brutes was one of the characeristics of the recluse. As a result, his camp was a mecca for stray cats and dogs and they all received the kindest of treatment and plenty of grub."
The Volstead Act
1920 to 1933. No booze! Dry on Owasco. Prohibition, also known as the Volstead Act, was passed. The temperance movement shut down the party. And that included Koenig bottled beer. Padlocked because of violations in 1924, the hotel reopened, but struggled and began to sag. You can't make a buck selling Moxie soda or root beer. Padlocked again in May of 1926, the law closed it for the season. A few weeks later in June, C. August Koenig died. In 1930, the hotel was in bankruptcy and held by a bank in Syracuse. On an early Sunday morning in the late summer of 1932, an electrical fire destroyed the hotel. A short circuit, some said. Headlines in The Citizen-Advertiser the next day read: "Flames Raze Popular Resort Of Old Days. Koenig's Point Hotel. Three Story Structure on Owasco Lake Was Reduced To Ash Heap In Short Time. Conflagration A Roaring Requiem For Place Years Back. Joyous With Picnics And Cold Beer. Hulk Of Steamer 'The City Of Auburn,' Another Ghostly Reminder of Glamorous Past." Arriving within half an hour of the call, the fire trucks were not able to get through, as the bridge from the road to the lake was down. Hotel manager Fred Clark and his wife were the only occupants at the time. An alert from a cottage neighbor roused them and they escaped. The flames and smoke could be seen for miles. Boats of all kinds raced to the scene. In under an hour, the hotel was a smoldering ruin. The story mentions Billy and his time on the point. "It was at Koenig's too, that the old hermit of Owasco Lake lived there for years; Billy Claxton long since dead. His shack which he occupied winter and summer stood on the vantage point just above the water line. But Mr. Koenig would not have him disturbed after he bought the point." A year later in 1933, a real estate listing read: "No Mistake! Look! 23 Choice lots at Koenig's Point at $100.00 each cash. Come quick and have your choice. See Fred Clark."
May 2021
The shacks on the lake are long gone. The boards of which were probably burned in campfires that toasted marshmallows and hot dogs. Camps now have wrap around decks and central air. But those sunsets. Those melting Owasco sunsets delight and amaze us today as they did back then.
Billy is buried in the Skaneateles Lakeview Cemetery. A few weeks ago, I took a trip over there to visit his grave. I had something for him. Harder to find than I had expected, I spent the better part of a Friday afternoon looking for him. I easily found his brother and sister. But no Billy. Up and down and over and over the grassy rows I searched. He's listed on the cemetery map. I'm in the right section. Why can I not find him? Saturday morning, I went back and this time, heading in from a different direction, I found him in less than a minute. That rascal! Over there in the old stones, nestled in the slope of a small hill, with the sun beaming through the tall pines and decorated with dandelions, Billy rests in peace in the good company of robins, crows and squirrels. Thanking him for his generous service to our country, I planted a fresh flag. I also brought him a few stones from the site of his Koenig's Point ocean shack and placed them on top of his headstone. And I will every year.