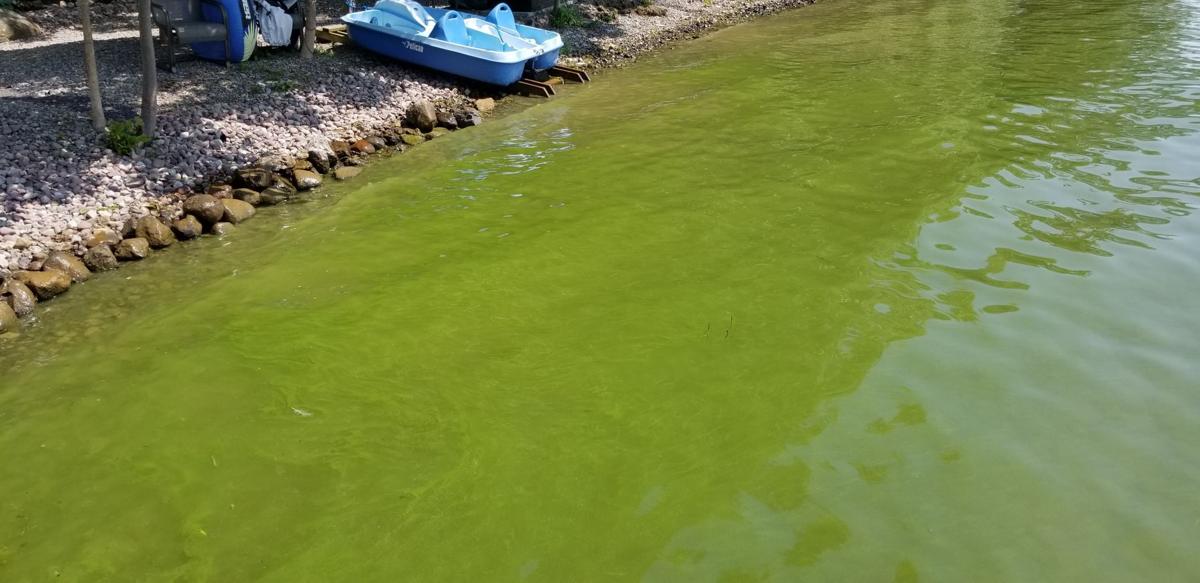 You probably all know the acronym HABs (harmful algal blooms) by now, but maybe not HWA. HWA stands for hemlock woolly adelgid. HWA are tiny pests moving north, killing hemlock trees as they go. In this article, I'll highlight the return of HAB season to Owasco Lake and the serious problem being caused by HWA. I also want to convey news about construction of a third settling basin near the inlet in the Owasco Lake flats.
As you read this article, we probably are or soon will be experiencing the seemingly yearly outbreaks of harmful algal blooms on Owasco Lake again. That has been the case since at least 2012. HABs make their presence known by turning the lake's water a sickly green, often with thin wisps of what look like algae. The green stain and those streaks, though, are not green algae, but instead are a form of bacteria. "Sickly" is a good description because these bacteria often release a toxin into the water that causes skin irritation and, if ingested, damages the nervous system. The state DEC explains that since it is hard to tell a HAB from a non-harmful algal bloom, it is best to avoid swimming, boating, otherwise recreating in or drinking water with a bloom. Follow the rule: "know it, avoid it, report it." Quoting from the DEC HAB website, "HABs are likely triggered by a combination of water and environmental conditions that may include: excess nutrients (phosphorus and nitrogen), lots of sunlight, low-water or low-flow conditions, calm water, and warm temperatures. Depending on the weather and the characteristics of the lake, HABs may be short-lived (appearing and disappearing in hours) or long-lived (persisting for several weeks or more)."
OWLA continues this season its shoreline surveillance staffed by more than 20 volunteers who, on Mondays or Tuesdays, walk the shoreline looking for near-shore HAB outbreaks. Of course, they can only see the immediate shoreline, not further out. Our OWLA 2020 leads are Bill Phillips and Lisa Heaton. If you see a possible bloom, contact Bill at (585) 766-1762 or Lisa at (585) 766-8340. You also can take a photo and upload it to the state DEC to assess at dec.ny.gov/chemical/83310.html.
Threats to our hemlocks: We don't know how many stands of hemlocks we have in the Owasco Lake watershed. Perhaps 20% or more of our forests. No inventory of how many and where it exists. We do know that because hemlocks grow in dense groves, their roots interlock, making them excellent erosion preventers. We know they are under attack by hemlock woolly adelgid. Many of the watershed's hemlock groves are in the often-steep ravines leading down to the lake. Some are survivors of the original forests, as cutting and extracting them was too difficult.
We are fortunate to have one of the world's premier HWA research institutions at Cornell University. Researchers are making progress finding and introducing natural insects that are predators of the HWA, but until such biologic controls become widely prevalent, the only response available is chemical treatments that must be repeated every six to seven years.
The first step, though, is to find and assess our watershed's hemlocks. OWLA is leading the charge to do that with support from the Watershed Inspection and Protection organization and the Owasco Lake Watershed Management Council. Volunteers are being trained now to recognize hemlocks and those infected with HWA. The survey work will begin in earnest this mid-November. You can help, too. If you have hemlocks on property in the Owasco Lake watershed, please notify us at owla.org. The step after assembling the hemlock inventory is to raise money to buy the chemicals and hire professional applicator people. Chemical treatments will begin next March.
Meanwhile, down on the flats, Bruce Natale, environmental engineer for Cayuga County, reports that a third settling basin will be constructed this year adjoining the inlet south of Owasco Lake. This one will be larger than the previous two, finished last year, put together. The idea of a settling basin or settling pond is to divert a sizable volume of water during a high runoff event and let it slow down, which causes the sediment it carries to settle out on the bottom of the basin. The less sediment making its way down the inlet into the lake, the better for the water body's long-term health. Bruce says the current two settling basins captured about 60 tons of sediment created by the storm on May 1.
For more information about these and other Owasco Lake and watershed topics, or to join OWLA, please visit our website at owla.org.
Dana Hall is president of the Owasco Watershed Lake Association Board of Directors. For more information, or to join OWLA, visit owla.org.
Be the first to know
Get local news delivered to your inbox!