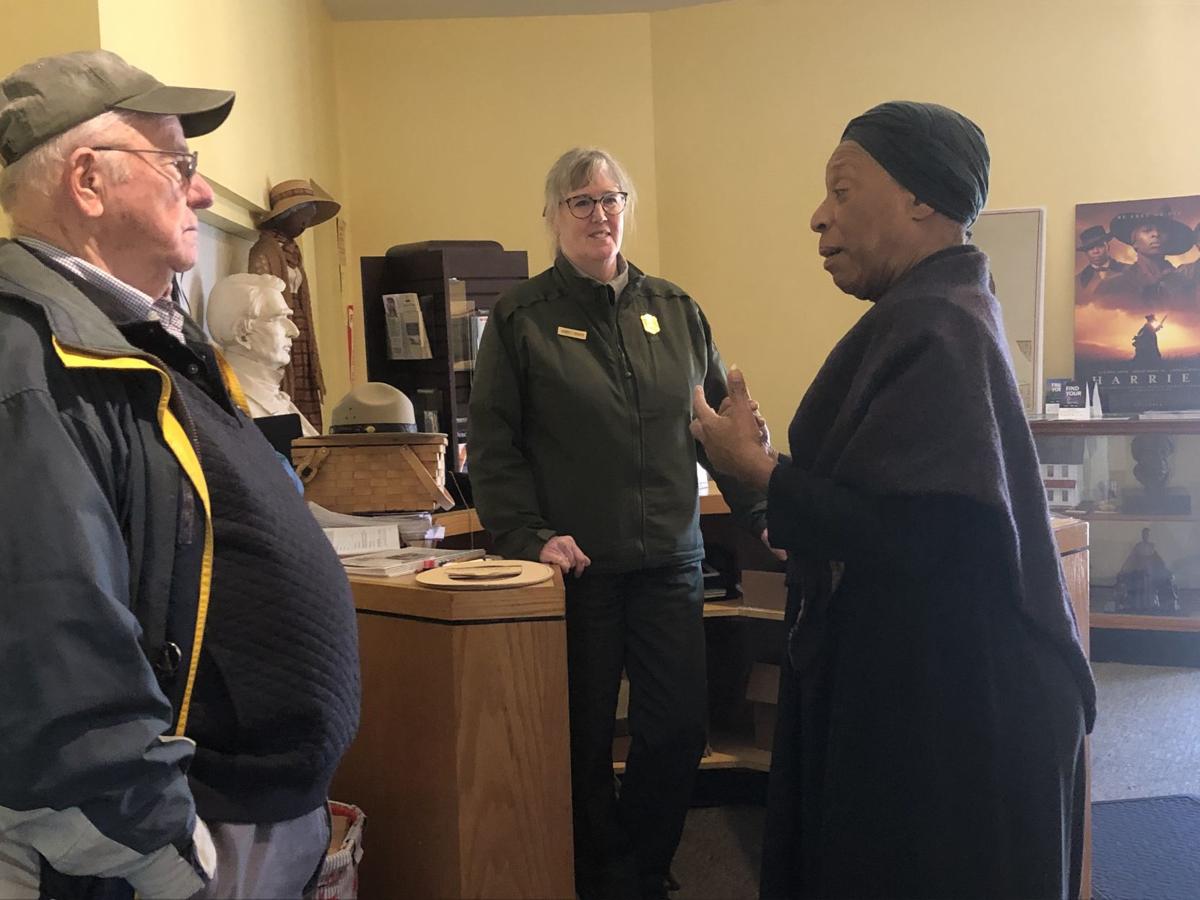 AUBURN — When visitors entered the Harriet Tubman National Historical Park center on Sunday, they were greeted by a likeness of the icon herself: Tubman interpreter and actress Gwendolyn Briley-Strand.
Dressed in clothing of the period, Briley-Strand introduced herself as "Ms. Tubman," accompanied people around the center and answered questions. Meanwhile, Park Ranger Kimberly Szewczyk led children through an activity about archaeological digs.
The children sifted through a sand box to find "artifacts" — like pieces of an antique plate, a bottle cap, an earring, a figurine — and used clues about the item to figure out if it was an antique or not.
"It really gives them a good hands-on activity so they can understand the science behind archaeology," she said.
When Natalie Miller, 8, and her 4-year-old sister found a new item, Szewczyk asked them what time period they thought it was from and what made them think that. 
"We were trying to figure out what was old and what was new and what was different about the old and the new," Natalie said.
The activity was inspired by a real archaeological dig conducted around Tubman's original wood-framed home that burned around 1880 on the site of the brick house currently on the property. Many of the artifacts in the center's collection came from that dig, Szewczyk explained.
"This is letting them know the work that's happening now, the artifacts here in the visitors center, and how this work is continuing and what it's going to tell us about Harriet Tubman," she said.
Briley-Strand felt giving visitors her historical reenactment of Tubman at the door made a difference to their experience as they walked through the center.
The previous night, she performed her one-woman play "Harriet Tubman: The Chosen One" at the Cayuga Museum Carriage House Theater. The show traces the former Auburn resident's time helping slaves escape through the Underground Railroad.
She described her performance, which she's taken across the United States and Canada, as giving facts a three-dimensional form. "When you do that, then people absorb it more," she said.
Staff writer Mary Catalfamo can be reached at (315) 282-2244 or mary.catalfamo@lee.net. Find her on Twitter @mrycatalfamo.
Be the first to know
Get local news delivered to your inbox!