UNION SPRINGS — When Kirsta Malone first met Matt Chadwick, he had braces on both of his legs. 
Born with a traumatic brain injury, Chadwick could only use one hand and needed a walker to get around. But in fourth grade, he had a request: Chadwick wanted to ride a horse. 
A licensed occupational therapist at Chadwick's school, Malone was also the owner of Green Goose Acres in Union Springs, where she had several horses on her farm. And together, she, Chadwick and his parents decided to give it a go. 
"For that first year, all we worked on was getting him to sit in his saddle because his balance was so poor," Malone said. "But as we saw tremendous gains in his core strength and balance ... I changed him to a different saddle which had very little support. And we continued on our riding progress." 
For four years, Malone worked with Chadwick, switching saddles that required the use of two hands and more balance. Soon, Chadwick's doctors removed his leg braces. Then he stopped using his walker and began typing with both hands. And now, at 25 years old, Chadwick has moved into an apartment in Union Springs, where he rides horses on his own. 
"He's incredible," Malone said. "He lives by himself now and is basically totally independent. Matt is such an amazing story and I feel very blessed to be a part of it." 
Still, Chadwick is just one of Malone's many success stories in Cayuga County as she continues to use her experience as an occupational therapist and her love of horses to help others. 
In 2012, Malone resigned from her job at Lifespan Therapies and began studying hippotherapy, a strategy in which trained occupational, physical and speech therapists use horses to treat people with neurological, muscular and sensory impairments.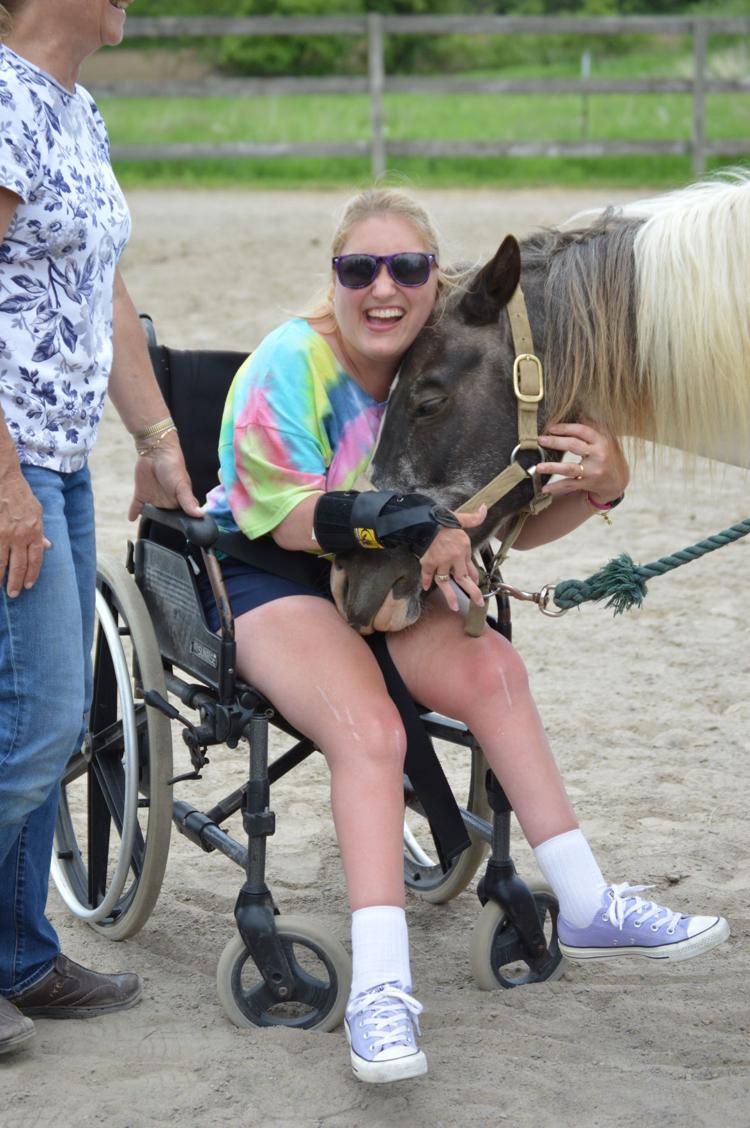 "When you put a person on a horse's back, their pelvis is directly in line with the horse's pelvis," Malone explained. "In one half-hour hippotherapy session, the horse takes 2,500 steps ... whereas in a half-hour physical therapy session in a clinic, you'd maybe get 100." 
In addition, Malone said, hippotherapy is the only therapy that can stimulate every portion of the human brain, as the horse provides visual, auditory and sensory information while engaging a person's emotions. 
"It really dawned on me that this was a viable strategy for helping a lot of people," she said. "So I started with a couple of patients that were on my school-based caseload, and we just grew from there." 
But as Malone began to expand her services, she found most clients could not afford her treatment, as many insurance companies do not cover the cost of hippotherapy. 
That's why, in 2015, Malone opened the not-for-profit agency Healing H'Arts Equestrian Center, allowing her to qualify for grants and provide scholarships to patients. 
Last year, Malone said Healing H'Arts treated 10 patients with hippotherapy and two patients with "therapeutic riding," a less intense, recreationally based program. As the organization plans to build an indoor facility in the spring — which will extend her programming all year-round — Malone said she expects her list of clients to grow. 
"There is a big need for hippotherapy in Cayuga County," she said, noting that she already has five people on a waiting list. "We've also been contacted by a couple of agencies that would like to do group therapy riding, which we hope to accommodate as we expand our facility." 
Fortunately, Malone said, Healing H'Arts was one of five "What Matters to You?" contest winners last month, winning a $500 grant from the Central New York Community Foundation that will help build the new barn and indoor facility. Still, the program will need more funding, therapy horses and volunteers, as it only has four horses currently trained for hippotherapy and needs three volunteers — two side walkers and a horse handler — for each session. 
"It's been quite a journey ... and we've had a lot of great stories here at Healing H'Arts," Malone said. "From a little boy who had autism to a young man with Down syndrome, every single one of them has a story. ... And hopefully we can find the funds and volunteers to be able to share some more." 
Be the first to know
Get local news delivered to your inbox!