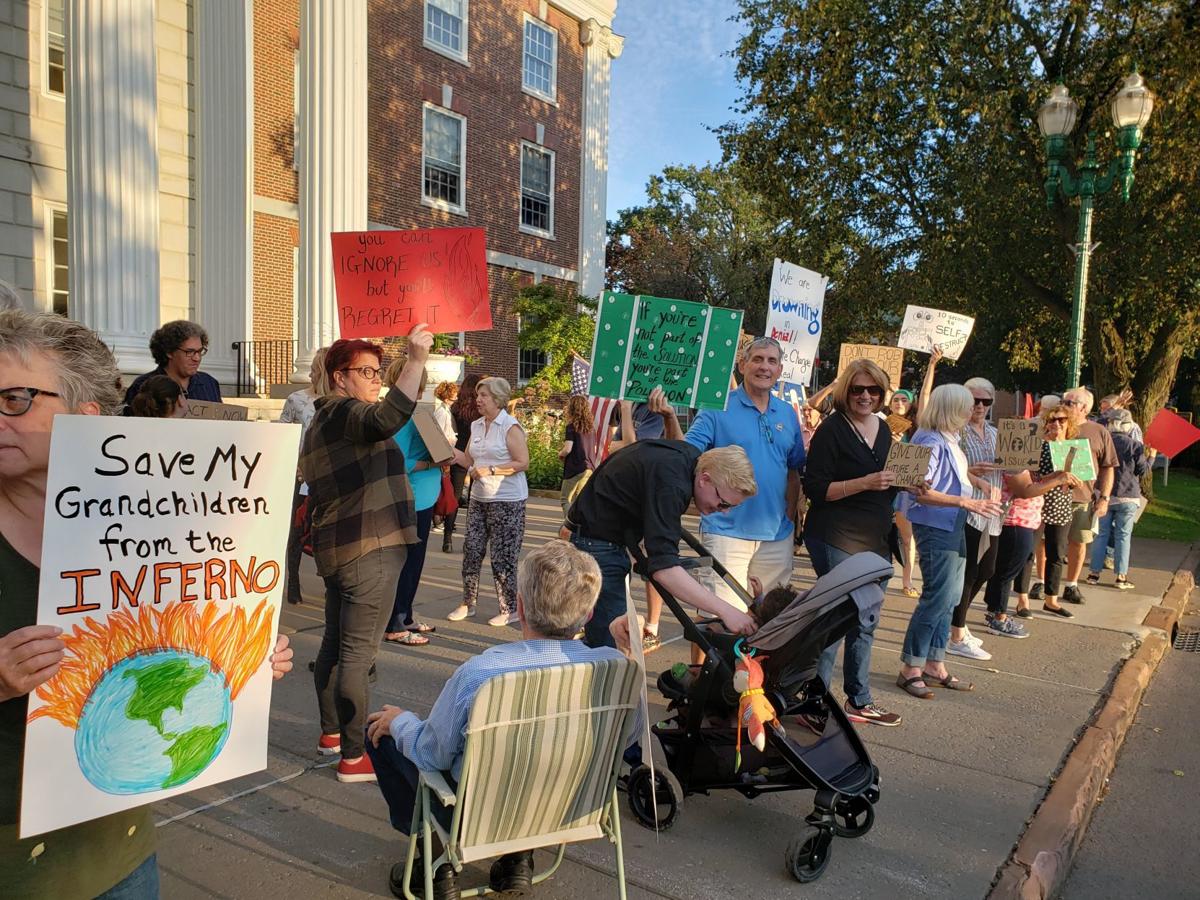 On Sept. 20, 2019, approximately 60 Auburn residents gathered at Memorial City Hall to join millions around the world in a youth-led climate strike, demanding immediate and deliberate action to address the global catastrophe that is upon us and to envision a sustainable path forward.
As a pastor, I knew that I needed to be a part of the movement. At the time, environmentalist Bill McKibben told pastors to show up. His reasoning was clear: "The gospel call to love one's neighbor is, in our time and place, most fully a call to do something about climate change, because at the moment, we're drowning our neighbors, sickening our neighbors, making it impossible for our neighbors to grow food." He wrote further, "Ministers(are) out front in their collars, making it clear what a moral issue this is. ... This is the dominant scientific and economic issue of our century. It's also the dominant theological issue."
The creation story of Genesis tells us that God fashioned humanity out of, and for the purpose of, intimate relationship with the earth. We come from the very ground beneath our feet. The creatures of the earth are created to be our friends. We are commanded to tend and care for the earth, to keep the garden. The psalmist sings of a world, a vast universe, of seas and skies, trees and roots, mountains and worms, in which all are connected, all sing the praise of God. And when the Bible closes with Revelation, it does so with a vision that combines garden and city. The tree of life is planted smack dab in the center of human life. A river — of living water — runs through the city, feeding that tree of life, which heals the nations.
AUBURN — A crowd of about 70 gathered at the steps of Auburn City Hall Friday to take part i…
Before anyone objects, "That's meant to describe heaven!" let me remind you of our most sacred prayer, taught by Jesus himself: "On earth as it is in heaven."
If God's will is shalom — a holistic peace and well-being for all, knit together by God's love — then we must seek shalom for the earth and all who dwell upon it. We dare not call ourselves Christian otherwise.
At that rally in September, I tried to imagine what we within the Judeo-Christian tradition can uniquely offer the world in this moment. We know well the passion and genius of our activists, particularly our young people. We also know the brilliance and determination of our scientists. What can faith offer that's not already present?
We can offer lament — an ancient tradition of naming our hurts, claiming the truth (no matter how painful), and staring into the dark unafraid.
We can offer confession — an opportunity, not for guilt, but for freedom. Confession is how we name the wrongs with which we have been complicit and become free to live tomorrow as a new person, with a new future.
We can offer discipleship — the commitment of our life to the purpose of God, "on earth as it is in heaven." We know that there is no faith without action, and no love without total commitment.
We can offer hope, for we believe in a God who is more powerful than death itself, who can defeat hate with love.
Finally, we can offer love itself. The environmental movement has done a superb job of raising awareness about the threats to our world. But such awareness has changed little. What we need are experiences that make people fall in love again with this creation, to hear it reverberate with praise and joy. Fear is not enough. Knowledge is not enough. Guilt and sacrifice are not enough. Only love suffices; only a passionate and joyful alternative vision, and experience, of life will save us.
This is a world of joy — of birdsong and water that gladdens the heart and oil that makes the face shine and great creatures that elicit awe and wonder. We should take more hikes, plant more gardens, swim and sail, enjoy and tend Auburn's Permaculture Park, teach our children to love the woods and the lakes and the hills — indeed to hear God speaking to them there. For, when people are loved, and when they are moved by love, they will stop at nothing to save the source and object of their love. So, let us love the earth better — with serious action, but also with joyful play. For how we love one another, and how we love the creation that ties us together, is how we love God.
The Rev. Patrick David Heery is the pastor of Westminster Presbyterian Church in Auburn, and the former editor of the Presbyterian Church (USA)'s denominational magazine, Presbyterians Today. A graduate of Princeton Theological Seminary, Heery lives in Auburn with his wife, Jenna, their son, Emerson, and their two dogs, spending much of their free time hiking the countryside.
Be the first to know
Get local news delivered to your inbox!