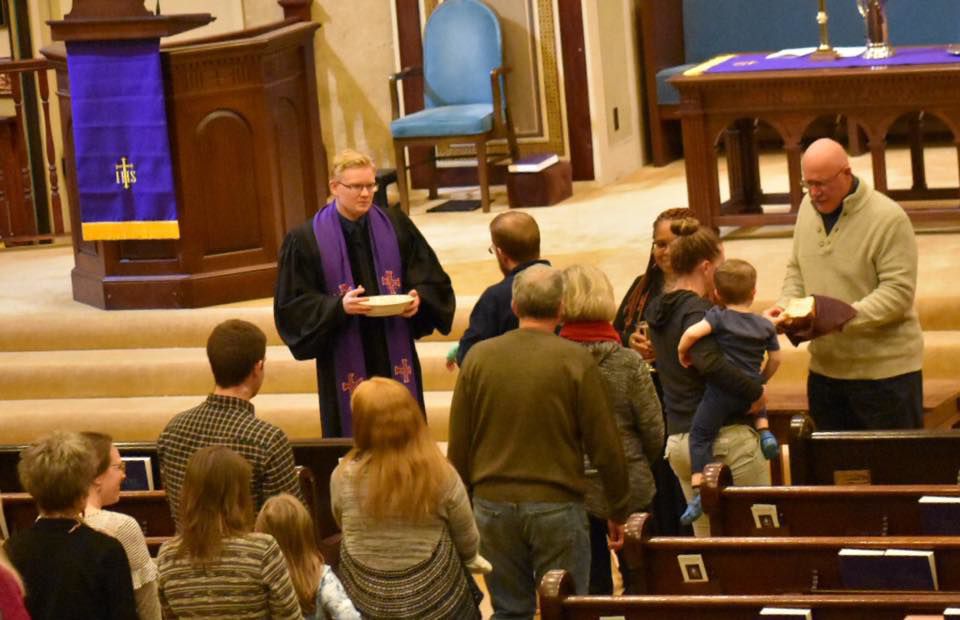 A few weeks ago, on the first day of Lent, Christians all across Auburn were marked in ash and oil, with the sign of the cross. To some of us, it might seem odd to be marked with a device of death — disturbing even, as if someone were to propose drawing a gas chamber or electric chair on our forehead!
In the early history of Christianity, the cross was such an odd and repulsive symbol that it was rarely displayed publicly. In the world of the Romans — which was the world in those days — the cross was a curse. Take the Roman writer Plautus for example: he uses the phrase "go to an evil cross" as slang for "go to hell." The cross was such a brutal and humiliating way to die that it was generally forbidden to nail a Roman citizen to a cross. The cross was reserved for slaves and foreigners, criminals and undesirables.
In a play by Plautus, a slave says that the cross is his future, saying, "I know that the cross will be my tomb; there my ancestors have been laid to rest, my father, grandfather, great-grandfather, great-great-grandfather."
Romans ridiculed Christians for worshiping a savior who died on a cross. And they used the cross as a means of identifying Christians. This is part of why you find so few public displays of the cross in those early centuries. It is generally disguised — such as an anchor. It wasn't until Constantine, and his adoption of Christianity and new laws that put an end to crucifixion, that undisguised crosses began to appear.
Yet, remarkably, the Gospel authors chose to focus on the cross. It would have been so easy to glide over that ugly detail and rush to the resurrection, and yet not a single Gospel does; they face the pain and shame of the cross head on. They use the cross to show that Jesus was a different kind of savior, one who saved us not through strength but through woundedness, not might but love. They gloried in the fact that Jesus was a foreigner who died a slave's death, who made his tomb with criminals, rebels and undesirables, with the poor and the wounded. Because he was one of them, and he came to set them free.
The cross appears over and over again in the writings of Paul. In 2 Corinthians 5:20-6:10, we hear the author describe discipleship with slave and rebel words — hardships, beatings, imprisonments, riots, hunger — and with the words of love, patience, kindness, and truth.
In private and among Christians, the cross slowly became a sign of faith. Tertullian in 204 CE records that Christians would trace the sign of the cross on their forehead "at every forward step and movement, at every going in and out, when we put on our clothes and shoes, when we bathe, when we sit at table, when we light the lamps, on couch, on seat, in all the ordinary actions of daily life."
A few weeks ago, we too were marked with that shameful, ugly cross. Some of us dared to show it to the world, as signs of the living God — the God who is with us in suffering, in darkness, on crosses and in all deeds of hurt and hate. It is a sign of the evil man can descend to, and the good, the love, God can rise to. It is a sign we have taken from the hands of our persecutors, worn with pride.
With that cross, we sought to communicate to the world what Christ did — how he was born for us, died for us, rose for us, and lives still. We are this sign whenever we vulnerably show how God's grace is needed and works in our lives; whenever we compassionately serve others; whenever we forgive; whenever we speak for justice and stand with the marginalized; whenever we pray, worship, and sacrifice; whenever we speak the gospel and share love.
With that cross, we become a symbol of pain turned into a symbol of hope — which is precisely what the Lenten journey is all about. Death to life. Hate to love. Oppression to justice. Condemnation to mercy. Human to God.
So let us wear this cross with boldness. It shows that God makes his tomb with the oppressed and the hurting, and from there is resurrected to set free the love for which we have waited for so long.
The Rev. Patrick David Heery is the pastor of Westminster Presbyterian Church in Auburn, and the former editor of the Presbyterian Church (USA)'s denominational magazine, Presbyterians Today. A graduate of Princeton Theological Seminary, Heery lives in Auburn with his wife, Jenna, and their two dogs, spending much of their free time hiking the countryside.