AURELIUS — Nearly a dozen people visited the Fingerlakes Mall Monday to learn how to administer Narcan, the medicine that can save lives by temporarily reversing the effects of an opioid overdose.
Mandee Nann, an opioid overdose training specialist with the state Office of Alcoholism and Substance Abuse Services, led the approximately hour-long presentation, giving a brief outline of the opioid overdose epidemic, how to spot an overdose, and more.
Nationwide, opioid overdose deaths numbered more than 70,000 in 2017, making it the leading cause of death for Americans under 50, according to the U.S. Centers for Disease Control.
In New York, 3,224 deaths were cause by opioid overdose in 2017, compared to 546 homicides and 933 motor vehicles crashes, Nann said.
As a paramedic in the Albany area, Nann has seen firsthand how Narcan can save lives, both when administered by professionals or friends, family and even passersby.
"It makes me very passionate about teaching these classes and wanting to get this information in the hands of people who could just wander by, the same as you would do CPR to someone you found," Nann said.
The training focused on how to actually administer Narcan, also known by the generic name naloxone, in the event trainees come upon a person in the midst of an opioid overdose.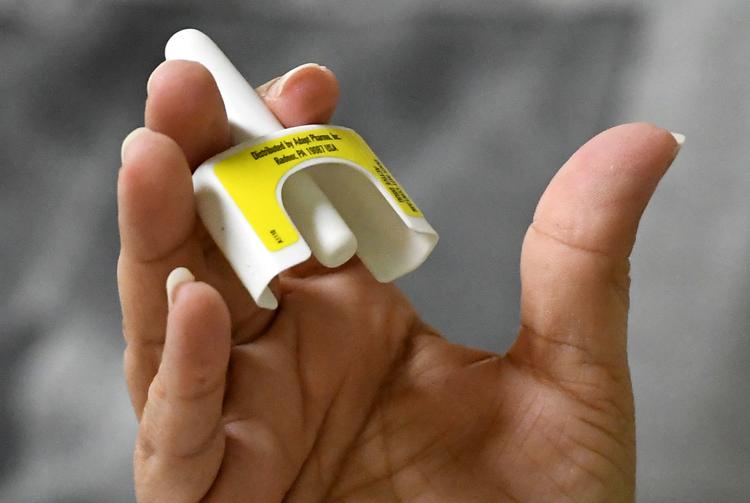 To spot an overdose, trainees were instructed to look for signs and symptoms including unresponsiveness; slow, shallow, or absent breathing; choking, gurgling, or snoring noises; and blue or purple lips or fingernails.
By removing and blocking the opioid chemicals found in opiates like Oxycodone, heroin, fentanyl or more from binding to receptors in the brain, Narcan is able to temporarily stave off the slowing and stopping of breathing that accompanies an opioid overdose and which can precede cardiac arrest.
The effect only lasts approximately 30 to 90 minutes, making it critical that emergency services are called so a patient can get proper care, and avoid a potential rebound overdose, Nann said.
You have free articles remaining.
Register for more free articles
Stay logged in to skip the surveys
Contained in a nasal spray device, Narcan is designed to be user-friendly enough to be used even without training. The mantra for use, Nann said, is 'peel, place, press," referring to the process of peeling of a foil cover, placing midway up a victim's nostril, and pressing the activation plunger.
Participants were also instructed in the five steps OASAS recommends for responding to an opioid overdose.
First, responders should assess the situation and make sure it's safe for them. Then, they should call 911, administer Narcan, attempt rescue breathing, and finally monitor the patient, re-administering Narcan if no change is observed after two to three minutes.
After a patient comes to, the person who administered the Narcan should wait for emergency personnel to arrive so they can be told how much Narcan was administered in order to best treat them, Nann said.
Nann stressed that victims should not be slapped or forcefully stimulated, doused in cold water, injected with any substance aside from Narcan, or having vomiting induced as these actions could either have no effect or worsen the outcome.
Outside of an immediate overdose, Nann encouraged participants to be open and non-judgmental with loved ones or friends they knew to be suffering from an opioid addiction. 
While the idea of starting such a conversation could be daunting, Nann said, it would be better to endure it and get help.
"It's better to have the uncomfortable conversation than to wish you did," Nann said.
In Cayuga County, the Auburn Police Department, Cayuga County Sheriff's Office, and Port Byron Police Department are all state-certified Opioid Overdose Programs, meaning they are allowed to provide Narcan to individuals who request it.