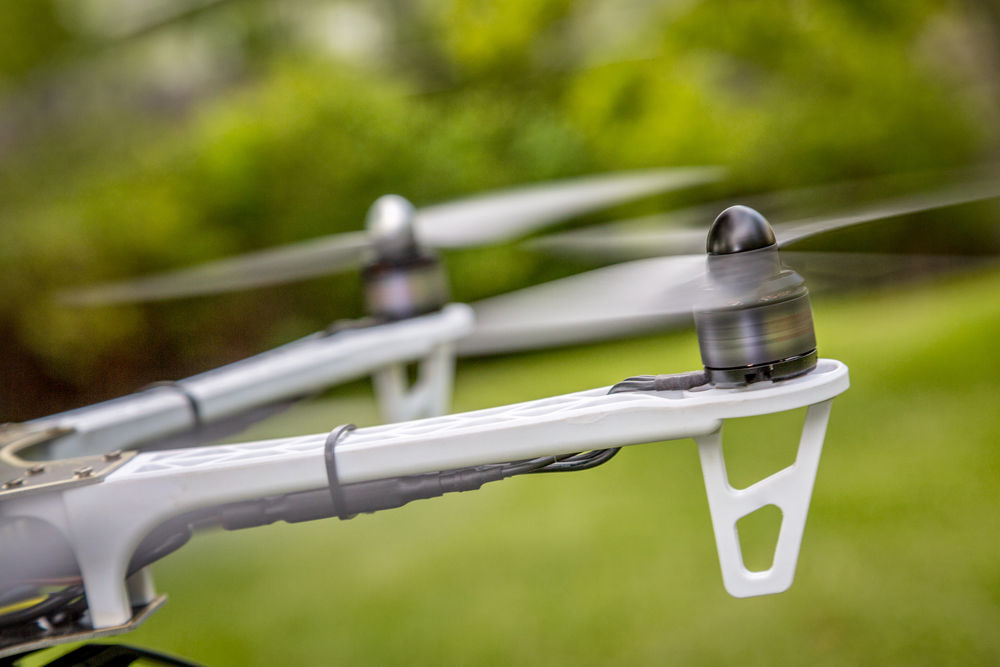 Let's build a drone! With that concept, an idea was born and the Auburn Junior High School Technology Department submitted a grant application to Auburn Education Foundation to approve the project. This involves building a drone from scratch and then, potentially, competing in the CNY Drones competition. Students involved in this project will be challenged to design, build, program and operate a fully functional drone. Learned skill sets include soldering, wiring, programming and integrating systems, all an important part of the technology of drones along with basic and intermediate engineering skills. This project has been designated to be funded by a grant secured by Camille and Ken Johnson from Exelon Generation and the employees of Nine Mile Point Nuclear Station. The Auburn Education Foundation thanks the Johnsons for applying for and naming AEF as the recipient of the grant.
The drone project is one of 10 approved grant applications totaling $10,757.01 in funding that will benefit students. Auburn Enlarged City School District staff can apply for a grant to fund a unique and/or innovative idea that cannot be funded through the district's regular budget process. Applications can be found on AEF's website, auburnedfoundation.org, and can be submitted at any time throughout the year by district staff. Applications sent prior to February 15, 2020, will be reviewed for the spring cycle of awards.
Another science/technology project awarded funding is the purchase of track motion kits. Auburn High School physics students will gain a better conceptual understanding, as well as associated math skills, needed for the motion of objects study that comprises the largest portion of the regents physics curriculum. Students will use the kits to explore how the change in position affects velocity, acceleration and force acting on an object in real time.
World language teachers at Auburn Junior High School will incorporate leveled readers, in target languages, to expand student exposure to authentic reading material. Classroom sets of high interest titles will be purchased and used to improve fluency, reading comprehension skills and vocabulary.
Students in secondary academic intervention services classes will participate in weekly yoga lessons. Recent research has shown that the implementation of yoga practices improve student resilience to stress, as well as show improvement in student concentration, self-awareness, behavioral and emotional maturity, and self-confidence. Funds will purchase necessary supplies.
You have free articles remaining.
Auburn High students will have the opportunity to be content creators rather than just content consumers. Students will build a podcast studio and then create podcasts for class assignments or for personal engagement in a topic. Students will learn how to work collaboratively together to develop a space that they will maintain.
Auburn Junior High eighth graders will use wireless buzzers to review content materials. While using the timers during debate/whole group discussions, students will gain confidence in public speaking and begin to better articulate their thoughts and opinions.
Custom T-shirts allow students to express organizations and philosophies that they embrace. To that end, Auburn Junior High will receive funding to purchase a heat press and some supplies. Students will be engaged in both design and production of T-shirts in support of different clubs and activities.
The Auburn Junior High School presents a school musical each year, with funding coming from ticket sales and advertisement sponsorships. Students are involved with all aspects of the production. Last year, organizers had to use production funds to purchase a storage shed to store costumes and props. AEF has awarded funding to cover some of this year's production to help the group recover from that unexpected expense.
At the elementary level, Owasco Elementary School K-3 students will have the opportunity to use sensory and sorting bins to encourage creative thinking, observation and fine motor development. A sensory bin is a tactile, hands-on learning experience for students and can be filled with different textures, colors, sound, and smells. Funding will include enough materials for 20 sensory bins.
The last grant awarded funding this cycle is an author visit/program at Genesee Elementary School. Author Marcie Colleen will present an assembly to Genesee fourth through sixth grade students where she will share the story of how she became an author. The presentation includes a look into the writing process, including revision. Learning and understanding the writing process from an author's point of view will help motivate students to revise their own writing. Students will prove their abilities to write and revise in classroom writing activities.
AEF is able to provide funding for these programs that enhance the quality of education because of fundraising activities and donations from alumni, corporations, foundations and individuals. Donations can be made online at auburnedfoundation.org, or checks can be mailed to AEF, P.O. Box 592, Auburn, NY 13021.
Janie Hutchinson is a member of the Auburn Education Foundation Board of Directors.