A red bench on an Auburn trail became Jacqueline Cioffa's battle cry in her fight with mania and depression. 
A former international model and celebrity makeup artist, Cioffa moved back home to Auburn from her loft apartment in Harlem after having a nervous breakdown about 10 years ago. She said her life, as she knew it, was gone. Some days, all Cioffa could do was get out of bed, get dressed and go for a walk past the red bench. 
For Cioffa, 50, the bench became a reminder that she could hold herself together.
"The red bench was not just a physical bench I would walk by. It became a metaphor for getting up," she said.
A decade ago, Cioffa wrote "The Red Bench: A Descent and Ascent Into Madness," a book that details her battle with mental illness and her attempts to make peace with it. Even though it was the first book she wrote, she didn't publish it until April 2 as her third book.
Writing "The Red Bench" "was a way for me to cope with what was happening and it was a safe space, and it was an actual place," Cioffa said. "I was battling mania and depression. When you battle mania and depression, there's never really a break.
"I knew that it was going to be something big, for me," she said. "But when I wrote it, I wasn't completely ready to publish it."
Cioffa borrowed pieces of it for her first two books, "The Vast Landscape" and "Georgia Pine." In the former, Cioffa said, she "wrote the real me for half of it and then made the rest of it up because I wasn't ready."
It wasn't until Cioffa spent some time getting in touch with her soul at the beginning of this year, she said, that she felt something deep in her gut tell her that she was ready to publish "The Red Bench." She said publishing the book goes along with her chosen theme for the year: radical acceptance.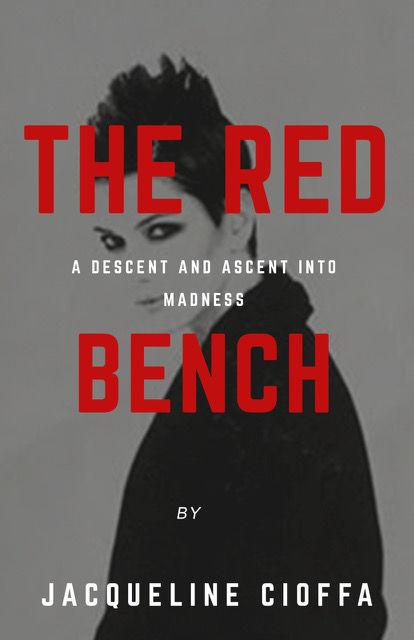 "The time is now for me to own my identity and myself and my issues," Cioffa said. "I keep suicide in my back pocket. It's always there. I wake up every day and have to make the choice to live. And it's not easy, but if I don't accept it — it's just a bigger fight. This is sort of my accepting and embracing (that), no shame."
When it comes to treating her bipolar diagnosis, Cioffa said, she's tried everything. But she hates the word "bipolar," she added: "Manic depression, for me, is a better term."
As someone who's had three psychotic breaks, Cioffa said, she's treated her illness with lithium, Xanax, electroconvulsive therapy ("shock treatment"), alternative medicine, exercise and more. 
Cioffa described her book — written in part to honor her cousin and father, who lost their battles with mental illness — as "raw."
"I'm completely exposed — I didn't leave anything out of living and battling the illness," she said. "What I really wanted to do was take the reader inside of what it feels like."
Cioffa said the book is also a message of hope and resilience, because she kept on battling her illness. She tried to create a beautiful world in "The Red Bench" because "life is beautiful and it's worth living and fighting for."
Cioffa said she hopes her honesty helps others feel like they have permission to share their own stories, and acts as a resource and life tool for others battling things no one else sees.
"It's my gift and everybody can take what they need from it," she said. "My goal is for people to not feel so alone inside the illness."
The self-published book is available on Amazon. Cioffa is proud of the feedback she's gotten so far, and said people are telling her the book is like a hug. In the future, she plans to offer the book for free for a few days, and also to donate some proceeds to mental health causes.  
"There's nobody that (mental illness) excludes. It didn't matter that I worked for the best designers in the world. It didn't matter that I had a lot of money or that I was living in Paris or Milan — none of that mattered. It doesn't discriminate."