AUBURN — Joyce Ihrig grew up in Auburn on Bundy Avenue, Shirley Mullaly three blocks away on Evans Street. The two girls went to East High School, a year apart. They knew of each other, but weren't quite friends.
Joyce and Shirley did all of this — going to the same ice cream shop and grocery store, attending the same church and walking the same streets — not knowing that they were actually sisters.
Shirley never would know: She passed away from breast cancer in 1977.
Joyce found out in her 20s that she had a sister, but she didn't know anything more than that. It wasn't until her son, Mike Ihrig, of Chesapeake, Virginia, sent his spit in a vial for a DNA test through Ancestry.com that Joyce's entire past began coming to light.
Early this year, Jeannie Tucker, of Auburn, got a call from Mike.
"It popped up with Jeannie as a second cousin, amongst a couple of others," Mike said. "As I reached out to them, she responded back, 'Well, I don't see any names that are matched on my list.'"
It had to be a scam, thought Jeannie, who had sent away for her own Ancestry.com DNA test four years ago.
"The DNA test can tell you where you came from in the old-world countries," she said. "Then it starts putting you in with all the other people who have their DNA tested, and links you together. It will come back and say, '95-percent confident that these two people are second cousins.'"
Jeannie knew her mother's aunt, Germaine Lambert, had given up a daughter for adoption. Jeannie's mother had even met the little girl — who'd later be known as Shirley Mullaly.
But there couldn't possibly have been two little girls given up by Germaine, Jeannie thought.
Joyce didn't believe the connection, either.
"He (Mike) says, 'Mom, I think you had relatives in your hometown the whole time you lived there!'" Joyce said, recalling when the DNA results came back. "I said, 'That's impossible!'"
But Joyce's birth name confirmed it — Patricia Lambert. Another Lambert from Auburn.
"He says his mother is from Auburn, and her last name is Lambert, and she was adopted," Jeannie said about her first conversation with Mike.
So Mike and Joyce drove up to Auburn from Washington, Pennsylvania, where Joyce now lives, to meet their family for the first time May 27. Altogether, Jeannie hosted about 50 relatives that weekend.
"At 81, believe me, I never in the world expected this," Joyce said. "All the way up here I kept saying to myself, 'I don't know how this is going to turn out. I haven't the vaguest idea what to expect.'"
And although Shirley had passed away, her daughter, Diane Escobedo, was dumbfounded when she learned about Joyce.
"You know, I just couldn't believe that my mom had a sister," Diane said. "I mean, we knew who the birth family was, but she had a sister. That was a really big deal. I was really close to my mom, and I just had to meet her, and my son and my husband were right there with me."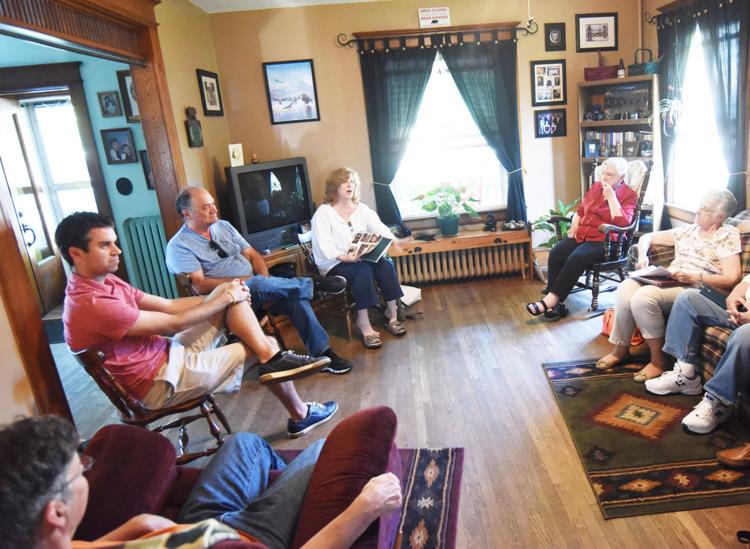 Diane and family made the journey to Auburn from Arizona. They all met in Jeannie's house on James Street, sitting in a circle in the living room, seeing each others' faces and their resemblances, and making up for lost time.
"We all got along so well, and it kind of felt like we had known each other all of our lives," Diane said.
The following day, even more family came to see long-lost relatives. Lee Rohmer, of Texas, had been very close to Germaine, and made the trip north to see her newly found cousin for the first time.
"She stood in the doorway, and kind of evaluated me," Joyce said about meeting Lee. "And then she came across the doorway and gave me a big hug and said, 'Oh my God, you are definitely Gerrie's daughter.'"
Lee brought a few items for Joyce, including Germaine's death certificate, her eulogy, pictures from her 90th birthday and a few pieces of jewelry. One piece of jewelry, a necklace that Germaine wore in an old black-and-white photograph, was particularly special to the family because of the story behind it.
"My mother literally put the necklace on layaway, and paid 25 cents a week to pay for it," Joyce said, laughing. It's just one of the many stories shaping the mother she never knew.
"I'm just tickled to death," she said. "I can't believe any of this. And I have a granddaughter here getting married, and there's a very good possibility she'll wear the necklace."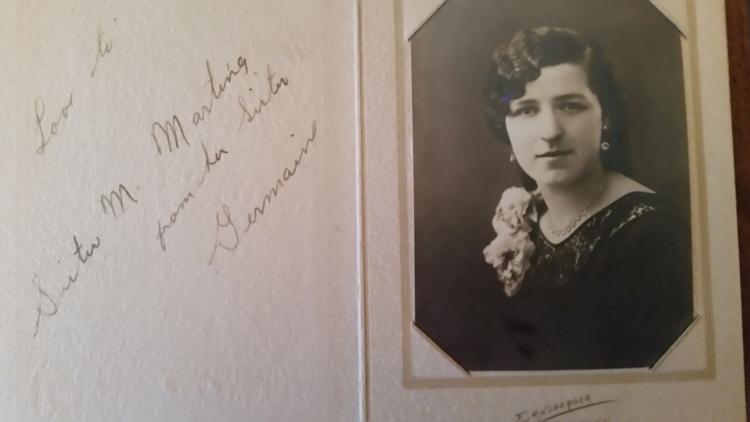 The family is already discussing the next time they will gather, likely in October. Jeannie said her house is open, and Diane plans to bring her older sister to meet their Aunt Joyce sometime this summer. There's also two more cousins from California, who hope to make it.
"It's still kind of just overwhelming," Jeannie said. "It's like, 'Wow, did this really happen?' It's great. I feel like I got another whole family that I never knew."
There's still some unanswered questions — like whom Joyce and Shirley's father or fathers are, and why they were adopted. 
But it's the answer to a question that had never been asked — a sister, an aunt, a niece, another family — that means the most to the group of relatives brought together by Germaine Lambert.
"I just felt like we all really knew each other, and everybody felt that way," Diane said. "It was pretty special."