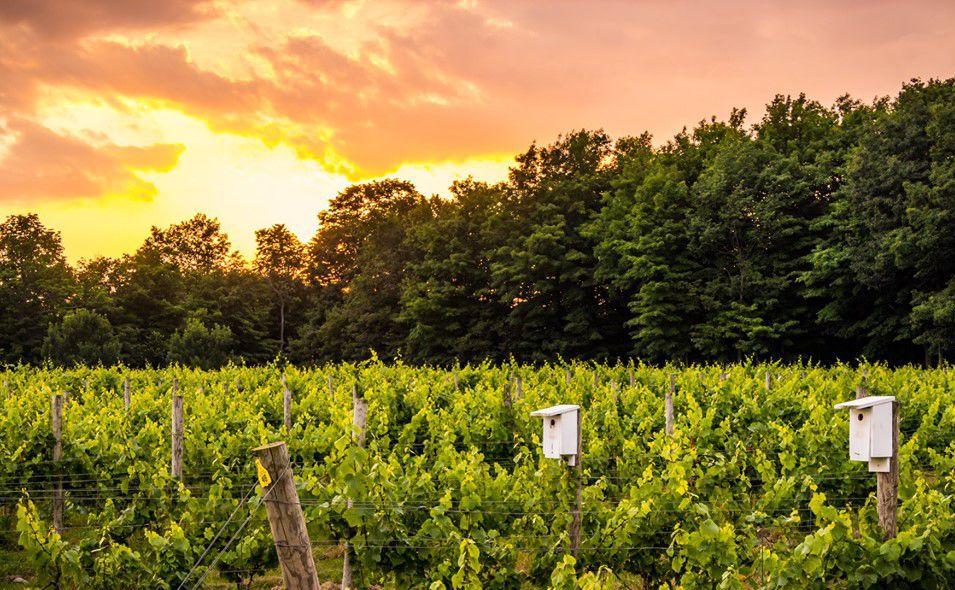 New York state has nine tourism regions, one of which is the Finger Lakes region, of which Cayuga County is a part. The Finger Lakes boasts many highlights that make it a world-class destination. These include wineries, breweries, museums, outdoor recreation, charming towns, lakes and scenic drives. We should all have "pride of place" within this amazing region, meaning that we are not only proud to live in the Finger Lakes, we are proud to live in Cayuga County! What is pride of place? If something takes pride of place, it is the most prominent or important position among a group of things. I take pride of place in Cayuga County for all of its beauty within all the lovely counties in the Finger Lakes. Let's look at some highlights of the Finger Lakes and see how Cayuga County stands out.
Wineries
Visiting the 11 wineries in Cayuga County will take you through some of the most amazing landscapes of the Finger Lakes. From Colloca Estate Winery on the shores of Lake Ontario to our newest vineyard, Bright Leaf Vineyard in King Ferry, the lakes and the country views are part of the experience, but the true calling is the award-winning wines from our many highly decorated wineries.
Breweries
The brewery industry is exploding: New York has 434 breweries, 243 of which have opened since 2012. Cayuga County has six breweries, and the quality is beyond reproach. This isn't hometown boastfulness. During the 2019 New York State Brewers Association competition, Prison City Pub & Brewery in Auburn took the highest award, receiving the Governor's Cup. Lunkenheimer Craft Brewing Co. in Weedsport and Prison City took home three awards each. They were two of the three most decorated breweries, out of the over 800 beers entered in the competition.
Museums and cultural destinations
With the two resounding personalities of William Seward and Harriet Tubman, we have international recognition. We are the birthplace of sound on film, we are the birthplace of a U.S. president, and we host part of the Erie Canal. Cayuga County was a prominent place for both women's rights and the Underground Railroad. As "History's Hometown," Auburn's historic sites are impressive.
You have free articles remaining.
Outdoor recreation
Cayuga County's outdoor recreation opportunities cover water, land and air. We have the most water frontage of any county in New York state. With Lake Ontario, three Finger Lakes and multiple small lakes, there is no excuse not to get out on and in the water. Want to go deeper in the water? Try your hand at scuba diving. Looking for a land-based activity instead? With three state parks, three Finger Lakes Land Trust locations, over 65 miles of multi-use trails and various city and municipal parks, we offer several family-friendly ways to enjoy the outdoors, in any weather. Want to get off the ground? Between sky diving and hot air ballooning, you will see the Finger Lakes from a whole new perspective. Cayuga County can get you out enjoying every part of the outdoors.
Charming towns
American small towns are one reason many people travel, escaping the chaos of bigger cities in exchange for a slower pace. Our local attractions are genuine to their story and history, and respectful of the natural resources that surround them. Aurora, beyond its impeccable landscaping, its majestic views and beautiful walking opportunities, also offers fine dining, luxury accommodations and access to Cayuga Lake. Fair Haven, located on beautiful Little Sodus Bay, welcomes everyone like an old friend. With an active art scene, you will find treasures crafted by local artisans and be invited to join impromptu art classes. The access to Lake Ontario is premium, with various marinas and charter boats available.
Lakes
With Owasco Lake, Cayuga Lake, Skaneateles Lake and majestic Lake Ontario, we have a wide diversity of fantastic dining, lodging, boating, fishing charters and leisure activities on the water. Whether you enjoy the lakes for high octane activities or chilling out, we can't deny the connection and relaxation we feel to water, and we should value this precious resource.
Scenic drives
Whether you enjoy the scenery by car, bike, or on foot, the vistas and unique finds along the way are undeniably special in the Finger Lakes. Designated trails and scenic byways provide direction and potential stops along the way for the wandering visitor seeking to enjoy a leisurely day. Among the trails and scenic drives to enjoy in Cayuga County are the Cayuga Lake Wine Trail, America's first wine trail; the Cayuga Lake Scenic Byway; the Lake Ontario Wine Trail; the Seaway Trail; and the Finger Lakes Sweet Treat Trail. The fact that so many trails and scenic roads traverse our county is further proof of how much we have to offer.
It is easy to take for granted the things we see every day, but take a moment to appreciate it from an outsider's perspective. Take pride of place for Cayuga County and how this area is truly amazing. Check out tourcayuga.com for all the ways to enjoy our county.
Karen Kuhl is executive director of the Cayuga County Office of Tourism and can be reached at karen@tourcayuga.com.