Memorial Day has come and gone, and now it's time to get serious about our summer reading. Whether it's at the beach or on the porch, you're going to need to some good books to keep you occupied.
Eleanor Lipman's novel "Good Riddance" tells the story of a daughter who inherits her deceased mother's effects, including a signed yearbook from Mom's days as a yearbook advisor. She tosses the yearbook out, and her neighbor rescues it and decides to made a documentary out it, which causes all kinds of trouble. You'll be careful what you toss out after you read this.
"Stay Up With Hugo Best" by Erin Somers is about a young female writer for a late night talk show who ends up with an invitation to spend some time at the boss' home after the show has been cancelled. It will put you in mind of David Letterman's story, and it's a cautionary tale.
Tracy Garvis Graves' novel, "The Girl He Used to Know," brings us the tale of a young woman who may be on the autism spectrum, and the romance she shares with a young man at college. It's beautifully written and so poignant, you're sure to shed a tear or two.
Lisa Grunwald's "Time After Time"is a romance of a different kind. When a young woman is killed in a crash in Grand Central Station in 1929, she ends up returning year after year on the date of the crash in the spot where she was killed. She meets and falls in love with a railroad worker, and the question becomes how can they overcome this obstacle, because it's a big one.
Jennifer Wiener's "Mrs. Everything" is the book she has been waiting to write. It's a sweeping novel about the lives of two sisters from their youth in the 1950s through adulthood. Every woman will be able to relate to Jo and Bethie (note the "Little Women" names here) as it tells the story of what it's like to be women in a rapidly changing world. It reminded me of Irwin Shaw's "Rich Man, Poor Man", which was the story of two brothers in America told over their lifetime. It's made many Best Books of the Summer lists.
If mysteries are your jam, Australian novelist Sally Hepworth's "The Mother-in-Law" is made for fans of Liane Moriarty's "Big Little Lies." When Lucy's mother-in-law, Diana, ends up dead, she become the prime suspect, and the story goes back and forth to tell how they got to that point. The characters are richly drawn here, and I liked how complex Diana was.
You have free articles remaining.
If you prefer to go back in time, Lauren Willig's historical novel "The Summer Country" takes place in the beautiful island of Barbados in two time periods: 1812 and 1854. Emily leaves England to travel to Barbados when her grandfather leaves her a sugar plantation. The plantation is in serious disrepair, and the family next door wants Emily to go back to England. Willig based this book on a story she heard on vacation, and her research is so impeccable, you'll feel like you're in Barbados as you read it.
Mary Beth Keane's third novel, "Ask Again, Yes" tells the story of two Irish NYPD officers who live next door to each other in upstate New York. Their son and daughter have a relationship, and after a tragedy strikes, they are torn apart. If you like Alice McDermott's novels, give this one a try.
On the nonfiction side, if you're looking for a good laugh, Helen Ellis' book of essays "Southern Lady Code," will have you doubled over in laughter as she recounts her life in New York with her husband and the hilarious words of wisdom from her Alabama mama.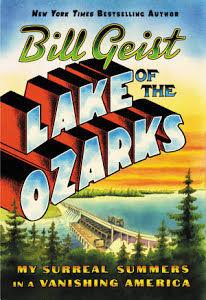 Father's Day is around the corner, and there are two great books for Dad on this list. Bill Geist's "Lake of the Ozarks" is a humorous recollection of the years he spent working at his uncle's resort in the Ozarks as a high school and college student. If your dad is nostalgic for the simpler times of the 1950s, this is perfect for him.
If your dad is a history buff, Douglas Brinkley's 800-page opus, "Moonshot- John F. Kennedy and the Great Space Race," takes a deep dive into the NASA space program as the 50th anniversary of the moon landing approaches. It's great for the dad who loves science and history.
Enjoy your summer reads, whatever they may be.