AUBURN — Bob Pasik is all too familiar with the passage of time.
As a mail carrier with the U.S. Postal Service for 46 years, he's seen time pass in a way both intimate and measured. He's seen neighbors move in and pass away, children grow and marry.
One place Pasik has seen the passage of time is the home of Kathie and Pat Collier, of Teller Avenue. He's been delivering mail to the family every day for 27 years, Kathie said Friday. In the last nine, the Colliers have planned three weddings and welcomed six grandchildren. And every piece of correspondence, every package woven into those life events was brought to their doorstep by Pasik.
"He's like our Christmas hero: He brings all the gifts," Kathie said. "He's a great mailman and a great friend."
On Friday, Kathie and Pat said a heartfelt goodbye to their mailman — but not their friend — as Pasik walked his route of about 30 years for the last time.
Speaking to The Citizen as he delivered his last letters in the Hoopes Park neighborhood, the 69-year-old said he was retiring because he just didn't want to work through one more winter.
"You know when it's time," he said. "It's change, it's just change. Nothing lasts forever."
An Auburn native, Pasik graduated from Central High School and briefly studied broadcasting in New York City before being drafted into the Army. He spent three years on active duty in Southeast Asia and Germany, he said. When he came back to central New York, he worked for Sylvania Electric Products, assembling picture tubes for televisions at its factory in Seneca Falls.
Pasik then took the U.S. Postal Service exam, and passed. He started delivering mail in Syracuse. After about eight years there, he got tired of commuting and transferred to Auburn.
Before settling into his Hoopes Park route, Pasik worked all over the city, at first as a substitute for other carriers. He feels the job has helped him get to know his hometown and its people, he said.
But that's not the only reason Pasik has stuck with the U.S. Postal Service for 46 years.
"I just like being outside," he said. "I don't think an office is for me."
You have free articles remaining.
Still, Pasik prefers being outside in 72-degree sun to the cold and snow of Auburn's winters. He recalls work being cancelled twice during his time in Syracuse. But he's been held to his profession's old adage — "neither snow nor rain nor heat nor gloom of night stays these couriers from the swift completion of their appointed rounds" — every day of his postal career in Auburn.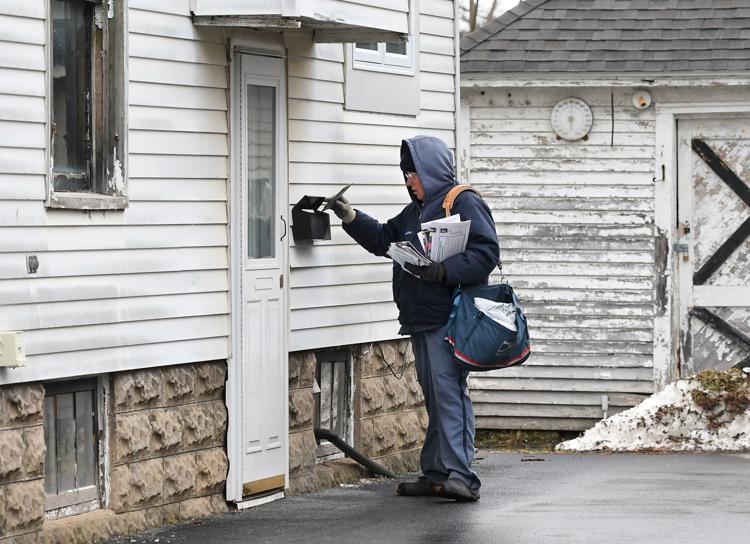 Working through winter has been a little easier lately, Pasik said, with the advent of clothing that wicks away sweat. In the cold, he continued, sweaty clothing leads to chills.
Pasik tallies 30,000 to 35,000 steps a day on his FitBit, so that sweat is inevitable. Delivering mail has been good for his legs, he said, if not quite the workout that running or bicycling would be.
Along with moisture-wicking clothing and activity trackers, another technology that has changed Pasik's job is online commerce. He delivers an average of 50 packages from Amazon and other retailers every day, he said. That compares to almost none when he started carrying mail, and packages were handled on separate parcel routes.
"Right as we're speaking, people are adding to their cart," he said. "They're either on the phone or laptop, whatever device."
Pasik has also seen tasks like sorting and casing letters in Auburn become automated in Syracuse, he said.
The postmaster of the Auburn office, Mike Ludwig, said Pasik maintained a fun camaraderie with his coworkers. Ludwig praised the longtime employee for his dry sense of humor, while fellow supervisor Lance Jones said Pasik always showed up to work with a smile on his face. He also stood out because of his loyalty and integrity, Ludwig added.
"He'll be missed in the entire office," Ludwig said. "Just a great example of an employee."
What hasn't changed at all about Pasik's job over the years, though, is dogs. He has not been immune to the animal's storied aversion to his kind, and has been bitten five or six times. He had to go to the hospital a couple of them, he said. Over time, Pasik learned to simply walk by any dog situations that look too dangerous, rather than get hurt and force another carrier to cover his route.
"I'm on their turf," he said. "You cannot assume a dog will not bite." 
With his last dog encounters and deliveries behind him, Pasik is looking forward to resting, traveling and spending quality time with his family. He and his wife, Donna, have a daughter, Jessica, 29, and a son, Andrew, 26. As he approaches 70, Pasik said, he knew he wanted something different, just as he knew he didn't want to deliver mail through another winter. It was time.
"I just don't see another winter in my future," he said. "It's been a heck of a career and I have no regrets."