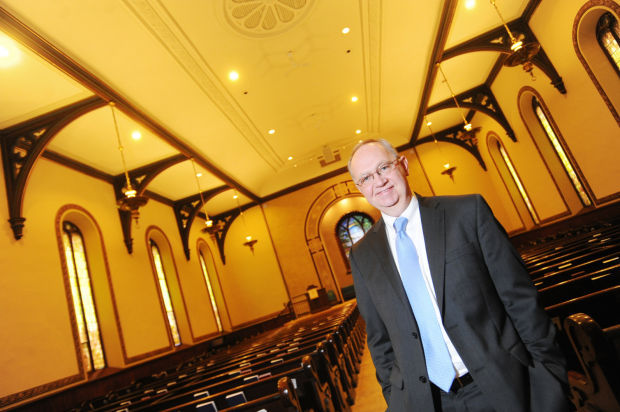 It's really with mixed emotions that I write this article. It will be my last one writing for The Citizen, and while serving as the interim pastor of Westminster Presbyterian Church. My pastoral service here comes to a close on April 20; my last Sunday leading worship will be April 17.
In our tradition, it's customary to have a short-term interim pastor serve a congregation between the departure of the previous "installed" pastor and the selection and arrival of the next one. There are a number of "developmental tasks" that the interim pastor tries to lead the congregation through, as they mourn the departure of the previous pastor, come to terms with who they currently are as a congregation, discern where God is leading them as they move into the future, and begin to set things in motion to make that future take shape. You might say that we interim pastors are both the pastoral equivalent of a cleansing of the palate between courses of a meal, as well as a short-term lightning rod designed to take the heat if and when a congregation needs to hear discomforting truths and make difficult changes to the status quo. If anyone gets too upset during this process, the lightning strikes the short-term interim, which I assure you is never fun for the interim, but which preserves a clean slate and a measure of goodwill for the incoming installed pastor.
It's very important for a congregation to proceed through the transitional developmental tasks in order to be a vibrant, healthy congregation. I can honestly say that I've been so richly blessed as I've served in this capacity for Westminster, and to have led them through this process. The people of Westminster have become very special to me, and I hope that I've had the same effect on them in return.
You have free articles remaining.
Westminster Presbyterian Church was looking for a new pastor last summer. The Rev. Phil Wind…
To be perfectly honest, even though I've been serving as an interim pastor, I have serious concerns about some of the actual details about the way we Presbyterians go about this process. My primary concerns are twofold. First, it's much more likely that the more discomforting aspects of those developmental tasks will be achieved by a pastor who's got tenure, as it were, and who isn't essentially seen as a lame duck from day one. More significantly, though, I worry that the message our interim process sends is that congregations only have to be concerned about change in direction, mission or methodology during these official interim periods — and that once they're over, people can take a breath and say, "Well, I'm certainly glad that's over; now we can all just settle back down into a routine and stop worrying about any change." That would be a tragedy. It's a mindset that's killed many congregations. The church must be in a state of continual change, always communicating and exhibiting eternal truths in ever-evolving ways that resonate with people in our current context. The church must always be in transition, because a church in stasis is a dying church.
I worry in general that our interim process can unintentionally send the message that congregational change need only be considered during specific, limited times. Based on my knowledge and love of the wonderful people of Westminster, I'm both hopeful and confident that they and their new pastor will avoid that potential trap.
I have indeed come to love the people of Westminster — and I've also been blessed to have come to know and appreciate so many others of you in the community, too. When I first arrived in town, I marveled at what a vibrant city this was, with its remarkable arts and cultural community, its rich history, its beautiful natural scenery, its numerous excellent restaurants and nightspots, and so on. There are so many people, so many places, so many organizations that I'd love to mention here by name but can't, due to the prescribed word count of this article — but you know who you are.
A number of you have asked what's next for me. As far as my own future, I'm currently in conversation with a few different congregations seeking a pastor in different parts of the country, but at the time of this writing I'm not sure where my next pastoral call will take me. Wherever it is, know that there will always be a warm place in my heart for Auburn, for the Finger Lakes region, and for all of you. You will be missed. The grace and peace of our Lord Jesus Christ be with you all.
Dwain Lee is the interim pastor of the Westminster Presbyterian Church (westminsterauburn.org) in Auburn. He is a graduate of Trinity Lutheran Seminary and Penn State University. Follow him online at enarcheblog.wordpress.com.