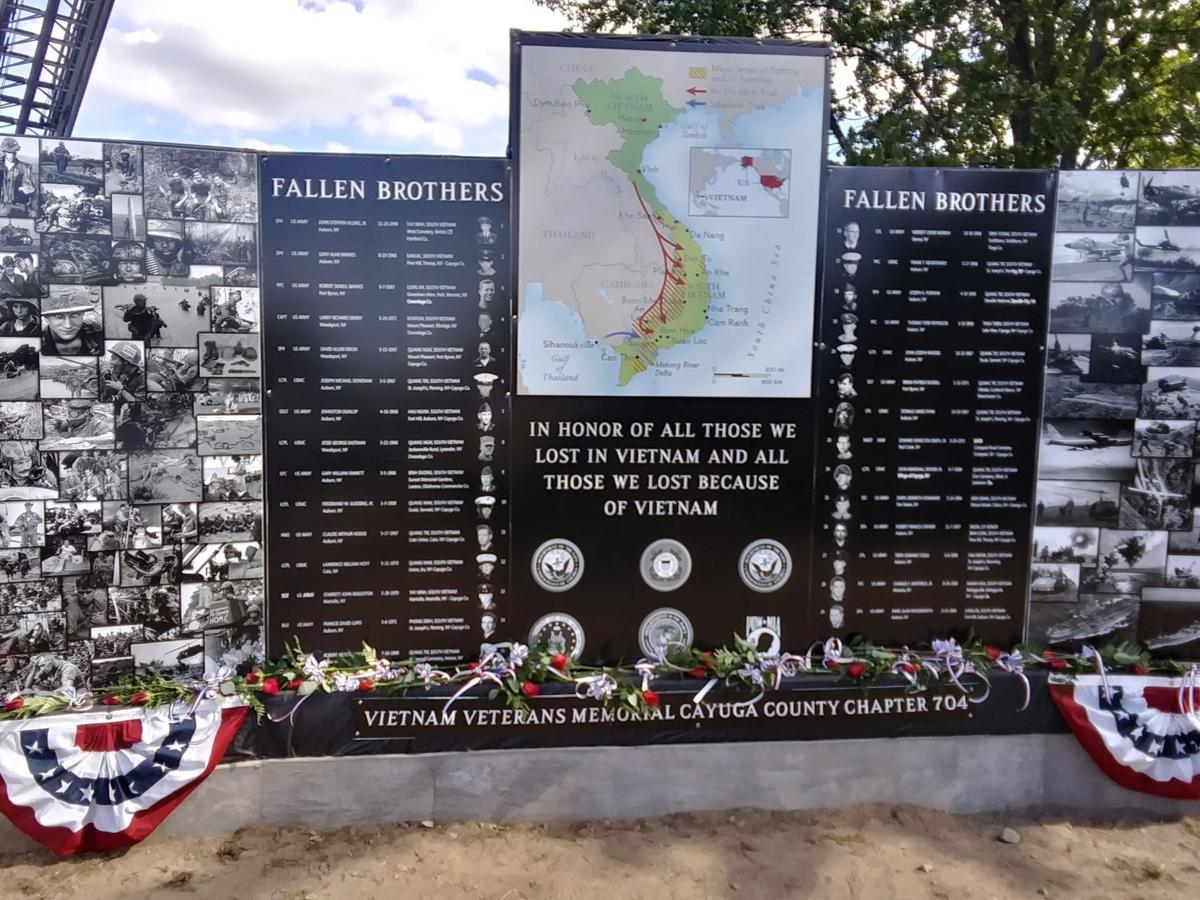 On behalf of the Cayuga County Vietnam Veterans Chapter 704 I would like to thank all of the "hearts and hands and minds" who came together throughout the past three years and made it possible for our Chapter to raise the necessary funds and make the Vietnam Veterans Memorial a reality for all of our Vietnam Veterans and their families in Cayuga County. I am proud to that I am a resident of a community that does care about her citizens and the necessity that future generations understand the history and contributions of our native sons and daughters and their families who have made very personal sacrifices defending our nation and her freedoms and Democratic values.
We wish to also thank the many generous donors who helped to make the Memorial a financial reality. The project started with the first donation on September 29, 2016 and our last donation was received on October 1, 2020.
Bill and Mariellen Androsko, Four Seasons Monument Company for without their guidance and perseverance the Memorial would not have become a physical reality.
William and Megan Rinaldi, Barnett Memorials in Elbridge, New York who worked with Bill Androsko to build the frame for the display used on the Memorial Dedication Day.
A very special Thank You to Hon. David Gould and Robert Jiroemon for directing the Memorial fundraising efforts to bring the Monument to fruition.
Ms. Cynthia Long and Heidi Zimmerman, Vietnam Veterans Memorial Foundation, Arlington, Virginia.
Mrs. Joan Bell, surviving Blue Star spouse of Cpl. USMC Francis Bell Sr., founder of the VVA Chapter 704. Mrs. Bell prepared the Memorial Dedication Programs for the Chapter 704.
VVA #704 Members: John Ashby, James Bryant (Current President), James Campbell, Dan Crook, Jerry Fulmer, Leon Gaklik, David Gould, Robert Jorolemon, Al Leonard, Lou Patti (Past President), Nicholas Valenti.
BRUTUS — The effort to get the Cayuga County Vietnam Veterans Memorial Monument started with Nick Valenti putting $5 in a nonprofit 501(c)(3) …
Cayuga County Local Governments
Auburn Enlarged City School District Superintendent Jeffrey Pirozzolo, Eric Francisco, Director of Facilities Auburn School District.
Supervisor, Town of Brutus, James Hotaling, Thomas Flynn, Deputy Supervisor, Town of Brutus, Brutus Town Council Members; John Abraham, Amy Chirco, Derrick Slocum.
Town of Mentz Supervisor Richard Nielens, and the Mentz Town Council.
Port Byron Mayor Ron Wilson, and the Village of Port Byron Trustees, Port Byron Fire Department.
Supervisor Eric Ridley and the Throop Town Council.
Weedsport Mayor Jean Saroodis and the Weedsport Village Trustees, Weedsport Fire Department.
Mayor Michael Quill, City of Auburn.
Mike Talbot and the city workers assigned to set up and take down the Showmobile. Ben Smith who rang the City Hall Wheeler Bell and the employees who hung the City of Auburn Ceremonial Hall Flag.
Cayuga County Legislator Patricia Kerr, City of Auburn.
Eileen McNabb Coleman, Chair Cayuga County Legislature.
Mr. Jeremy Lawton, M.N.S. Special Handling Permit Engineer, NYS Dept. of Transportation, (NYSDOT) Elizabet Parmley, P.F. Regional Traffic Engineer, NYSDOT
Onondaga County Executive Ryan J. McMahon II.
Chief of Staff, to the Onondaga County Executive, Mrs. Sue Stanczyk,
Cayuga Community College Criminal Justice Program Instructor James Campbell, Retired NYS Police, USAF Vietnam Veteran- Vietnam Veterans Memorial Bell Sgt.
Hon. Brian Schenck, Cayuga County Sheriff; Lt. Michael Wellauer, Road Patrol Division, Cayuga Co. Sheriff Dept.; Sgt. Greg Gilfus, City of Auburn & Weedsport Police Departments, Officer Tim Spengler, Weedsport Police Department, Officers Tim Cottrell and Meagan Kalet, Port Byron Police Department, New York State Police Clark Street Road Barracks Cayuga County, Retired Hon. Sheriff David Gould
Community Participants and Volunteers:
Blue Star Mother and Korean War Veteran's daughter, Senator Pamela Helming
Cayuga Community College Professor Emeritus Howard Nelson, Retired Admiral Richard West, US Navy, Retired
Wendy Casper and Brooke Hammersly, Handler, and their magnificent Arabian Horse, Marcher who served as our Riderless Horse for the ceremony from Weedsport, New York.
Darlene Nila, Jenna Nicole Nila, Mary Nila and Lily Nila, Joseph C Townsend; Dawn Roe Village of Port Byron Historian; Beverly Sayles, Town of Victory Historian. Bernie Tomasso, retired educator Port Byron Central School District, Mrs. Kim Cusick,
Nigel Heaton and the Patriot Guard Riders, Patriot Guard Flag Line.
Mr. William O'Hara Congressional Medal of Honor (CMOH) Flag Keeper for PFC William Stryker, CMOH Recipient, Darrel Norton and The Sons of Sam Motorcycle Group, The Punishers Motorcycle Group, Stephen Gage and the Military Vehicles Group, Kip Side, Lindsey Wilkinson, Cayuga County Veteran's Service Agency Kent with the Patriot Guard Motorcycle Group, Fred Brough Sr., Webmaster VVA Chapter 103, Syracuse, New York
Miss Amanda Kubarek and the Kubarek Family , K&S Carwash, the Sroka Family and the Always Pumping Truck for their support of our Vietnam Veterans with their magnificent display of our nation's flag that greeted the Motorcade and brought tears to many an eye as they honored our Vietnam Veterans on the North Street portion of the motorcade.
Joan Armstrong – Bruch General Manager, Finger Lakes Railway, David Wilcox: The Citizen, Mrs. Kelly Clarke, Steve Penstone: Finger Lakes 1 Radio Group, Ms. Karen Wood of Upstate Party Rental, Mr. Robert Penafeather and ARMA
Tim Fox, Executive Director Channel 9 WSYR Bridge Street Program, Cameron Tirado, News producer, Local WSYR News Channel 9
Professor Robert Frame and the Auburn Players for producing directing and Presenting the play Antigone and Letters from the Wall, Performers, Dr. Nancy Kane, John Fracchia and Jack Carr.
Jack Hardy and the Finger Lakes Region Antique Automobile Club of America
Ed Pinkney and the Prison City Ramblers, Gary Hand and the Cayuga Cruisers and the many classic and antique car owners and motorcyclists from throughout Central New York who volunteered and participated in our Vietnam Veteran's Welcome Home Motorcade.
Dan DeBois. Patriot Guard, Duffy, Abate Riders Auburn Chapter, Ray Sestak, VVA Chapter #8, Albany.
President VVA Chapter 085; Gary Napieracz, and the members of the Oneonta VVA Chapter 377, Ms. Lisa DeLieu Chapter 085 Vocalist.
Charlie Harrington Photographer from VVA Chapter #377, Bob Bertrand. Vietnam Unit Flags Display, Steve "Moose" Kmyta, S&K Post #1324 Taps and Rifle Volley and the S&K Rifle Squad.
Lauren Dates and his Flying Brothers for their breathtaking double Flyover of the Monument site with 8 planes
Norm Stitzel and his specially equipped motorcycle sidecar that is a very realistic reminder of our 29 Cayuga County Vietnam soldiers who perished in Vietnam.
Theresa Leonardi, Isabella Petrus, Mariah Quiqley, Allison Jorolemon and Congressperson John Katko who presented a flag to Robert Jorolemon that will be flown over Aqueduct Park.
Martha Mills Who provided a quilt to raffle at the Memorial dedication to help the VVA 704's Fundraising efforts and for providing information on one of our fallen soldiers John Marshall Snyder from the Village of Cayuga.
Kelly Rocheleau, The Citizen, Patricia Valenti, Amanda Hennessey, Director of Sales, Hilton Garden Inn, Auburn, NY
Reverend Patrick Heery and the Westminster Presbyterian Church Congregation and Bell Ringers Mike Hahn and Sammy Hahn.
The Quilters of the Finger Lakes who have made and donated approximately 500 quilts to local Veterans and have also donated quilts to help support the Memorial fundraising program.
Tom Collier and the band Held Hostage for creating the song 'Show Me the Way Back Home" written in honor of his brother's return from Vietnam/who assisted the VVA Chapter 704 with a benefit concert held at the Finger Lakes Mall. He promoted our Vets and included the families and members of the 704 in the recording. You tube reference: https://youtu.be/TyrkOlC29YU ; Produced by Carl Canady
Rene Patterson, General Manager, Finger Lakes Mall. Mr. Patterson has graciously allowed the VVA Chapter 704 the use of the facilities for a Veterans Day Parade and a concert fundraiser for our Veterans Memorial.
AmeriCu on Grant Avenue in Auburn, NY for helping the VVA Chapter 704 to establish the Memorial account at their banking institution in support of the Cayuga County Vietnam Veterans Memorial.
Dr. Linda Townsend is a social studies teacher at Dana L. West Jr.-Sr. High School in Port Byron, a 2020 recipient of the New York State Senate Woman of Distinction Award and a 2020 recipient of the SUNY Oswego Community Service Alumni Award. All thank you letters are reprinted as submitted.
Be the first to know
Get local news delivered to your inbox!