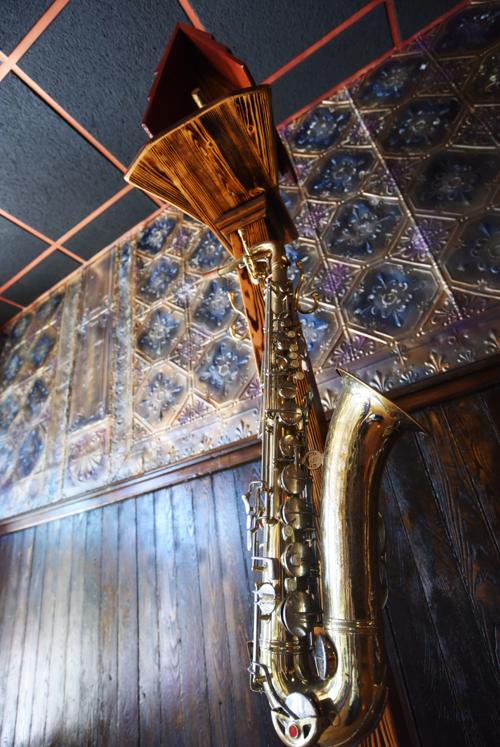 July 28, 2015
AUBURN | A saxophone hangs from the knob of a birdhouse.
A sink rests in the cavity of a snare drum.
A creamy crescent moon sits amid a violet stage carpet.
Yes, Moondog's Lounge certainly has a look.
Husband and wife Shane and Lynn Stillman's new bar, slated to open July 1, occupies the State Street building where the beloved Spirits Tavern and Cafe once stood. 
Along with the surrealist atmosphere, honoring the history of its space is another way the Stillmans plan to make Moondog's into a downtown Auburn destination. The white lincrusta on its south wall is now a gritty blend of black and gold, but Spirits patrons will still recognize the relief pattern.
What may stir even more memories of Spirits, though, is the sight of its chalkboard behind the Moondog's stage. It was given to the Stillmans by Suzy's Tavern owner Joe Chindamo, who acquired it after Spirits closed in 2008. Though it now says "This week at Moondog's," the board's days of the week are still spelled in red calligraphy, and its Sunday column even retains the last words ever written on it at Spirits: "Drink us dry, noon 'til midnight: $25." 
"It's cool that it's back here," Shane said.
The literal spirits at Moondog's are, for the most part, made in New York — as are its 20-plus wines, which include selections from Heart & Hands Wine Co. in Union Springs and Thirsty Owl Wine Co. in Ovid. The state's bounty is also represented through craft beers from Ithaca Beer Co., Cortland Beer Co. and Lake Placid Pub & Brewery. Its menu of cheeses, paninis and toasts is, for the most part, locally sourced.
But the wine, in particular, is why Moondog's Lounge happened.
Lynn, who teaches at Casey Park Elementary, and Shane, owner of Stillman Imperial Plumbing and Heating, had originally wanted to start a business modeled after the Cuba Cheese Shoppe in their Allegany County hometown. A visit to a West Palm Beach wine bar, however, led her to an epiphany:
"Auburn could really use something that would promote the Finger Lakes region: the wine trail," she said. "With the downtown area of Auburn revitalizing and really trying to create more of a cultural aspect, we thought the timing was right to promote what is native to the Finger Lakes."
Managing a wine bar squared better with her teaching schedule anyway, Lynn said, and the availability of the Spirits space last summer tilted the Stillmans in that direction even more.
The site was secured and the business plan was falling into place. That's when Shane, the drummer for Stone Soul Foundation, saw an opportunity to give Moondog's a musical identity.
"This was the best place to see live music in Auburn for years in the '80s," he said of Spirits.
Thus the lounge will host Sunday open mic nights, a monthly acoustic Stone Soul Foundation show, and its own house band, The Star Cats, with a roster of up to 20 performers handpicked by Shane.
On the nights remaining, Moondog's will welcome other artists and storytellers — musical and non, the Stillmans said. It already boasts a painting by Finger Lakes Art Cooperative member Kyla Keough behind its bar, and a tile mosaic by Jesse Kline above its fireplace.
"There's so much great local talent, but there's not a lot of places where they can showcase their talent," Shane said.
As the music goes, there are only two rules: It has to be unplugged, and it has to be unique. On the night sky that is the Moondog's stage, audiences won't hear many musicians they can find elsewhere in Auburn. The bar aims to be as one-of-a-kind in sound as it is in sight.
But if anything beckons Auburnians to the abundant newness of Moondog's for the first time, it may be the familiarity of the space itself.
"There's a huge community of people out there that miss these four walls," Shane said. 
— Compiled by David Wilcox
Be the first to know
Get local news delivered to your inbox!