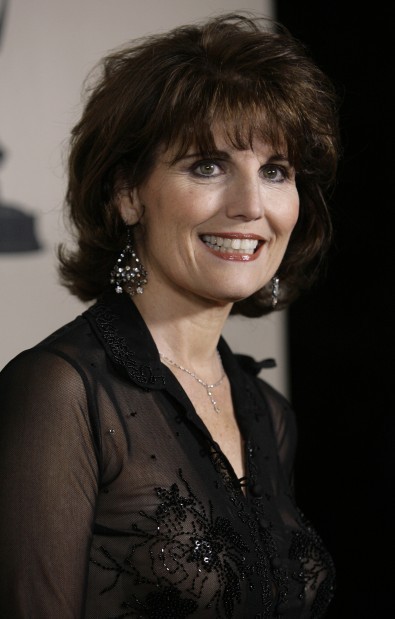 For the second year in a row, one of Thommie Walsh's well-known friends will honor the late performer in his hometown.
Lucie Arnaz, the Golden Globe-nominated daughter of Lucille Ball and Desi Arnaz, will perform May 3 and 4 at Cayuga Community College. The shows support a college scholarship established by Walsh's sister, Barbara, in memory of the two-time Tony Award-winning dancer and choreographer, who died in 2007.
Irish-American singer Andy Cooney will open the Friday show, and Auburnian performer Todd Lattimore, whom Walsh mentored, will open Saturday.
I had the opportunity to speak with Arnaz over the phone about her memories of Walsh, and what she'll perform in Auburn.
Q. How did you meet Thommie Walsh? What do you remember most about him?
A. I guess I met him for the first time when he was doing "A Chorus Line." I'd finished working with Michael Bennett on "Seesaw" with Tommy Tune; we were on the road for six months. Then a lot of the same people started working on "Chorus Line." The only people I knew were the people on "Seesaw," and at the Shubert Theatre we'd be backstage and take dance classes. I saw the show about 18 times. Thommie was in that show, and we became friends. Ten years later he joined "My One and Only," and Thommie put me into the show. When the company's rehearsing a new show while people are doing another show every night, you have to have a dance captain and an assistant director put you in. Thommie was that person; he was so much fun to work with. He was a good kid with a good sense of humor and a hard worker, and a joy to be around. Any time I would bump into him after that, he was a very special soul. His heart was always in the right place, plus he was extremely talented.
Q. How did this show come together? Did they reach out to you or vice versa?
A. Thommie's sister called me a couple years ago, but the first time we weren't able to do it. We finally worked it out this season. Different people have gone and done the shows, like Tommy Tune (who performed a similar pair of benefit shows last year), and he said it's really lovely up there. I have friends in upstate New York who mentioned it, too. I'm so glad we actually had the time to do it this summer. I'm on the board of the American Theatre Wing and vote on the Tony Awards, so spring really heats up with new shows opening that I have to see under deadline, combined with my concert schedule. This year I took it off and said I'm not going to vote because I was spending a lot of time on the West Coast. So I was fortunate to be able to take this date.
Q. What will you be performing at Auburn Public Theater? How did you choose the numbers?
A. It's been a very busy month. We have a gig every weekend, so I thought I'd keep it simple and do the show we've been doing, so we don't have to get new musicians learning brand new shows. A CD I put out a couple years ago called "Latin Roots" — we formulated the show really around that. They wanted to call the show "An Afternoon with Lucie Arnaz," but when I get on stage I tell the story of the numbers, with a lot of video. We set it up like a "Latin Roots" show. They wanted it to be generic at (Feinstein's at the Loew's Regency in Manhattan), and at the last minute, we just decided to do "Latin Roots." It's the show I wanted to do. And we got some of the best reviews in our lives. It didn't matter that the show wasn't called "Latin Roots," it was "An Evening with Lucie Arnaz" and she'll sing whatever she sings. It's my Latin roots, my heritage. My father was Cuban, and the fact that he was Latin and also a musician — that gave me this love of music and speared me in the direction of musicals and the kind of music I enjoy singing now. It all came from those roots.
Q. What sort of video is in the show?
A. First there's an intro video reminding people where they might have seen me. It's a piece I edited just for fun for my 50th birthday, kind of a mockumentary. I snipped a couple of minutes of it and used it as an intro. Then there's a video at end of the show that goes with a song on "Latin Roots." It's a song my father actually wrote, called "I love you." A great story goes with it, but I won't tip it.
Q. Do you plan on tweaking the show at all because it's a tribute to Thommie?
A. They just said they want me to bring my show, but I'm sure I'll do that. I'm not actually sure how much of the audience is even privy to the Thommie Walsh connection. I didn't plan anything major, because maybe we all know it's run by his sister to support Thommie. There's a place in the show where I talk about being there and thank the audience and the theater — that's the perfect place to talk about why I wanted to come up here. I'll probably think of what to say after I've been there the day before — I don't plan those things really until I get there. Sometimes I decide while I'm in the shower getting ready for it. There's a flow of energy that comes the night you're there, listening to what's going on around you.
Q. Any last thoughts on the show?
A. I don't get a chance to perform in that area that often, or even in New York that often. It's a good time to catch this incarnation of this show. A lot of people have no idea what Lucie Arnaz does. That's what I hear: "I didn't know you could sing." And I think, "What brought you here?" They don't know. With "Latin Roots," a tribute to Desi Arnaz, maybe they think I'm going to stand at a podium. It's an old-fashioned club act with amazingly good music that I love singing. I'm inspired by my father and the composers/arrangers I grew up with. I'm still working with Ron Abel, my arranger/orchestrator of 25 years. We just love working together. He's one of those people who does it all — he's also an incredible songwriter. More important than all of that is that he's a great hang — we love traveling, being together. We'd do the show for nothing if they pay us to travel and schlep. When it's easier with the people you're with, then everything works.
Lake Life Editor David Wilcox can be reached at 282-2245 or david.wilcox@lee.net. Follow him on Twitter at drwilcox.
Be the first to know
Get local news delivered to your inbox!