Working as a teacher in the Middle East around 2000, Amy McMahon would often have a difficult time connecting with her nieces and nephews back in Waterloo.
Raised in Syracuse and now based in Seneca Falls, McMahon frequently travels across the world. To overcome spotty internet and phone connections, she would stay in touch by writing stories for the children. Their mother, her sister, would tell McMahon something they liked, and she would craft a story around the idea. Then, after memorizing the story, she'd read it to the children on visits home.
"A lot of the stories I was developing for the kids was initially to maintain this connection, trying to find out what they liked so they could be excited about talking to me," McMahon said.
Now, one such story — about a misbehaving little dinosaur — is available as a fully illustrated children's book, "The Jungle of Jojee."
The book tells the story of Mario, a microraptor frustrated by his small size when compared to giants like the brontosaurus.
Mario also doesn't listen to his mother. The story that eventually became the book was originally written for McMahon's godson Joseph, she said. Joseph was entering a mischievous phase when his baby sister was born, and often ignored the rules set by his mother, something McMahon wanted the story to address.
To reach him, McMahon wanted to use a subject Joseph was passionate about so the message might get through to him. That ended up as dinosaurs, but it was nearly something very different.
"The phase he had right before dinosaurs was trucks, specifically garbage trucks. So I was very excited when he shifted into dinosaurs," McMahon said.
At first, the research for the book was informal, with McMahon relying on Joseph as a go-to expert of sorts.
"That current science was all about a little 4-year-old saying a dinosaur's scientific name and me saying 'What?' and Googling it," McMahon said.
Eventually, when the book became more formalized, McMahon began to do some more serious research, including today's prevailing theories on what some species of dinosaurs looked like.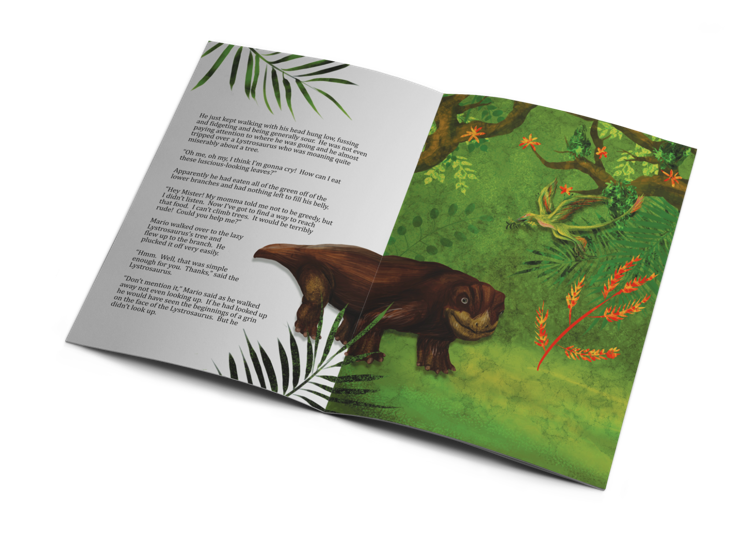 While many might think of dinosaurs like the Tyrannosaurus rex or velociraptor as scaly like modern reptiles, there's extensive fossil evidence that many dinosaurs were feathered.
The microraptor in particular would have had its four wings covered in iridescent black and blue feathers, according to the American Museum of Natural History. However, illustrations by Alina Shabelnyk in McMahon's book depict a more colorful version.
The book is available in print, e-book and audiobook forms, and also has transcripts available in Albanian and Arabic, something that comes from McMahon's experience as a world traveler.
Just like with her nieces and nephews, McMahon would come up with stories for the children of the many friends she's made during her career across the world, and those friends wanted to be able to share those stories in their native languages.
"So my translations come out of that mostly, the fact that I have so many people in my life that have so many languages in their household," McMahon said.
With that in mind, McMahon wanted to have the transcripts — which were provided by her friends — available in different languages as a free resource.
"As a teacher, it was something I wanted to offer," McMahon said.