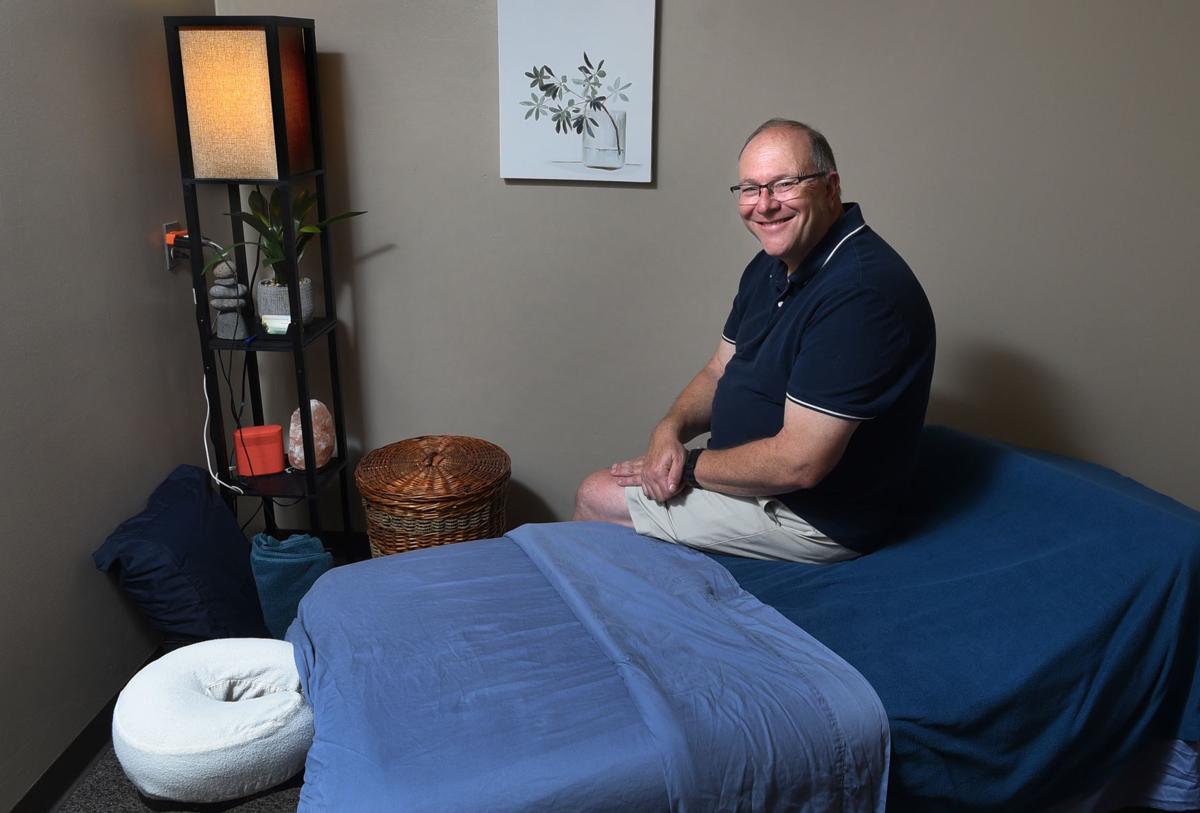 AUBURN — Darrell Rublee, a massage therapist who recently brought his practice to Auburn, was originally introduced to massage as a customer.
Rublee said massage helped him relax and reset in the midst of a "high-tech, high-paced, high-stress job." He was an engineering manager at Xerox at the time, and his wife was also undergoing message therapy while she recovered from a fall. 
"I became very curious as to why the same massage therapist would help my wife and I in two completely different ways," he said. "Same therapist, but two ways."
In April 2016, Rublee took a buyout from Xerox as the company was downsizing and decided to use the money to go back to school for a massage therapy certificate. By doing that, he found that the answer to his question had to do with mindfulness and connection between the therapist and customer.
"Many times it's about the muscle and what's broken or what needs to be worked or repaired. It's also about how a therapist connects with you and helps you through your stress," he said.
Darrell's Therapeutic Massage originally opened in downtown Rochester, but Rublee relocated the practice in July to a new office on 72 South St. in Auburn after he and his wife moved to Moravia.
"Usually, when someone is searching for massage, there's a reason why," he said, noting that massage can be recommended to treat physical issues, depression and anxiety. "Either that or some people are just looking for relaxation."
Rublee said that massage helps with conditions people may not necessarily be aware of, like sciatica, another common issue that manifests as pain in the lower back from sitting, driving and typing.
His service has also been recommended as a noninvasive medical alternative to surgeries, although he noted that massage is not a "fix it now" solution.
Rublee could've pursued work at a massage company, he said, but he didn't want to return to the same work environment where he spent 25 years as an engineer. Having his own business also helps him create continuing treatment plans for his patients.
"When someone new comes to see me, I'll talk to them for several minutes. Where in a big company setting, you don't really have that luxury so much," he said.
Rublee and his two sons used to hike in Fillmore Glen State Park in Moravia, but he never thought he would live in the area. When it came to deciding where to open his practice, Rublee had a couple of nearby options, but one place stood out.
"Auburn has a couple of massage therapists here, but not a lot. So that's why I picked Auburn, because I thought there was a need here," he said.
Rublee has been building up a network of clients and connections by doing concierge massage work at people's homes and local bed-and-breakfasts. Rublee can also provide "chair massages" that focus on the back, shoulders and neck areas for employee wellness events.
"I love what I do, so I don't like idle time very well," he said.
Be the first to know
Get local news delivered to your inbox!