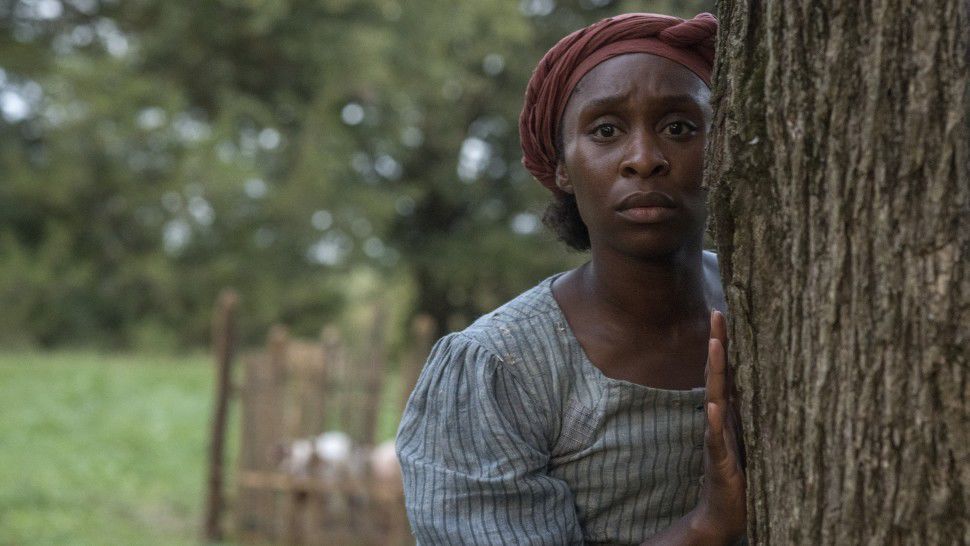 There are times when you must simply be still, listen and realize the sounds you hear in the foreground are the corrections to lost history being told, and understanding of wrong history being rewritten, being corrected. That is what the new Harriet Tubman feature film has done. This is no "Roots," nor is it "The Last of the Mohicans." It is history.
There are those whom I'm sure will be critics of the new "Harriet" Tubman movie, placing it in the same space as other films that are hyper-scrutinized by the industry and critics as Oscar nominations are garnered. I, many times in my professional life as an executive producer, director or American choreographer, would be one of those critics. But the new feature film "Harriet" by Kasi Lemmons is more than a film, and if I may say, it's a film that does not require on its face the approval of the white majority. White approval is important in a business sense, of course, but culturally for black people, as well as many white people, that simply is not the goal here.
With a screenplay by Lemmons and Gregory Allen Howard, the opening scene clearly showed this was going to be a different approach to the Tubman narrative. Skipping the childhood years and instead cleverly using her famed dizzy spells as reflection points initially, then clarifying them as the movie progressed to be her private way of communing with God — much like Moses did in Egypt —this film was going to move the narrative of Tubman forward, and in a thoughtful, enticing and at times playful and suspenseful way.
For the first time, and at long last, a black person — a black woman, in fact — has reclaimed the history of this black and female heroine that no one, for decades, has felt worthy of the big screen. Not worthy of consideration for the big screen, and certainly not worthy of the economic and artistic resources of a Kasi Lemmons, producer Debra Martin Chase and stars Cynthia Erivo, Leslie Odom Jr., Janelle Monáe, Tim Guinee, Joe Alwyn, Vanessa Bell Calloway, Clarke Peters, Jennifer Nettles, Vondie Curtis-Hall, Tory Kittles, Deborah Ayorinde, Omar J. Dorsey and more.
You see, what I bear witness to in this milestone moment, is that finally a Harriet Tubman feature film has been done. When I stood next to Kasi at the Toronto International Film Festival after the world premiere, I felt the remnants of what had to be the weight continuing to give way to the floor as she talked with me. The undertaking was huge. Everyone who knows Harriet Tubman, I'd argue, actually has their own version of who she is or isn't, and has different folklore and anecdotes as proof. As a commissioned director, composer and adapter of one of the first Harriet Tubman musicals — that I had known of — more than 27 years ago, and executive producer of the Harriet Tubman Freedom Music Festival, the Harriet Tubman Freedom Awards and "A Soundtrack for Harriet Tubman" today, I understood personally all the goals that are transferred and demographics who have tied their needs inexplicably into Lemmons' work on this movie, even though they had never met her or talked to her. Kasi is one of the modern incarnations of Tubman, and she was running for a different outcome. Her role was to save those looking to be saved and rescue those who didn't know they needed to be saved. Through a powerful story, she and the cast had to remind this country, this society of its greatest sin, and recently of its greatest revival. Slavery then, and its contemporary form, racism, today. She had to accomplish this without losing the white audience the film will need to be successful, along with the black audience that needed the film. After all, this could not be another "12 Years a Slave," as that had already been done and American audiences will only embrace so much of that. This I know weighed not only on the mind of Lemmons and Chase, but also other producers and the Hollywood in-crowd that would have to embrace it in some way for it to gain oxygen.
The feature film starring Cynthia Erivo, Leslie Odom Jr., Janelle Monáe and more was a loud statement that said no longer will white Hollywood's inability to tell the most significant stories of black people, and black people who impact all people, be acceptable.
"Harriet" is a film worthy of audiences, acclaim and awards not only because of some standout moments and some very powerful music, but also because of the history it has garnered.
Sean McLeod, of Auburn, is the executive producer of the Harriet Tubman Freedom Music Festival, composer of "A Soundtrack for Harriet Tubman," president and CEO of the New York Institute of Dance & Education, and an international producer, director and choreographer. He is also the founder of Reaching for Higher Ground Consulting.
Be the first to know
Get local news delivered to your inbox!