This December, a former Auburn resident will be one of just 12 artists chosen to showcase their work at The Salvador Dali Museum in Florida.
Rick Ganey doesn't consider himself much of an art guy. He's never painted, and "stick people and signing my name" are as far as his drawing talents take him, he said.
But Ganey's work making cigar box guitars earned him the attention of a curator at the St. Petersburg museum dedicated to Salvador Dali — the famously mustachioed artist known for surrealist art like "The Persistence of Memory," his renowned painting of clocks melting in a barren landscape.
"I was thinking, 'This can't be real! My God, it's the Salvador Dali Museum!'" Ganey said, describing the phone call where he got the news that he'd been chosen as one of the "Dali Dozen."
"It's an unbelievable honor for me, my family, kids. Nobody can really believe it because you always think this happens to other people," Ganey said.
Using old-fashioned wooden cigar boxes, Ganey makes real, working electric guitars, as well as basses and ukuleles. The designs Ganey creates vary wildly. Several of his guitars keep the rectangular shape of the cigar box, but almost create an illusion by placing the image of a typical electric guitar body on top. Another looks like a guitar case, while another still is a double-necked guitar with a pasta strainer in the center.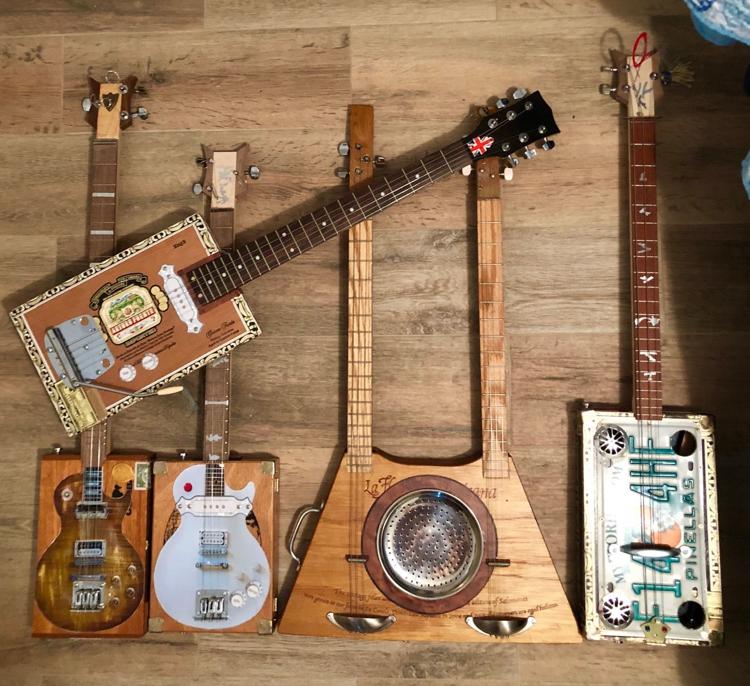 Because the other "Dali Dozen" artists represent more traditional art forms like sculpting, painting or photography, Ganey said he thinks the unique nature of his work makes it stand out.
It likely won't hurt that all his guitars are playable, and he'll bring an electric amplifier to the exhibition to showcase that fact.
"These are rockers made to be played on stage," Ganey said. "I just think I'm gonna draw the most attention because paintings and sculpting isn't everybody's cup of tea, but music is."
What makes the honor of being chosen even more of a shocker for Ganey, he said, is that he only started making the guitars as a hobby in 2016, and doesn't have nearly as much professional-level equipment as many other crafters. In fact, his first guitar was made from a box he found in a snowbank.
After retiring from a career in heating, ventilation and air conditioning sales, Ganey took up the hobby after finding an active Facebook community of guitar makers while recovering from back surgery. Before starting the hobby, however, Ganey had a love of music. Now a resident of Largo, Florida, just a few miles from the museum, Ganey said that love was partly sparked by Auburn and central New York's "killer" live music scene.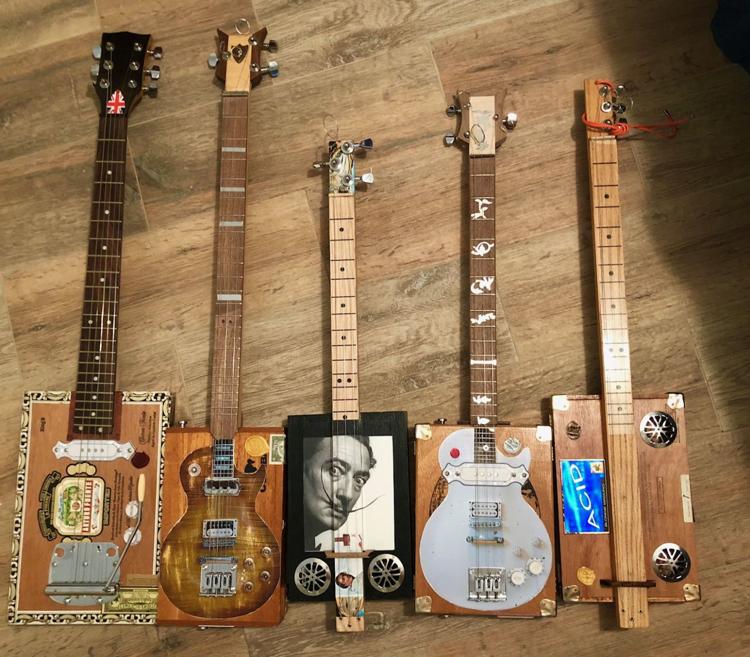 "I love that I'm from Auburn and I still have really strong ties there with friends," Ganey said. "Hopefully they'll see this as something really cool for somebody that loves the central New York music scene."
Ganey will have the chance to showcase his work when the "Dali Dozen" exhibition is held Dec. 5.