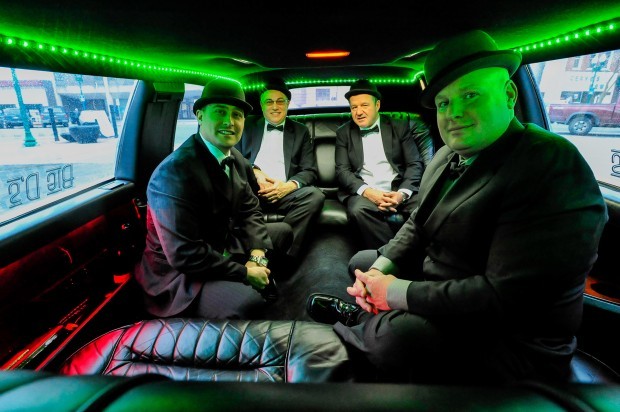 If you've been hankering for some old-school cocktails, jazz music and a Lincoln Excalibur limousine to pick you up and take you out, Bernie Simmons, president of Balloons Restaurant and Catering Co., said his soon-to-be-opened bar, A.T. Walley & Co., will do just that.
The idea for the bar is the brainchild of Nick Musso with whom Auburn residents Simmons, Jeffrey Campagnola and Lee Vanderpool have teamed to get the vintage bar up and running.
"It's going to offer a little something for everybody," Simmons said. "We want to set ourselves apart. We want to be unique."
Simmons said A.T. Walley & Co. will be open sometime in early to mid-April. The renovation of the three buildings on Genesee Street is taking a little longer than the partners had hoped, but they want to get everything just right.
"The wheel is out there, and everybody puts their different spin on it," Simmons said. "And the bar business is notorious for taking someone else's ideas and reforming them, and that's a lot of fun."
The partners have taken road trips together, trying out drinks and food from Syracuse to New York City. From that research, they have developed what Simmons calls "A.T. Walley elixirs." They include new spins on old favorites — Manhattans, chocolate martinis, and even a cucumber jalapeño margarita.
Campagnola, who is also the manager of the bar, said that drinks will be made with fresh ingredients — with sugar cubes instead of sweetened soda, and fresh-squeezed limes instead of bottled lime juice.
"Wait 'til they have our coffee and doughnuts," Simmons said. "And that's a drink."
As for the atmosphere and décor of the bar, Simmons said to think upscale cocktail lounge, with some spaces set up like living room settings. They are hoping the atmosphere of the bar will have people talking to each other, rather than glued to cellphones.
"We want this to be a social bar," Campagnola said. "It's going to be old school. You're going to feel like you're stepping back in time a bit."
As for that limo ride, if someone is within the Auburn city limits, for $10 it will pick them up and bring them back home. Simmons said not only is the limo service fun, but it's a safety measure, too.
All of the A.T. Walley partners' business and food service experience adds up to about 80 to 100 years total, said Simmons, who has been in the restaurant business for about 40 years alone.
"I think they've got not only the vision, but also the ability and talent to create a successful establishment," said Joe Bartolotta, one of the owners and general contractors of the three buildings. "Also, they're local guys, which makes it pretty unique."
Another unique aspect of the bar is its history. The name, A.T. Walley, comes from the name of the pharmacy that the buildings were originally: Amos T. Walley & Co. Drugstore. The pharmacy was built in the 1850s, and Campagnola said they even have some old receipts from its operating days. Thus, after approximately 25 name ideas, the partners decided on the commemorative A.T. Walley.
"The partners loved it," Simmons said. "They loved the historical part of it. And we've all lived here almost all of our lives. We wanted to keep that flavor."
Meanwhile, inside those limestone buildings on Genesee Street, the painters are finishing up, the decorating will begin soon, and the finishing touches will be made.
"We're here to stay. We've been here to stay," Simmons said. "This is our home, and we want it to be the best that it can be. It'll be fun."
Be the first to know
Get local news delivered to your inbox!