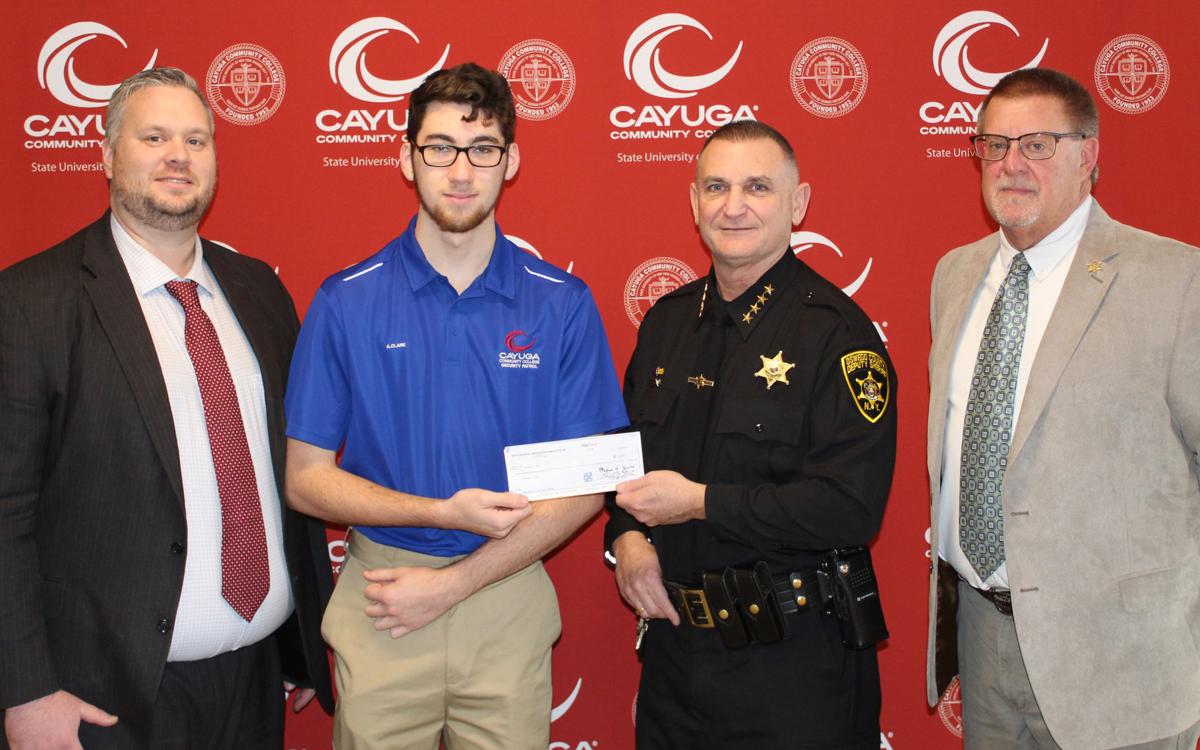 CAYUGA COMMUNITY COLLEGE
• Andrew Clark, of Hannibal, who is now in his second semester, has been awarded a scholarship from the New York State Sheriff's Association. Clark is a criminal justice major, member of Cayuga's Student Safety Patrol, and a volunteer in the Hannibal Volunteer Fire Department. He is considering becoming a K-9 officer, joining the New York State Police or joining the military after graduating from Cayuga.
---
CAZENOVIA COLLEGE
• Abbie Boglione, of Auburn
• Michaela Breeze, of Auburn
• Kyana Currier, of Auburn
• Jordan Taylor, of Auburn
---
CLEMSON UNIVERSITY
• Lindsay May, of Auburn, majoring in pre-business
---
DAEMEN COLLEGE
• Mia Picciano, of Auburn
• Courtney Otis, of Marcellus
• Rebeca Mack, of Marietta
---
DANA L. WEST JR.-SR. HIGH SCHOOL (PORT BYRON)
High honor: Evan Bergenstock, Tyler Compson, Kylee Cordway, Thomas Dauenhauer, Anthony DeWolf, Savannah Finn, Madison Gillespie, Sean Gillmore, Berton Harris, Marcus Janes, Cody Jarabek, Ian Mack, Abigail McKay, Jayla Murray, Timothy Pennell, Jacob Peters, Amelia Powers, Kaiden Smith, Myia Thresher, Kloe Verdi, Katelyn Ware, Caiden Whitcomb
Honor: Ella Bachman, Janelle Beaumont, Jarrett Beaumont, Lucas Briseno, Anthony Feocco, Matthew Hastings, Isabella Martinez, Dylan Nolan, Noah Partin, Morgan Reif, Abigail Rice, Kaylee Rivera, Taytum Shaffer, Henry Smith, Courtney Stevens, Samantha Taylor, Maddyson Whyte
High honor: Grace Applebee, Morgan Brown, Maria Burns, Jamie Cronin, Nicholas Doerle, Alektra Elliott, Julia Gislason, Luke Green, John Hargreaves, Colleen Jump, Kristen Lang, Mackenzie McDowell, Joseph McNally, Allyson Michalski, Nicole Namisniak, Drew Nolan, Adisen Weed, Sadie White
Honor: Kiley Bond, Jordan Cook, April-Sky Delapp, Lonna Gallup, Kateisha Morris, Teisha Morris, Sean Sincebaugh, Dominic Smith, Desirae Stewart, Kalie Tratt
High honor: Jamilyn Casbarro, Claudia Chetney, Taylor Cuddeback, Adrianna Gallup, Emilia Gislason, Veronica Gould, Xavier Heath, Kaleb Holdridge, Hannah Jones, Jada Kimball, Kira McLoughlin, Radiant Meaker, Hunter Sheriff, Jack Smith, Britany Staring, Ashley Todd
Honor: Dylan Burke, Brianna Coleman, Ian LoMascolo, Pamela Rice, Ashley Rooker, Alexandra Stafford, Ike Svitavsky
High honor: Garrett Cochrane, Grace Ford, Hannah Green, Madalyn Jordan, Tammy Laird, Brandy Lisk, Justin Morgenthaler, Precious Peters, Natalee Reese, Abbey Ryan, Kaylee Schelah, Josh Sitterly, Grace Smith, Madison Srymanske, Ryan Teabo, Sadie Tratt, Sydney Wise
Honor: Alexis Colbert, Haili Gist, Owen McNally, Rose Nageldinger, Maxwell Noga, Gabriel Rhodes, Benjamin Silliman, Erica Thomas, Bryanna Wilbur
High honor: Miranda Aldrich, Michaella Allen, Rileigh Gray, Hali Harkness, Rileigh Luste, Jenna Mapley, Ava Mills, Abby Nielsen, Sophie Redmond, Chloe Skutt, Lillian Svitavsky, Anna Vincent, Jenna Waite
Honor: Jesse Applebee, Gabriella Atchinson, Katelyn Brown, Kyle Emmett, Jarrett Fronce, Alison Grudzien, Michael McCarthy, Taylor Moore, Cassie Nolte, Owen Perry, Ryan Ratliff, Donna Todd, Kaitlin VanHouten, Sabrina Westmiller, Alexis Wilbur
High honor: Keyara Allen, Nathan Applebee, Nicholas Audioun, Kiara Barth, Scott Compson, Jordon Coughlin, Nadia Edley, Conner Gordon, Emily Green, Mitchell Hamel, Katrina Laird, Benjamin Longyear, Zachary Nielsen, Travon Oliver, Thomas Petruzzi, Bronwyn Roberts, Chelsea Rooker, Emily Ryan, Haley Smith, Joshua Srymanske, Jessica Suslik, Rose Truex, Skyler White, Ariana Wiers
Honor: Katlyn Butler, Cheyanne Goodman, Felicia Haitz, Nicholas Lee, Miranda Lipiska, Morgan Lupo, Alida Mayorga, Israel McBride-Bethea, Jenna McKay, Jacob Nielsen, Taylor Petruzzi, Shelby Weatherwax, Veronica Welch, Michael Westover
---
FINGER LAKES COMMUNITY COLLEGE
King Ferry: Maddison Reeves
Seneca Falls: Shelby Betts, Samantha Blair, Charmion Dinsmore, Maria Gallina, Hunter Haust, Elizabeth Lipker, Pauline McDonald, Rebecca Quillen
Union Springs: Leah DeGraw
---
HARTWICK COLLEGE
• Lydia Martha Marteney, of Auburn
---
KEUKA COLLEGE
• Matt Bolton, son of Cynthia Bolton and John Bolton Jr., and a resident of Cato. He is a senior studying sports management.
---
MORAVIA MIDDLE/HIGH SCHOOL
High honor: Hailey Adams, Vivian Amos, Jacob Anderson, Joseph Baylor, Zachary Conklin, Cordellia Dailey, Olivia Genson, Emily Griffin, Christopher Keller, Annelise Kraan, Lillian Miller, Elizabeth Morgan, Evelyn Ottaviano, Nicholas Plue, Noah Shreffler
Honor: Ava Albanese, Alexander Almeida, Eric Brown, Isabel Burgman, Daisy Drake, Amanda Hallman, Benjamin Hull, Riley Jones, Mya Luoma, Thomas Lyman, Madison Marsh, Donovan Miner, Wyatt Moore, Alyssa Palmer, Thomas Palmer, Emily Prince, Scott Raymond, Greyson Springer, Lilly Striker, Westin Walker, Frank Williams
High honor: Johnson Balk, Robert Balk, Kylee Boyle, Bailee Brown, Shamus Brown, Logan Burhans, MaKenna Caza, Christopher Conklin, Cole Cuddeback, Haley Drake, Alice Epperly, Drew Famoly, Madison Guinta, Tayden Johnson-Stayton, Allison Kehoe, Reagan Lamphere, Luke Landis, Ayden Makala, Allison Manning, Megan Marsh, Dakota Matthews, Kaylee Miner, Drew Nye, Alexis Partridge, Brie Perez, Kyler Proper, Kaden Robinson, Kaiden Sharpsteen, Gwendolyn Sisson, Jordan Smith, Mya Stewart, Abram Wasileski
Honor: Tyler Bell, Kaitlynn Brown, Hunter Craig, Justin Dickenson, Zachariah Ehrentraut, Edward Gallup, Allyssa Gettel, Jackson Hares-Ryan, Gabriella Heim, Frederick Hess IV, Madelyn Houston, Aiden Kelly, Katelynne Lampier, Kylie McLachlan, Daniel Murphy, MacKenzie Ragusa, Baylee Sherman, Abbilyn Swan, Gabrielle Thilburg, Carter Tillotson, Corbin Walters, Sydney Welsh, Natalie Wright
High honor: Kyler Adams, Heidi Anderson, Bernice Balk, Logan Bell, Adrielle Burke, Dallas Carr, Nolan Coningsby, Lita Drake, Samantha Fragala, Lindsey Gentilcore, Jenna Grey, Travis Hacker, Chloe Hanson, Grace Ike, Bailey Karlik, Corinne Leonard, Parker Loomis, Marissa Magill, Brayden Mason, Gabriel Shreffler, Evelyn Sisson, Joy Weed, Caitlin Whaley
Honor: Dallas Dockstader, Samantha Evener, Connor Fox, Zachary Griffin, Ashley Grobelny, Ella Harriger, Nathan Hastings, Karaline Head-Martinez, Trinity Morgan, James Nalley, Nathan Thompson, Amber Tibbits, Kayleigh Utter, Emily Williams
High honor: Isobella Banerjee, Bryce Bevier, Jeffery Carmichael, Brooke Dusseau, Emma Janke, Emma Kraan, Taryn Langtry, Malayna Martin, Gavin McKeon, Addison Moore, Alexa Morris, Abigail Myers, Madalaina Raymond, Lynnae Russell, Owen Ryan, Henry Scholl, Kayleigh Stayton, Bailey Williamson
Honor: Abigail Axton, Katherine Baylor, Conner Crossley, Bethany Davis, Blaise Epperly, Anthony Lawton, Mason Webb
High honor: Sophia Amos, Alexis Anderson, Ivey Card, Matthew Cuddeback, Hannah DeWitt, Brianna Eastman, Connor Funk, Megan Lamphier, Laura Landis, Cheyenne LaPlatney, Ashley Lunsford, Nicholas Marnell, Alexa Nye, Justin Pettit, Dallas Pierson, Brook Purdy, John Read, Katharina Schurmann, Kiersten Short, Patrick Smith, Elizabeth Vivenzio
Honor: Alyssa Brown, Alexia Carroll, Hannah, Jade Chisholm, Katelyn Harvey, Teyara Lee, William Manning, Katlyn McKane, Chelsi O'Hora, Nicholas Smith, Iesha Studer. Mackenzie Sullivan, Joshua Wheeler
High honor: Hannah Andersen, Rachel Badman, Rachel Bancroft, David Blake Huffman, Adem Chehovich, Mia Dillon, Elizabeth Dusseau, James Fedrizzi, Kaitlyn Frierson, Benjamin Janke, Tryston McCabe-Morris, Jenna Morris, Alexa O'Brien, Alexis Robbins, Lindsey Smith, Shelby Smith, Deegan Sovocool, Brianna Steger, Makenzie Tarby, Logan Walker
Honor: Felicia Brown, Nathan Eberhardt, Justin Garrow, Benjamin Herman, Noah Kieffer, Benjamin Langtry, Teagan Mosch, Tyler Moses, Angelina Oliver, Zoe Quartier, Dristin Smith, Gavin Stayton, Brooke Steger, Kylee Stockton
High honor: Andrew Badman, Alethea Banerjee, Benjamin Bilinski, Kharisma Blake, Madison Boyd, Hunter Church, Sarah Cuddeback, Elijah Davis, Trinity Dearden, Kaleb Frierson, Katelyn Johnson, Jared Justian, Emily Kehoe, Gabrielle Kehoe, Hunter Lawrence, Kevin Lynch, Sierra Lyon, Chloe McNabb, Lindsey Moffitt, Jared Russell, Isabelle Rutledge, Tyler Ryan, Sydney Smith, Hope Thilburg, Grace Wasileski, Emma Willis, DaKotah Young-Ross, Abigail Younger
Honor: Aaron Ammerman, Kayla Bennett, Collin Bossard, Adyson Burke, Joshua Crull, Izaac DeHart, Gavin Genson, Kaden Hooper, Alyssa Knapp, Brady Knutson, Benjamin MacAdam Gorham, Angel Montalvo Rodriguez, Ismael Montalvo Rodriguez, Olivia Nalley, Micha O'Brien, Joseph Shoemaker, Scottie Sovocool
---
NAZARETH COLLEGE
• Tatianna Trojnor-Hill, of Moravia
---
SENECA FALLS MIDDLE SCHOOL
Students of the month for January
Grade six: Hope Jones, Arianne Mahoney, Loc Cao, Kyan Powers
Grade seven: Clara Jacobs, Madelyn Verkey, Quan Cao, Philip Love
Grade eight: Jack Anderson, Rowen Markel, Jazmine Caracillo, Lydia Salerno
---
SUNY CORTLAND
• Meghan Dann, of Auburn, majoring in physical education, a 2016 graduate of Auburn High School and the daughter of Greg and Kirsten Dann
• Trevor L. Ash, of Liverpool, majoring in criminal justice, a 2015 graduate of Auburn High School and the son of Eddie Ash Jr. and Adeline Gunger
---
SUNY DELHI
• Sarah Chace, of Moravia, is pursuing a bachelor's degree in culinary arts management.
• Zachary French, of Auburn, is pursuing a bachelor's degree in hospitality management.
• Maria Ashby, of Auburn, is pursuing a bachelor's degree in nursing.
• Rachel Carnicelli, of Auburn, is pursuing a bachelor's degree in nursing.
• Nicole Milillo, of Auburn, is pursuing a bachelor's degree in nursing.
• Lauren Sisto, of Auburn, is pursuing a bachelor's degree in nursing.
• Kimberly Testa, of Auburn, is pursuing a bachelor's degree in nursing.
• Nicole Voudren, of Port Byron, is pursuing a bachelor's degree in nursing.
• Craig Freligh, of Auburn, is pursuing a bachelor's degree in architectural design and building.
---
TYBURN ACADEMY
High honor roll (93 and above): Colin Manning, Christian Sabo, Joseph Valenti, Sarah Weichert, Elisa Faiola, Stella Reohr, Anna Zabriskie, Noel Lovell, Krysha Pierce, Chloe Reohr, Fiona Weichert, Jack Zizza, Michael Ciras, Isaiah Velazquez, Xavier Cuddy, MaryBeth Hribick, Kara Lattimore
Honor roll (85-92.9): Alexis Ames, Daniel Cuddy, Elizabeth Kane, Ayame Okamoto, Tyler Reohr, Alexis Stevens-Holmes, Natalia Wayman, Jame Cole, Deonsay Cuddy, Thomas Gronau, Olivia Haines, Molly Manning, David Hribick, Nora Whyte, Mary Louisa Fallon, Grace Wilder, Gabriel Dauerheim, Trystan Shepard, Maximilian Fallon
---
UNIVERSITY OF MASSACHUSETTS MEDICAL SCHOOL
• Katherine Cooper, a 2013 graduate of Auburn High School and a 2017 graduate of Brandeis University, is now part of the class of 2022. She is the daughter of Cherie and Harry Cooper, of Auburn.