CAYUGA COUNTY 4-H
Six Cayuga County 4-H members took part in the Region II 4-H Communications Contest March 24 at Midlakes High School in Clifton Springs. Participants choose horse-related topics and present on them, developing their public speaking and argumentative skills.
Participating from Cayuga County were Isabella Mantella, Hailey Campbell, Abigail Minture, Payton Youngers and Audrey and Marissa Bartholomew. Isabella placed first in the novice division. In the junior individual division, Audrey placed second, Marissa placed third and Hailey placed fourth. Payton placed first in the junior public speaking division, and Abigail placed fourth in senior individual presentations.
---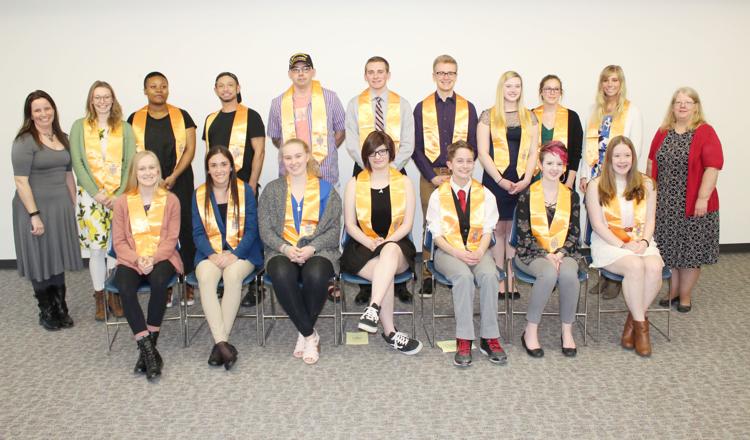 CAYUGA COMMUNITY COLLEGE
Phi Theta Kappa honor society inductees: Erica Helzer, Ashley Westover, Deanna Kinney, Avery Clark, Diana Rudy, Bailey Filer, Kyleigh Kinsella, Bailey Burr, Beijing Saleem, Anthony Christian, Anthony Ferris, Jeffrey Stechuchak, Glyn Davenport, Gwendolyn Catalano, Mikaela Klinger, Sara Ventura, Daniel Baumes, Robert Burkhard, Anna Ducayne, Courtney Foster, Michael Henry, Emily Klock, Nathan Mancini, Laura Marion, Jessica Mazur, Aaron Neal, Robert Netti, Jewell Reed, Mikayla Rink, Riccaela Roof, Joseph Sadusky, Melissa Welch, Victoria Wensley
---
CLARKSON UNIVERSITY
• Joseph D. Skutt, of Auburn, a sophomore majoring in electrical engineering, earned the Vern Clute Memorial Academic Achievement Award, which is presented to the male and female American Indian students who, at the end of the first semester of their sophomore year, have achieved high academic averages.
• Lexie F. Stoyell, of Moravia, a junior majoring in electrical engineering, earned the Commendable Service Award For Sophomores, which are presented annually to freshmen, sophomores, juniors, seniors, graduate students, faculty, staff and administration members who have demonstrated quality in service to their area/organization.
---
DANA L. WEST JR.-SR. HIGH SCHOOL (PORT BYRON)
High honor: Grace Applebee, Morgan Brown, Maria Burns, Jordan Cook, Nicholas Doerle, Julia Gislason, John Hargreaves, Colleen Jump, Kristen Lang, Kaylee Marks, Mackenzie McDowell, Joseph McNally, Allyson Michalski, Nicole Namisniak, Drew Nolan, Desirae Stewart, Kalie Tratt, Adisen Weed
Honor: Kiley Bond, Jamie Cronin, Alektra Elliott, Lonna Gallup, Luke Green, Matthew Laird, Connor Lang, Austin Marcuccilli, Teisha Morris, Alexander Patti, Sean Sincebaugh, Sadie White
High honor: Dylan Burke, Jamilyn Casbarro, Claudia Chetney, Taylor Cuddeback, Adrianna Gallup, Emilia Gislason, Veronica Gould, Xavier Heath, Jada Kimball, Kira McLoughlin, Alexander Rooker, Ashley Rooker, Abigail Schumacher, Rachel Siracusa, Jack Smith, Britany Staring, Ashley Todd
Honor: Jacob Gallaro, Kaleb Holdridge, Ian LoMascolo, Gabrielle McCarthy, Pamela Rice, Alexandra Stafford, Ike Svitavsky, Jacob Ukolowicz, Alexis Warren
High honor: Grace Ford, Madalyn Jordan, Precious Peters, Natalee Reese, Abbey Ryan, Kaylee Schelah, Lucas Short, Josh Sitterly, Grace Smith, Madison Srymanske, Ryan Teabo, Sadie Tratt
Honor: Ariana Chetney, Garrett Cochrane, Alexis Colbert, Carollynn Dymock, Hannah Green, Tammy Laird, Owen McNally, Erica Thomas, Sydney Wise
High honor: Rileigh Gray, Rebecca Laird, Rileigh Luste, Jenna Mapley, Ava Mills, Sophie Redmond, Chloe Skutt, Anna Vincent, Jenna Waite, Sabrina Westmiller
Honor: Michaella Allen, Jesse Applebee, Gabriella Atchinson, Katelyn Brown, Tyler Dennis, Alison Grudzien, Hali Harkness, Merle Korostenski, Joshua Kyle, Kyaira Meyle, Ryan Namisniak, Cassie Nolte, Victoria Poyneer, Lillian Svitavsky, Donna Todd, Kaitlin VanHouten, Aaron Wells
High honor: Nicholas Audioun, Katlyn Butler, Scott Compson, Jordon Coughlin, Conner Gordon, Emily Green, Felicia Haitz, Mitchell Hamel, Nicholas Lee, Alida Mayorga, Jenna McKay, Mackenzie Morgenthaler, Travon Oliver, Bronwyn Roberts, Chelsea Rooker, Emily Ryan, Haley Smith, Jessica Suslik, HaiAu Trinh, Rose Truex, Ariana Wiers
Honor: Nathan Applebee, Kiara Barth, Maggie David, Carrie Deaville, Nadia Edley, Michael LaRue, Miranda Lipiska, Benjamin Longyear, Morgan Lupo, Aby McCarty, Jacob Nielsen, Zachary Nielsen, Taylor Petruzzi, Thomas Petruzzi, Caleb Roden, Joshua Srymanske, Bryson Ward, Shelby Weatherwax, Skyler White
High honor: Amanda Chuttey, Katelyn Cordway, Kelcie Cordway, Natalie Germano, Makenna Guarnieri, Brianne Harkness, Gregory Hawuczyk, Connor Hermann, Megan Hitt, Skylar Hosford, Braden Jones, Erica Jones, Kory Kellogg, Christian Knapp, Sarah Mapley, Jason Marquez, Hannah Martens, Olivia Martens, Shane McKay, Caitlin O'Brien, Marta Pratico, Marissa Recckio, Macenzie Reese, Allison Ryan, Kristen Sevilla, Ethan Smith, Elijah Townsend, Abigail Vincent, Jenna Weston
Honor: Rachelle Barber, Mackenzie Chase, Olivia Chuttey, Kassandra Cioffa, Adriana Coughlin, Stephen Dahl, Ryan Gilbert, Thomas Lipiska, Rafaela Pelc, Emma Redmond, Kayla Rotondo, Brett Saroodis, Benjamin York
---
EAST STROUDSBURG UNIVERSITY
• Hannah Bennink, of Auburn, was one of 26 students to take part in the State System Student Leadership Summit April 24. The event provided a space for student leaders to develop and refine leadership skills while building relationships with a diverse panel of Pennsylvania leaders.
---
ELMIRE COLLEGE
• Olivia Cacchione, of Sterling
---
LIM COLLEGE
• Jessie Ann Karagosian, of Jordan, has been inducted into the college chapter of the Delta Mu Delta International Honor Society in business.
---
MYNDERSE ACADEMY
Grade nine: Lauren Bentz, Macy Benz, Brooke Bonetti, Elizabeth Capacci, Keighlynn Casey, Christopher Cratsley, Jamie Fisher, Isabelle Foster, Madison Gage, Kendyl Greer, Jared Hartwell, Carly Herron, Logan Humphreys, Nicholas Jones, Alyssa Karsten, Valerie Kohberger, Samuel Lorenzetti, Alyssa Marley, James Mirras, Skyler Parish, Aurealiz Pena-Alicea, Gino Porretta, Griffin Pundt, Carter Puylara, Kendyl Rasbeck, Gavin Rhinehart, Camryn Rook, Sydney Sandroni, Thomas Santana, Shanelee Saxton, Jonathan Scholes, Tyler Seymour, Jacob Smith, Mya Soto, Morgan Trout, Isabel Wager, Camden Wehrle, Hannah Weston, Hailey Whitton, Emma Wick
Grade 10: Michael Andrews, Madison Benz, Cole Dickson, Danielle Ehresman, Margaux Eller, Michael Eller, Nicole Engster, Regann Fleming, Aubrey Gill, Jonah Hauf, Crystal Hendrickson, Griffin Herron, Phillip Jang, Caitlyn Korzeniewski, Kobe LaPrade, Daniel Liscum, Elizabeth Liscum, Rachel Mahoney, Madison Major, Shae McConnell, Zachary Montgomery, Chloe Morrell, Sasha-Rey Negron, Jennifer Page, Jewlie Pierce, Jeremy Porter, Sydney Rook, Sydney Rowley, Nathaniel Sealy, Ian Simolo, Kaleb Stenquist, Charlotte Tidball
Grade 11: Samantha Barnes, Madison Barnett, Sadie Bonetti, Taylor Brignall, Morgan Ellis, Ashley Hendrickson, Noah Howard, Jordan Howell, Elizabeth Jeffreys, Sarah Kohberger, Sharayah Kramberg Hilyer, Madison Lynch, Lacey Maloney, Devin Mellini, Samuel Micio, Darren Miller, William Reese, Miranda Sacco, Louis Smith, Peyton Stevers, Alaina Wilkerson, Isaiah Winters
Grade 12: Ian Anderson, Brooke Baker, Keegan Baker, Cody Barnhart, Emily Bogart, Victoria Bunce, Carson Butler, Duyen Cao, Rachel Carman, Caleb Cosentino, Juliette DeNucci, Jessica Dougherty, Kaitlyn Fleming, Elisa Ganzon, Hunter Haust, Rachel Herron, Jesse Kabat, Christina King, Hannah Lang, Sarah Lutz, Victoria McCloskey, Bree McConnell, Benjamin McDonald, James Mitchell III, Madelyn Morrell, Meaghan Newkirk, Matthew Ozog, Joshua Page, Hannah Peake, Grace Playford, Mary Porretta, Samantha Pundt, Jackson Puylara, William Rhinehart, Jacob Robinson, Joseph Robinson, Trent Roggie, Nicole Siwarski, Brenden Sofo, Varun Tewari, Victoria Tidball, Evan Trout, Jacob Warshel, Lucas Wilkes, Megan Wilkie
Grade nine: Owen Barnett, Anna Bovay, John Breese, Emily Cook, Nicholas Corsner, Finian Dougherty, Evan Frederick, Dylan Larizza, Emily Lotz, Jocelyn Mansell, Olivia Mestan, Evan Olschewske, Riley Rhinehart, Tristan Shell, LaToya Soura, Kayla Stilwell, Rya Swenson, Derek Triplett, Mansi Trivedi, Caleb Turner, Matthew Walsh
Grade 10: Aaliyah Adams, Connor Hess, Kaitlyn Hilkert, Louisa Hoster, Christopher Jastrzab, Camille Macina, Cody McIntyre, Benjamin Montross, Emily Partee, Kyle Picchi, Matthew Reardon, Lily Redding, Colby Reese, Ethan Spinner, Phoebe Wilmot, Olivia Yancey
Grade 11: Kenya Backman-Lowe, Vanessa Caratozzolo, Noah Colvin, Gavin Doell, Monika Edwards, Damon Fletcher, Allison Hilkert, Samantha Lackey, Mitchell Mestan, Nickolas Myers, Garrett Steinruck, Trent Youngs, Christopher Zerniak, Colin Zettlemoyer
Grade 12: Jaden Adams, Rebecca Ake, Devin Anderson, Cassandra Battley, Hannah Brown Trice, Keenan Butler, Kellen Caraher, Ethan Dyson, Chelsey Eighmey, Erik Gomez, David Grabbatin, Jeremy Howe, Sabrina Iannone, Julia Landi, Heidi Miller, Paige Montgomery, Devon Rasbeck, Abigail Rescorl
---
SUNY ONEONTA
• Mary Sawyer, of Moravia, was one of 10 students to receive an award at the history department awards and Phi Alpha Theta induction ceremony. Sawyer, who is studying history, earned the World History Award, which is presented to a history major with excellence in world history.
---
WEEDSPORT JR.-SR. HIGH SCHOOL
Grade 9: Maurice Ahearn, Aaron Brown, Braedon Brown, Daniel Cherry, Alexa Edersheim, Mitchell Feocco, Jacob Field, Allyson Germinara, Alexia Gilner, Erin Grady, Nicholas Gray, Emma Grieco, Joseph Guy, Leah Hanscomb, Ryan Hickey, Tyler Hill, Isaac Holden, Allison Jeffers, Alexandra Lajo Leonardi, Dylan Langdon, Sydney Manchester, Elizabeth Meyer, Joshua O'Connor, Jaya Patel, Breanna Roof, Thomas Sickler, Abigail St. Don, Emma Stark, Montgomery Steinman, Kayla Tutt
Grade 10: Nicholas Blowers, Jake Brown, Emily Ciancio, Ahtatiana Duncan-Palumbo, Bridget Hickey, McKenna Holmes, Taylor Hunter, Madison Hutson, Madison Lewis, Lindsay Mickle, Alexander Murray, Auburey Ouderkirk, Emma Randolph, Sydney Reyer, Olivia Rudick, Garrett Sevier, Jenna Squires, Anjela Tousant, Joseph Wlock
Grade 11: Owen Benedict, Amanda Brown, Julianna Buchmann, Meah Canino, Cassondra Carroll, Anthony DeFazio, Sierra Fachtmann, Taino Follett, Sydney Gilfus, Abigail Grady, Kalista Hamilton, Maxwell Horsford, Elizabeth Jones, Tiana Kreydatus, Nina Lin, Alena Manchester, Matthew Powers, Natalie Procino, Jacob Roden, Alison Sims, Lydia Treat, Haley VanLuven, Cameron VanBenSchoten, Kyle Walker, Zoe Wejko
Grade 12: Makala Adams, Gabrielle Babilot, Samantha Ball, Reilly Bowden, Lochlyn Brown, Kylie Butler, Caleb Canino, Hannah Christopher, Mackenzie Conklin, Nathan Currier, Jeffrey DeJohn, Alexis Field, Eric Frank, Benjamin Germinara, Molly Goebel, Olivia Guerrette, Mackenzie Hill, Macauley Kolonko, Eric Lally, Alesha Look, Mya Maloof, Paige Marshall, Natalie Mogavero, Jacob O'Connor, Adam Poupore, Michael Procino, Jacquelyn Renner, Alex Rudick, Madelyn Sheehan, Mercy Sherman, Emily Sickler, Mikayla Stott, Jared Sullivan, Julia Thomas, Emily Weller, Jonathan Westmiller, Ariel White, Dustin Wilmot
Grade 9: Conner Butler, Emily Clark, Jessica Cook, Jamison Daly, Elise Dates, Donovan Dennis, Jaelynne Gile, Alison Jorolemon, Jocelyn Kepple, Jack Komarisky, Tori-Lenn Loosen, Jacob Maloof, Graeden Manna, Justin Miles, Susanna Nemec, Michael Partlow, Tyler Rose, David Seitz, Jenna Strong, Jenna Sullivan, Tate Tomandl, Logan Tomaszewski
Grade 10: Braeden Curry, Owen Mabbett, Benjamin Meyer, Kyle Rathbun, Kaitlyn Ryan, Ryan Spingler, Antonina Tortorello, MacKenzie Whittaker, Logan Wilmot
Grade 11: Christopher Chalker, Timothy Feocco, Brooke Hammersley, Jacob Hickok, Brigid Hildreth, Bruno Iacobelli, Thomas Lees, Elizabeth Nemec, Alyssia Quinonez-Squires, Lauren Spingler, Cassandra Stanfield, David Sterling, Kody Swartwood, Karena Ward
Grade 12: Ariana Ada, Kristin Blumer, Mikhayla Brown, Jordan DelloStritto, Derek Dietsche, Kody Donahue, Jalen Flaherty, Steven Gilfus, Destin Hicks, Eric Lin, Danielle Matty, Arthur O'Connor, Gregory Reeves, Aaron Spoor, Skylar Tracy, Ashley Wightman
---
WEEDSPORT MIDDLE SCHOOL
Gold: Tristan Ada, Morgan Auchman, Jacob Blaylock, Emilee Brown, Ryan Dates, Trinity Davis, Morgan Flask, Makayla Foltz, Deana Gilner, Faith Grady, Isabel Guerrette, Jenna Guzzo, Samuel Holden, Deanna Jackson, Mia Jeffries, Lilyanna Komarisky, Robert Quigley, Antonio Tortorello
Silver: Ryan Adams, Elena Amodei, Gwendolyn Charette, Robert Chirco, Isabella Delgado, Thomas Fedeli, Logan Friedel, Amelia Gilfus, Gavin Heath, Eva Joseph, Kellen Reich, Andrew Seward, Bryson Wiler
Bronze: Abigail Gleason, Andrew Stark
Gold: Emma Bizzozero, Sarah Carroll, Cameron Chalker, Madeleine Christopher, Julie Cook, Moira Curry, Meagan Fatcheric, Anthony Giancarelli, Alexus Granbois, Noah Hickok, Allison House, Christina Jackson, Kelsey Jedra, Austin Langdon, Salvatore LoMascolo, Jack Lowery, Reilly Montreal, Forrest Nguyen, Quinn Rudick, Madison Stock, Jordan Webster
Silver: Ashton Collins, Alana Golden, Landon Kepple, Lauren Lanphere, Juli-Ann Miles, Peyton Newton, Adam O'Bryan, Isabella Petrus, Mariah Quigley, Morgan Sims
Bronze: Molly Boyce, Jordan Gilchrist, Bradley Hall, Nash Hertlein, Parker McBride, Madison McNabb, Frances Motto, Rachel Sheets, Jaden Spencer, Gracie Stevens, Samantha Whitman
Erica Helzer, Ashley Westover, Deanna Kinney, Avery Clark, Diana Rudy, Bailey Filer and Kyleigh Kinsella. In the second row, from left, are PTK Advisor Shannon Reohr, Bailey Burr, Beijing Saleem, Anthony Christian, Anthony Ferris, Jeffrey Stechuchak, Glyn Davenport, Gwendolyn Catalano, Mikaela Klinger, Sara Ventura and Advisor Kathy Gross. Inductees missing from the photo are: Daniel Baumes, Robert Burkhard, Anna Ducayne, Courtney Foster, Michael Henry, Emily Klock, Nathan Mancini, Laura Marion, Jessica Mazur, Aaron Neal, Robert Netti, Jewell Reed, Mikayla Rink, Riccaela Roof, Joseph Sadusky, Melissa Welch and Victoria Wensley.