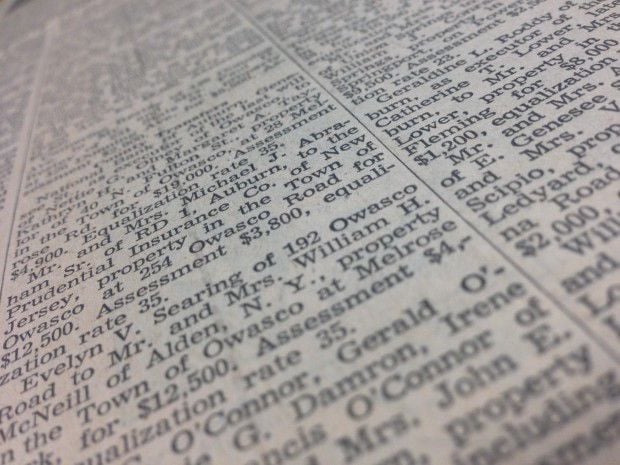 Jan. 31, 1937
Raymond A. Sant, superintendent of schools in the first district of Cayuga County, has announced that the proposed enlargement of the Fair Haven High School was carried by a vote of 191 to 25. This means the voters of the school district have given the Board of Education of the school authority to bond the district for the necessary amount to build this addition and to purchase additional land to the north of the present building.
The proposed sum to be paid for the addition and land is $1,000. The building and equipment is not to exceed $64,000.
Jan. 31, 1962
Two Union Springs Central School juniors, Michael Costisick and David Terpening, prepared a model of an earth boring machine in the new high school laboratory. Both members of the schools Science Honors Group, they have been previous winners of science shows in Syracuse and hope to be selected again with the model project of a device designed to bore deep into the earth.
Jan. 31, 2007
The unveiling of the refurbished facade at the Auburn Schine Theater two weeks ago was another step in a long process toward bringing this piece of Auburn's once vibrant downtown back to life.
The Cayuga County Arts Council, under the direction of president Dia Carabajal, has done yeoman's work in securing the grants and raising funds to restore the art deco theater to its original glory. There is still a lot of work to be done to make the theater usable, but it is an attainable goal.
Jan. 31, 2012
In a Pee Wee travel hockey game, Centerstate topped Auburn 9-5. Jake Morin scored a hat trick in the loss. The other two goals for Auburn were scored by Brendan Williams and Matt VanLiew.
Tyler Ely, Johnny Malandrucolo, Garrett Schafer and Brendan Williams each had an assist. In net, Jack Kalabanka had 38 saves.
— Compiled by Jean Bennett