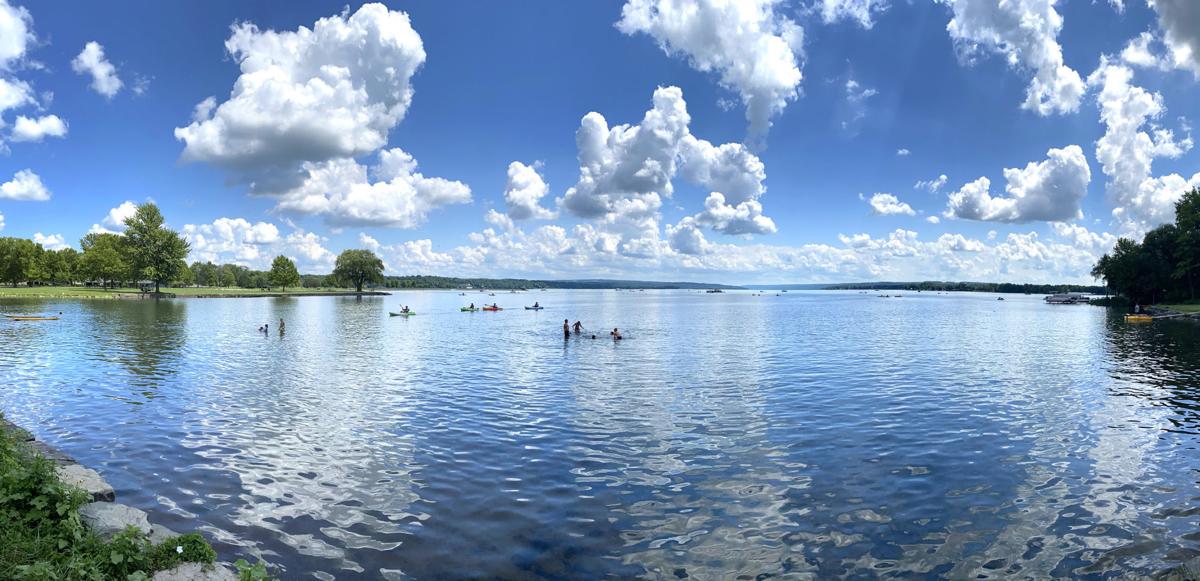 If you find erosion or pollution along Owasco Lake's shoreline or within its streams, look for a nearby sign to help pinpoint the location. About four years ago, the lake's watershed inspector, Drew Snell, as part of a pilot project to engage the public in tributary protection and education, installed pairs of identification signs at 50 tributary/road crossings within the towns of Fleming, Owasco and Niles. Each sign labels the tributary with a map showing its location within a sub-watershed of Owasco Lake. Each also has a rectangular QR code. Using your cellphone, the QR code will connect you directly to the inspector's website, and the number below this sign provides location information needed by the inspection division staff.
In the near future, OWLA volunteers will attach round lake-friendly living signs on these existing tributary signs. See the LFL pledge below. An additional 50 tributaries in the southern regions of the lake's watershed will receive new tributary identification signs that will include these new LFL logo signs.
Previously, Drew Snell installed 100 "medallions" on roadside storm drains. These round blue discs state: "No Dumping. Drains to Lake." This fall, OWLA volunteers, including Boy Scouts, will install 140 more medallions. These new tributary signs, LFL signs and additional storm drain medallions are funded by the Owasco Lake Watershed Management Council and OWLA.
The lake-friendly living pledge
Go on line to take the lake-friendly pledge and receive a beautiful lawn sign. Encourage your neighbors to take the pledge to help preserve water quality and proudly exhibit their own lawn sign, too! Encouraging citizens to become "watershed aware," OWLA volunteers support the Owasco Lake Management Council's efforts throughout the lake's 200-plus-square-mile watershed — the third largest of the Finger Lakes. Find the pledge at olwmc.org.
Lake shore litter hunt
Shorelines can collect unsightly debris. OWLA volunteers are hosting a cleanup day at the northern and southern shorelines on Saturday, Nov. 7. Gloves and bags are provided, and you will find the cleanup effort is actually fun, effective and satisfying work. Trucks to pick up the litter and dumping fees are provided as well! This is a great opportunity to maintain beauty and water quality. If you would like to join in, call (315) 729-1548 or message the OWLA website to determine the time and location for Nov. 7.
Reaching out to local political leaders 
There are many towns and villages throughout the watershed. Many have become aware of the need to reduce runoff by managing drainage ditches, and hydro-seeding ditches within their jurisdictions. OWLA has raised the funding needed to provide the local share required to offer help and support for road ditch management through the Cayuga County Soil and Water Conservation District. Over 10 miles of ditches have been treated to filter water rather than allow topsoil and nutrients to flow unchecked into the lake. OWLA is preparing letters to leaders of local communities to keep them aware of resources available for their road departments. Change always requires new effort and information. New flooding and erosion presents itself every year, and new personnel and leadership need to address these issues. One effort to reach out is not sufficient. Updates and lines of communication always need to be established and renewed.
New shoreline threat
We all know the importance of trees and grasses to hold soil in place. Hundreds of hemlock trees are suffering from a beetle infestation called the hemlock woolly adelgid. If they destroy our hemlock tree population, the soil will erode, along with the roots, into streams. To mitigate the problem, 10 volunteers ("hemlock hunters") were recently trained to support Cornell's New York State Hemlock Initiative. They will contact land owners to get permission to inventory the hemlock population on their property, and try to locate the most threatened trees, especially in gorges and ravines where erosion would be severe.
Education
OWLA will prepare packets for students to be distributed to schools in the spring to provide suggestions for becoming "watershed-aware." Among the many topics contained within "watershed awareness" for students to enjoy are: identifying hemlock trees, identifying woolly adelgid, litter hunting, planting willow seedlings along brooks and streams, attending local town meetings to deliver OWLA's letter offering road ditch support, and thanking local leaders in your town for their work! Being "watershed-aware" is a lifelong and fascinating pursuit! There is always a lot to learn!
For more information about OWLA and its activities in our watershed, please visit our website at owla.org.
Gilda Brower is a member of the Owasco Watershed Lake Association Board of Directors. For more information, or to join OWLA, visit owla.org.