SPRINGPORT — It was the summer of 2017, and Gary and Andrew Cuthbert were thinking of starting a winery.
The father and son, whose family owns Auburn medical software company Medent, were scouting land along Cayuga Lake in search of a location for what Andrew called their "second adventure."
They found a candidate in a hayfield a few miles south of Union Springs. After driving a few hundred feet inland from Route 90, to the peak of the 22-acre plot, the Cuthberts parked their pickups.
On Thursday, standing in the winery that occupies that very spot four years later, Andrew recalled what he and his father said there as they sat in the beds of their trucks, savoring the view of the lake.
"This is what will make this work," he said. "If we get this view, and we get it up here, and we have good wine, this will work."
The Cuthberts, along with Andrew's brother, Brian, and mother, Janet, opened Quarry Ridge Winery last year. Due to COVID-19 it was only open 12 weekends, so the family considers 2021 the winery's first official season. Its tasting room, a rustic but cozy space with a 360-degree bar, currently seats 42. On the porch are chairs and tables for another 50 — as well as some rockers facing the view. 
Just as the pandemic delayed Quarry Ridge, it similarly influenced how the winery serves customers. Instead of the usual tastings, which invite people to huddle along the bar, wines are served in flights. So people order at the bar, take a seat and their four samples are brought to them. They come with tasting notes, Andrew said, and the Cuthberts are on hand to answer any questions.
Customers can also order wine by the bottle, local craft beer on draught and charcuterie. Between those options, the décor and the view, Andrew hopes people think of Quarry Ridge as a destination.
"We want people to come here and stay here," he said. "Have a flight, and then if you like the wine, get a bottle to split for the table and have a glass. Hang out for an hour."
For now, Andrew makes Quarry Ridge wines using grapes from other vineyards. The 2019 and 2020 vintages used Riesling and chardonnay from sites on Seneca and Keuka lakes. The latter is owned by Doyle Vineyard Management, which also manages the 10 acres of grapes that Hosmer Winery planted at Quarry Ridge in May 2018. The vineyard consists of Riesling and chardonnay, plus cabernet franc and pinot noir. Andrew hopes to harvest the first crop this year, but he's happy with the grapes he sources elsewhere. He expects he'll continue to do so even when he can produce estate wines.
At the same time Quarry Ridge's vineyard was planted, construction of the winery and tasting room was underway. Building the facility closer to Route 90 would have been easier, Andrew joked, but the view from atop of the hill commanded him and his family to build there. Using dirt and stone they dug up elsewhere on the property, they even raised the ground for a few more degrees of vantage.
The geography of the property also inspired the name of the winery, Andrew explained, and the jagged line in its monogram logo. The line is the actual shape of the ridge from the road to the hilltop. And nearby is not one but four dormant quarries, as noted by a roadside historic marker there. In the 1800s, their limestone went to houses in the area and even Wall Street, where they became curbs.
"We wanted to keep that sense of the place and build that into the name," he said. "A place that felt comfortable and approachable."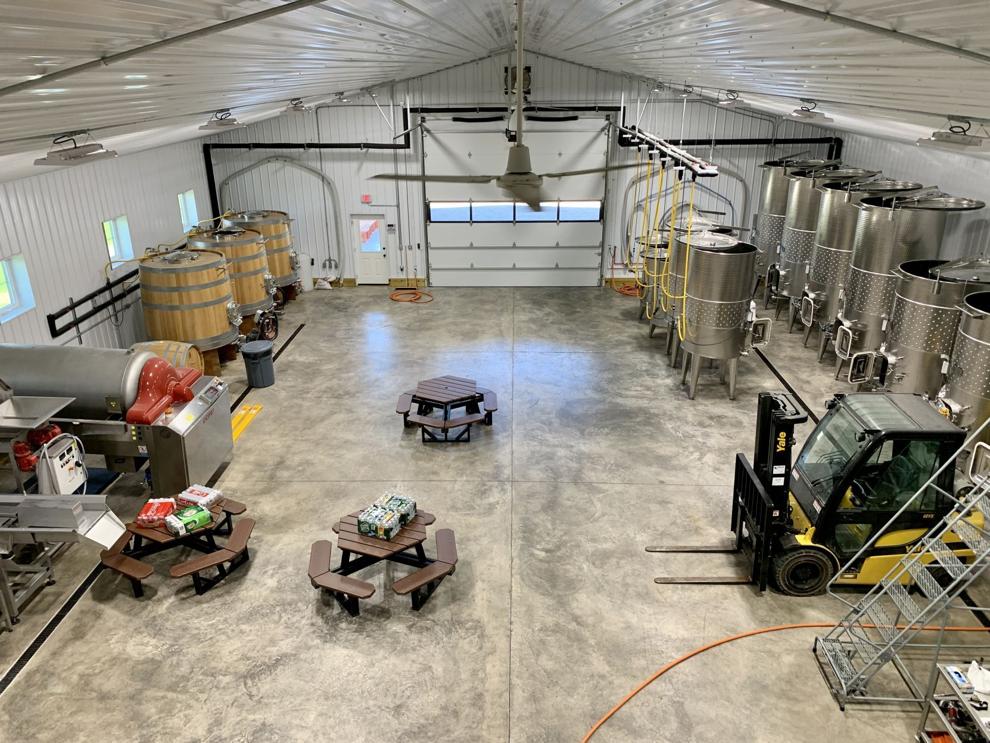 Andrew's interest in winemaking was planted long before Quarry Ridge's grapevines. Planning to become a vintner, he majored in biochemistry and analytical chemistry at St. John Fisher College. His next step was the enology program at UC Davis, but he instead spent a few years working in software at Medent. About five years ago, he felt it was time to make his long-desired move.
First, Andrew emailed several Finger Lakes wineries, seeing who could use some help. Among the first to respond was Treleaven, in King Ferry, where he started on the bottling line. Eventually he began helping the winemaker, and after they left, leading a few harvests. All the while, he completed the enology program at UC Davis remotely, pairing more knowledge with his experience at Treleaven. 
The most important thing Andrew learned at Treleaven, he said, was how he and his family want to produce Quarry Ridge's wines. They invested in some pricy equipment, including a pneumatic press that extracts juice with minimal skins and seeds, as well as a CDR FoodLab that allows him to instantly test wines for minerality, pH and other measures using samples of just 25 microliters. 
But the Cuthberts made those investments for quality, not quantity. Their 2020 vintage totaled just over 1,000 cases, and Andrew doesn't see that number getting much higher.
He and his family just want Quarry Ridge Winery to work.
"We really want to focus on doing exceptional wines here in the Finger Lakes," he said. "We're never going to be a big place, but we have the view and that focus on the wine."