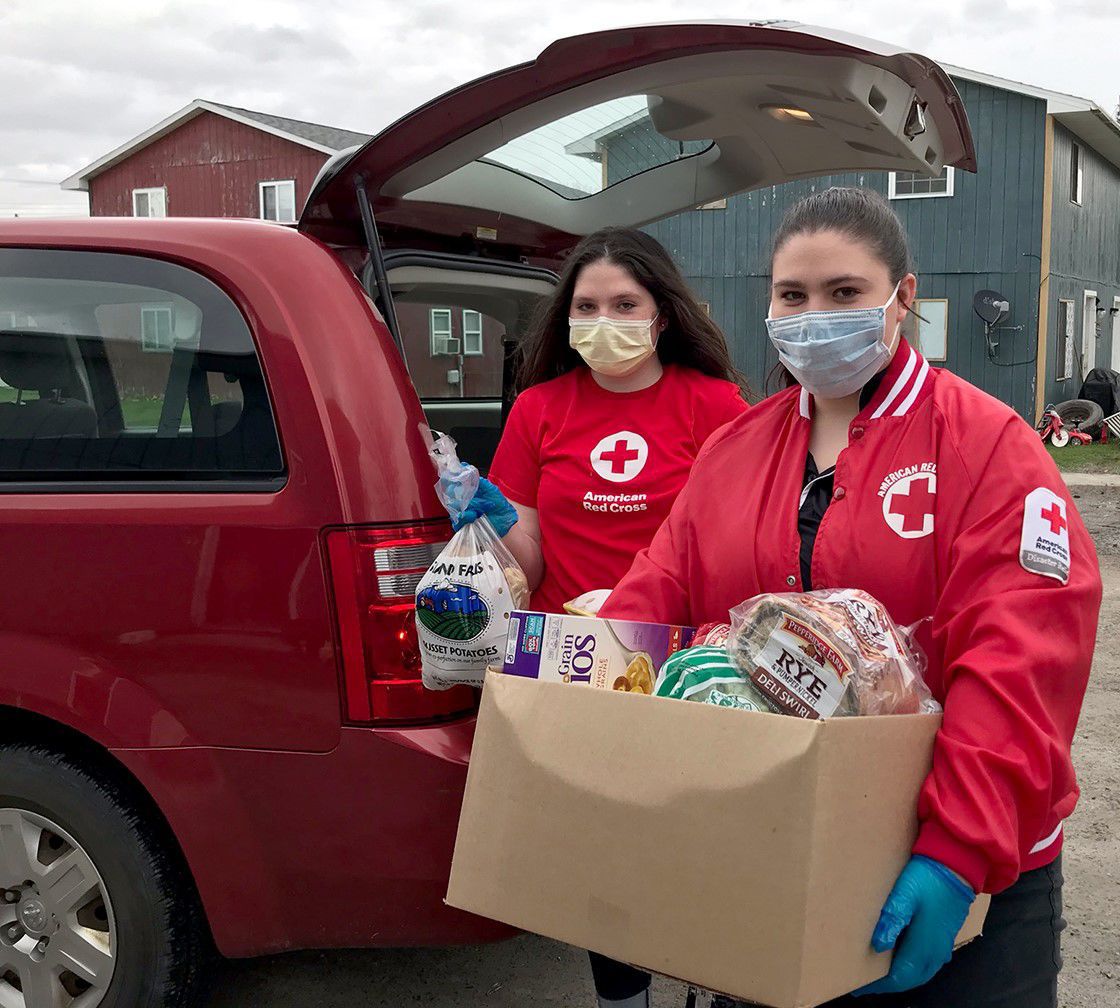 Communities throughout the region and across the country count on the American Red Cross for help every day — and supporting those communities is at the heart of what we do. Our work never stops, even during this coronavirus crisis, and we remain focused on delivering our lifesaving mission.
We thank our dedicated volunteers and employees for helping people affected by everyday emergencies during this pandemic. Our commitment is unwavering, even as we've adapted some of our services to ensure everyone's safety.
During COVID-19, the Red Cross is assisting agencies throughout New York who are facing a shortfall of volunteers, helping them to complete their missions. Locally, we have proudly joined our partners at Community Action Programs (CAP) Cayuga/Seneca to help deliver food to families in Cayuga and Seneca counties.
During this coronavirus crisis, and at a time when the nation is practicing social distancing, we're now providing some relief services virtually, including mental health support and financial assistance, thanks to investments in items like laptops, wireless hot spots and mobile devices.
During the month of April, volunteers in the western New York region:
• Provided comfort and hope to 236 people from 74 families following 50 home fires.
• Opened a virtual Family Assistance Center to provide information and emotional support for families across New York state who have lost loved ones to COVID-19.
• Launched and hosted virtual online workshops to help service members, veterans and their family members manage pandemic-related stress.
• Collected 8,549 units of blood to help maintain a stable blood supply to meet patient needs such as cancer treatments and emergency surgeries still occurring during this pandemic.
• Recruited and on-boarded 112 new volunteers to support our blood services programs, including our new blood donor screener role, donor ambassadors and transportation specialists.
• Offered essential courses such as resuscitation, CPR and first aid — which help medical professionals and other workers stay current on their certifications.
The American Red Cross and other blood collection organizations have joined the U.S. Food and Drug Administration's effort to support the collection and distribution of convalescent plasma, a potentially life-saving treatment for critically ill COVID-19 patients.
During this uncertain time, the Red Cross encourages healthy individuals to make an appointment to give blood or platelets to help keep a stable blood supply throughout this pandemic. There is no known end date in this fight against coronavirus and the Red Cross needs the help of blood and platelet donors to ensure blood products are readily available for weeks to come.
Healthy, eligible individuals can help by scheduling an appointment to donate blood in the weeks ahead at redcrossblood.org.
The need for volunteers is constant and continues to evolve as we navigate this health crisis. Visit redcross.org/volunteer for opportunities, including supporting blood donations and providing help from home.
Dan Hartman is regional communications program manager for the American Red Cross Western and Central New York Region. For more information, call (315) 234-2200.
Be the first to know
Get local news delivered to your inbox!