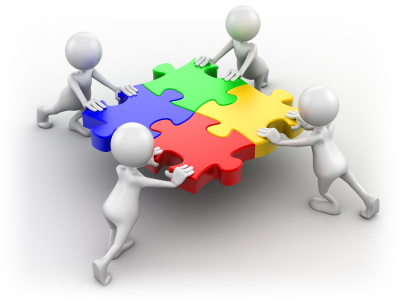 Nonprofit and business partnerships are mutually beneficial relationships between nonprofit organizations, such as the American Red Cross, and the local business community.
Not so long ago, the business and nonprofit sectors were seen as polar opposites whose core agendas conflicted. Today, however, it is refreshing to see the complexity and mutually enhancing partnerships that have developed over the past few years. Businesses today are exhibiting broad acceptance of the socioeconomic agendas of nonprofit organizations. In their turn, nonprofits are putting greater trust in the message of social responsibility from the business world. We are beginning to see the emergence of real and lasting alliances that bring extensive resources to the promotion of the critical agendas around the world.
In today's economy, everyone is learning to do more with fewer resources. Because of this trend, we have a strong need, as a society and a community, to assist in the success of local, nonprofit organizations. To be a successful nonprofit organization, we rely on partnerships at all levels. Partnering can come in many shapes and forms, including monetary donations, resources, products and services. Even partnerships with small, local businesses can make a significant difference.
Businesses and nonprofits today are exhibiting patterns of genuine collaboration, especially in areas where their interests intersect. A good example here is the alliance between the National Science Resources Center and Hewlett Packard. The center is a nonprofit organization established by the Smithsonian Institution and the National Academy of Sciences to improve the teaching of science in secondary education. HP, a leading manufacturer of digital equipment, has an undisputed interest in the strength of science education in schools. This intersection of interests in the area of science education led to an effective partnership. HP helps the center with technical advice on curriculum design and teacher training. In addition, it gets its scientists actively involved in science education in their local schools.
Any type of business has the potential to develop a successful partnership with local nonprofit organizations with careful planning. It is important to keep several key points in mind:
• Strategically choose which partners you will be working with.
• Preferably, choose partners you already have some sort of connection with.
• Develop a plan before approaching a potential partner.
• Establish clear and honest goals for all partnerships.
• Do not be afraid to establish multiple partnerships with diverse organizations within your community.
The American Red Cross focuses on four types of partnerships: Shelter agreements, memorandums of understanding, preparedness presentations and corporate training programs. In Cayuga County, we have a multitude of shelter agreements with places such as school districts and fire halls that we can turn to in the event of a need to evacuate and shelter large numbers of people. MOUs with local hotels (for smaller numbers of affected people) and food vendors allow us to call upon them to provide food in the event of a disaster that may displace people for several hours (reception center) or several days (shelter). Preparedness presentations are provided in partnership with local companies and organizations to help our community be prepared in the event of a disaster. "Ready when the time comes" is a corporate training program that entails preparing an entire staff from a given company to work as an in-house shelter team. Without our valued partners we would not be able to meet the local need on a daily basis.
The key to successful partnerships is that they are mutually beneficial, helping the nonprofit organization, the community and the businesses involved. Benefits for the business may not be immediate or tangible, and may not benefit the individual company, but a partnership has the potential to benefit the entire corporate environment.
Nonprofit and business partnerships are likely to continue to grow in number and depth in the future. This is good news for both businesses and nonprofits. Nonprofits will have greater opportunity to leverage the business world's extensive resources to address their causes, while businesses will develop a stronger image of good citizenship. Partnerships improve the community, making the community stronger and more resilient.
If you would like additional information about partnerships in general or are interested in developing a local partnership with the American Red Cross of Cayuga County, please contact the local office at (315) 252-9596, located at 11 State St., Auburn, or email pamela.gratton@redcross.org.
Pamela Baker Gratton is the branch manager of the American Red Cross Cayuga County office. The Cayuga County branch, at 11 State St., Auburn, is part of the Central New York Chapter, which covers Cayuga, Onondaga, Madison and Oswego counties. For more information, call 252-9596.