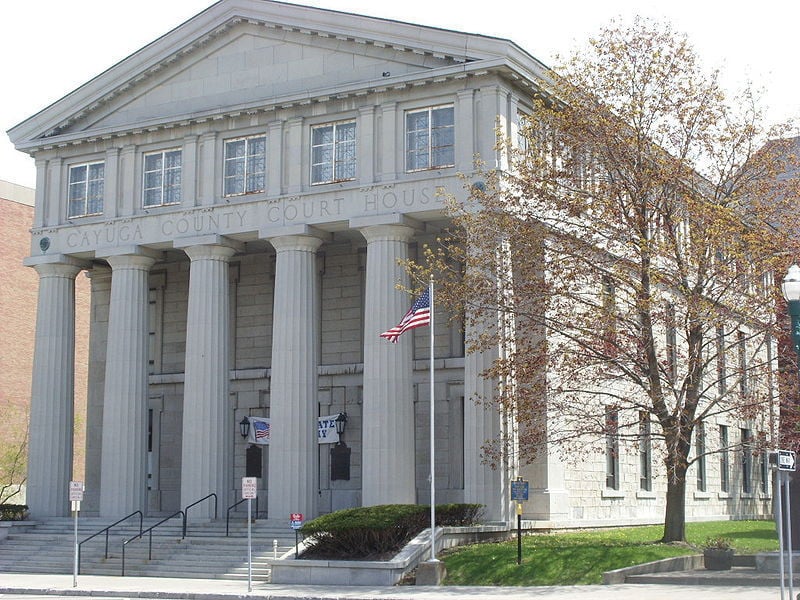 Auburn's architecture has been influenced by many different factors: immigration, the economy and the availability of financing, to name a few. There have also been a handful of very influential individuals who have helped to shape our built environment.
John Isaac Hagaman had a profound influence on early Auburn, and laid the foundations for our local love of Classical Revival architecture. He was born in Dutchess County in March of 1792. He started as a carpenter's apprentice, but soon quit to engage in self-study as a building designer. Hagaman came to Auburn in 1821, and spread his love of architecture by opening a school of design. He also designed many of the buildings that once graced downtown, including the existing Cayuga County Courthouse, built in 1837. Like any new architecture, his design for the courthouse was not universally loved. A contemporary account stated that it was "an architectural deformity, a continual offense to the educated eye." Case-in-point that new architecture is inherently controversial to some.
Regardless of contemporary opinion, the courthouse was, in fact, a great example of Classical Revival architecture popular during the first decades of our nation's history. It was originally designed with a tholos, a dome-shaped columned structure of ancient Greek origin representing a tomb. The columns were a Greek Doric design originally, with the triglyphs positioned directly above the caps.
You have free articles remaining.
One of Hagaman's most successful students was Calvin Otis, who set up his practice in Buffalo. Otis evolved with his times and designed works mostly in the Gothic Revival style. Several of his works survive today, including the Buffalo Broadway Auditorium, currently known as the Broadway Barns in Buffalo, and St. John's Episcopal Church in Savannah, Georgia.
Another out-of-towner who came to Auburn to leave a mark on the local architecture was Samuel Hillger. Born in Brownville, Texas, Hillger was a graduate of the Cornell School of Architecture in 1882. After working in Minneapolis, Minnesota, and Rochester, New York, he moved to Ithaca to work as construction supervisor for William Miller, Cornell's architect of choice. In 1898, Hillger moved to Auburn and established an office in the Seward Bank building, currently the site of the Genesee Center. While in Auburn, he established himself as an architect specializing in public buildings and large-scale projects. In 1911, he designed Auburn's twin elementary schools of Lincoln and Seward in the Collegiate Gothic style. After the 1922 fire that devastated John Hagaman's courthouse, Hillger worked with architect Carl Tallman to rehabilitate Hagaman's work. What resulted was a reinvention of the courthouse as a thoughtful evocation of the Classical Revival, with contemporary elements. The triglyphs were forgotten and windows added to raise the entablature. The tholos was also left out, and a simple front gabled roof was constructed.
Hillger was joined by Wallace Beardsley, who graduated from Cornell in 1919. The two formed a partnership in 1929 called Hillger and Beardsley, today known as Beardsley Architects + Engineers. The pair's most lasting achievement is arguably Auburn Junior High School, known at the time as Auburn Senior High School. In the silent and persistent way that architecture influences people, this building has impacted thousands of Auburnians who have sat in its classrooms. Hillger's other local surviving works are the Masonic Temple on South Street, The Commons on St. Anthony and the Boardman Law School Building at Cornell University.
The superstar of Auburn's architectural world was Julius Adolphe Schweinfurth, born in Auburn to German immigrants in 1872. He began working for the firm of Peabody and Stearns in 1879, eventually becoming its chief designer. While at Peabody and Stearns, Schweinfurth designed mansions along Cleveland's "Millionaire's Row," in addition to a number of buildings in Massachusetts and New York currently listed in the National Register of Historic Places. He also accepted independent commissions, and eventually opened a private practice in 1895. Locally, he designed the Seymour Street School, Fulton Street School and the James Street Elementary School located at the corner of James and Orchard streets. The James Street school was unique, built at an oblique angle in a decidedly Gothic style. Schweinfurth's designs were regularly featured in industry periodicals like American Architect and the American School Board Journal, which investigated his floor plans and extolled the simplicity and clear-mindedness of his designs. Schweinfurth's remaining buildings in Auburn include the Bradley Memorial Chapel at Fort Hill and the façade of Westminster Church on William Street.
Andrew Roblee, of Auburn, is an historic preservation planner and serves on the board of the Preservation Association of Central New York.
Be the first to know
Get local news delivered to your inbox!