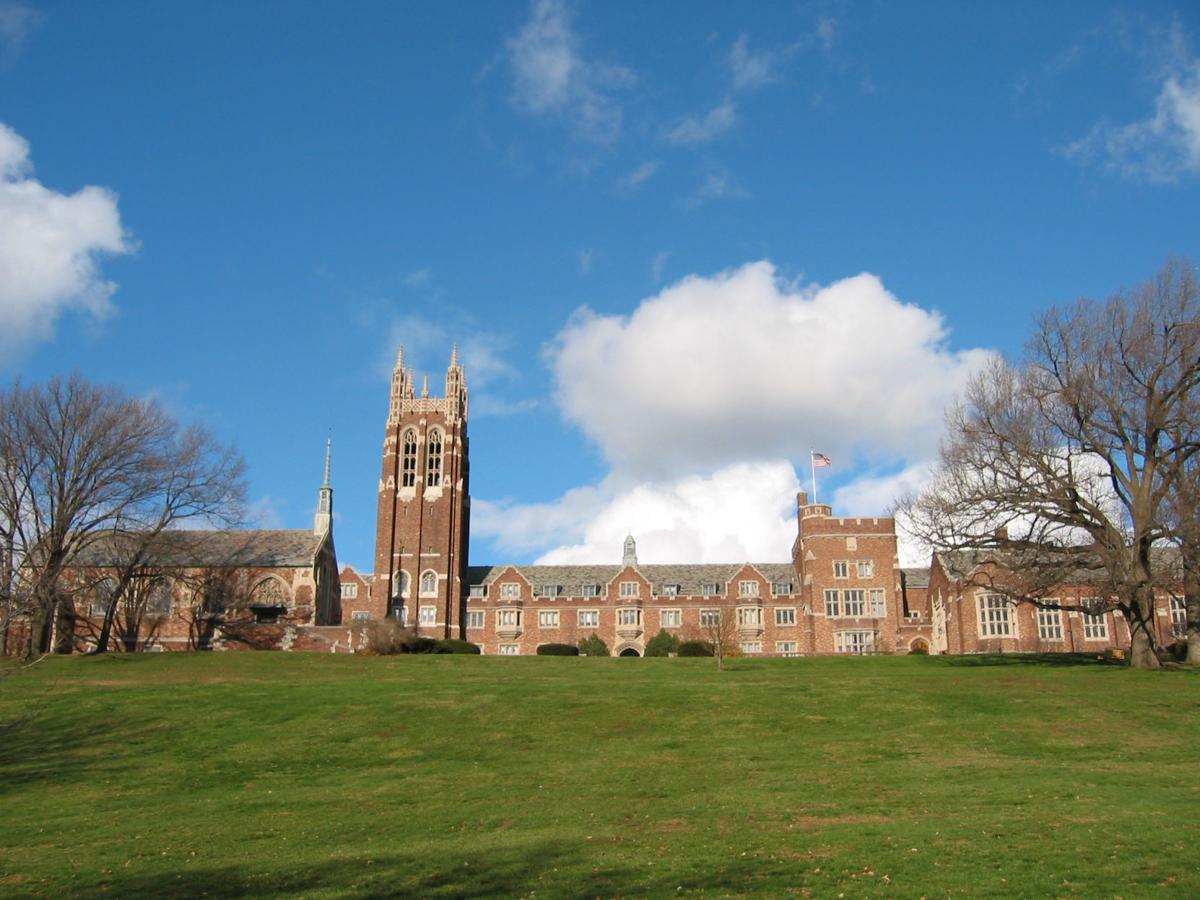 In the 1930s, the leaders of Auburn Theological Seminary decided their school had to move. They were losing too many students to larger schools in bigger cities. They thought they saw the solution in a move to the campus of Colgate Rochester Seminary in Rochester, some 60 miles to the west, where Auburn would be a partner in what some termed would be "the best theological school between New York and Chicago," according to seminary professor Robert Hastings Nichols. In the summer of 1938, the Auburn leadership thought they had a deal.
Rochester was a large city — 300,000 people — but not too large. It had a major university, a medical school and a music school, and many churches. But what was this Colgate Rochester Theological Seminary that Auburn Seminary wanted so badly to join?
Colgate Rochester's origins go back to the 1820s, when a group of Baptists in Hamilton founded a collegiate and theological school, the Hamilton Literary and Theological Institute. As the school grew it took the name of Madison University, from the county where it was located. The school prospered, but by the late 1850s some of its leaders felt that the school had to move to a larger settlement if it was to continue to grow. Hamilton was far from the Erie Canal, and had no railroad. The city of Rochester, population 36,000, 136 miles to the west, looked like the best possibility. Rochester, which had no university, offered financial incentives.
The rural/urban division is one of the themes of this story. In the early 19th century, rural areas were often regarded morally healthier than cities — or at least subject to fewer temptations — but urban areas offered more possibilities for growth and social engagement.
At Hamilton, the move was the subject of prolonged, often bitter debate between leavers and remainers. Finally, in 1850, part of the faculty of Madison moved to Rochester and occupied the former United States Hotel on Buffalo Street, now Main Street West. The school, renamed the University of Rochester, offered both a classical and scientific curriculum.
Along with the university faculty, a theological department also left Hamilton and occupied part of the former hotel and paid a third of the rent. This was the new Rochester Theological Seminary. Initially, there were around 60 students in the university, and 25 in the seminary.
The faculty and students who remained at Hamilton had their own ideas. In 1846, Madison was chartered a second time, and in 1890, the name of the school was changed from Madison to Colgate, after the principal benefactor. This school too included a theological division, which became the Colgate Theological Seminary.
In 1861, after 11 years on Buffalo Street, the University of Rochester moved to the east side of the city, where it had been offered land, and began to build what would be known as the Prince Street campus. The theological seminary continued to use space in university buildings, but when the university sold the former hotel in 1867, the school migrated downtown and eventually occupied a four-story building initially known as Trevor Hall, erected in 1869 at the corner of East Avenue and Alexander Street. The building was the gift of John Trevor, partner of a Wall Street firm, a member of the Colgate family and chairman of the board of trustees of the University of Rochester.
The seminary prospered. A gym, also a Trevor gift, was added in 1874, plus Rockefeller Hall in 1879, a gift of John D. Rockefeller. A chapel and a library and lecture building quickly followed. The seminary had both English-speaking and German-speaking sections, and a German home was added, also in 1874. By 1884, the endowment reached $450,000. Typically, between 80 and 90 students were on campus at any one time, representing 70 colleges and 44 states and countries.
Although Baptist, the school admitted students of all Protestant denominations, as did Auburn Seminary. Like Auburn, its philosophy was liberal, and open to evolutionary theory and modern biblical scholarship. Perhaps its most distinguished faculty member was Walter Rauschenbusch, U of R '85, church historian and writer of seminal works of the social application of Christianity, for example "Christianity and the Social Crisis" (1907).
In 1905, two large four-story wings — creating a U-shaped courtyard — were added to the original building, which was renamed Alvah Strong Hall, in honor of a local benefactor who also contributed to the university. The complex was recast in a neo-classical style in brick and stone by Rochester architect J. Foster Warner. The building served as a residence hall and clubhouse, and even contained a bowling alley. However, as the century progressed, the school had trouble attracting students, and the problem was not limited to Rochester.
In the summer of 1928, an almost 80-year schism ended when Colgate Seminary moved from Hamilton to Rochester, and the name of the new institution became Colgate Rochester Theological Seminary. For years the two schools had competed for funds and students. Now, "Instead of two declining Baptist seminaries there was one strong one, admirably fitted to educate young men for the ministry," according to Colgate archivist Howard D. Williams. Williams added that the new location would also be appropriate for the training of urban pastors and would make available graduate courses at the University of Rochester.
You have free articles remaining.
Then, in the early 1930s, thanks to a John D. Rockefeller Foundation grant, the school moved to a new 22-acre campus on country hills on Rochester's south side. A main hall in Tudor Gothic style designed by James Campbell Rogers was constructed, along with dormitories and a chapel. To some, the campus looked like an Oxford college that had been in place since Elizabethan times.
The reasons for building this new campus in a rural location are unclear. It distanced the school about two miles from its former downtown location, although the school's original ambition was to function in a city, and Colgate's reason for rejoining in 1928 was similar: the training of urban pastors. When the school leadership found out that their new site was in the town of Brighton, not the city, they petitioned the city to change its borders! Obviously, Rochester Colgate had to have a Rochester address! Who knew where Brighton was?
Since Charles Augustus Strong, the son of Rochester Seminary President (for 30 years) Augustus Hopkins Strong, was married to Elizabeth "Bessie" Rockefeller, daughter of John D. Rockefeller Sr., the building of the new campus was something of a family affair. Perhaps the two miles between campus and downtown did not seem like much, and the new hilltop campus would attract more students. This was the situation Auburn Seminary coveted in the 1930s.
The new 1930s campus may be best understood as a celebratory gesture toward the schools' reunion, a folie de grandeur impossible to resist.
The following decades showed Colgate Rochester to be something of a magnet to other schools. In the 1960s, the Baptist Missionary Training School moved from Chicago to the Rochester campus, followed by Bexley Hall, an Episcopal seminary, from Gambier, Ohio. Also, in 1970, Crozer Seminary in Pennsylvania (itself a 102-year-old institution), the alma mater of Martin Luther King Jr., followed suit. The endowments of the schools were merged. The institution on the Rochester hills became Colgate Rochester Crozer Seminary.
Finally, in 2016, after nearly 90 years on its hilltop campus, the Seminary president, Marvin McMickle, announced the school was moving. The school was down to 100 students — most of them commuters — and a faculty of seven, down from 160 students and 22 full-time faculty a few years before. The magnificent Tudor buildings were a drain on the school's finances. Deferred maintenance was a problem. For years the school had been leasing space to local nonprofits. Also, the school's remote location on a hill behind iron gates prevented engagement with the city and world at large. The "city on a hill" had become "an ivory tower," according to president McMickle.
The school, McMickle announced, would move two miles north to the Village Gate neighborhood, where it would occupy 11,000 square feet in a renovated warehouse at 320 N. Goodman St. — not very far from the old urban campus! McMickle looked forward to theology students "working with neighborhood groups on issues of social justice, education, neighborhood development and anti-poverty initiatives." He was sure he would not miss "iron fences, winding roads and mountain retreats." The magnificent old campus was sold to a developer whose plans for the site continue to evolve. The mistake of the 1930s — if that's what it was — was now corrected.
McMickle, who is African-American, recently retired. His successor is Angela D. Sims, Ph.D., also African-American, who comes to Rochester from the St. Paul School of Theology in Kansas and Oklahoma.
Why the deal between Auburn and Colgate Rochester fell through in 1938 is not entirely clear 80 years later. It is possible, even probable, that Auburn found that it simply did not have the money to buy the land and construct two new buildings, and in addition physically move Willard Chapel to the new site. But W. Redwood Wright of The Citizen wrote in 1952 of "Rochester turning its back on Auburn." He does not elaborate, and documents are lacking.
According to the initial agreement, Auburn at Rochester would have retained its identity and conferred its own degrees. There would be no merger of the two institutions. Auburn would have bought land on the campus of Colgate Rochester and erected three buildings of its own, including Willard Chapel. Perhaps to the Colgate Rochester leaders Auburn began to look less like a supplicant and more like an invader? Things happened quickly during those August days 81 years ago. Perhaps, a few days apart, Paul Heath, the last president of the Auburn campus, looked at the numbers — which didn't add up — and got a call from Rochester saying they were backing out of the deal: a one-two punch.
As soon as it became clear that the move was not possible, Auburn announced it was moving to New York City, to the campus of Union Seminary on upper Broadway, where by 1950 it would have its own (single) building, but without the privilege of granting degrees.
Today, because of rising costs and fewer vocations, the concept of independent brick-and-mortar schools, and the overhead and maintenance they involve, is in question. This is a time of mergers, shared campuses, partnerships and a changing focus of theological education.
Auburn Seminary in New York City sold its building a few years ago and now operates in rented quarters in the Interfaith Center on Riverside Drive. Andover-Newton Seminary, founded in 1806, has moved from Massachusetts to New Haven, Connecticut, where it is "partner on the quad" with the Yale Divinity School. Berkeley Divinity School, founded in 1854, moved from Middletown, Connecticut, to Yale as early as 1928.
The alternative is to go out of business, as did Lane Seminary, in Cincinnati, whose dates approximate Auburn's existence at Auburn (1829-1932). In addition, there seems to be a tendency to emphasize social action rather than theological study and speculation.
After two centuries neither the saga of Auburn Seminary, nor that of Colgate Rochester Crozer Seminary, has ended.
Ed Rossmann lives in Aurora and has been an educator most of his life, including 17 years in high school. Principal sources for this column include: Arthur May, "A History of the University of Rochester 1850-1962"; Janice Bullard Pieterse, "Our Work Is But Begun: A History of The University of Rochester, 1850-2005"; William F. Peck, "Semi-Centennial History of the City of Rochester"; Howard D. Williams, "A History of Colgate University, 1819-1969"; and Milne Library, SUNY Geneseo, "A Brief History of Colgate Rochester Divinity School/Bexley Hall/Crozer Theological Seminary." Rossmann would also like to recognize the help he received from the librarians and archivists of Seymour Library in Auburn, without which this article would not have been possible.
Be the first to know
Get local news delivered to your inbox!