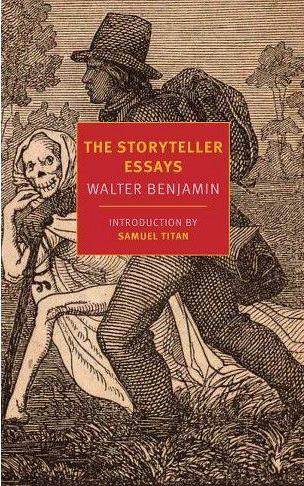 Walter Benjamin (1892-1940) is not a household name. A German-Jewish critic, philosopher and essayist, he is perhaps best known for his unfinished "Arcades Project," a study of 19th century Parisian-covered streets, and an essay, "The Work of Art in the Age of Mechanical Reproduction." His work is perhaps not as accessible as it might be, and graduate students have been known to roll their eyes at mention of his name, which is pronounced "Ben-HA-min." After the fall of France in 1940, he fled to Port Bou in Spain. When his papers did not permit him remain in the country, he committed suicide. Regulations fluctuated then; if he had waited a few days, he would have been allowed to stay in Spain.
Benjamin's "Storyteller Essays" are accessible, and throw a light on reading, and why we read what we do, particularly novels.
Before the modern era, there was an oral tradition. People told each other stories. Farmers and sailors were very good at this. The best stories were ambiguous and lent themselves to various interpretations. These stories were the most enduring and were handed down over the generations. They contained wisdom. Perhaps wisdom is the ability to live with ambiguity? Late into the 19th century, before electrification, people told each other stories by oil lamps far into the night.
The industrial revolution and the movement of people from the countryside into cities changed this. Society grew more complicated; oral storytelling seemed old-fashioned, out of date. In the late 17th century, the novel appeared. This was something new: Hundreds of pages long, it depicted characters coping with the complexities of a competitive, commercial society. Benjamin cites Cervantes's "Don Quixote" (1605, 1615) and Flaubert's "Sentimental Education" (1869) as "perfect novels."
What is a novel? What does it do for us? Benjamin zeroes in on his subject: "Writing a novel means taking to an extreme the incommensurable in the depiction of human existence." And "the novel makes manifest the profound perplexity of living." More exactly, "the reader of a novel is actually searching for people through whom he can decipher the meaning of life." What's more, "What draws a reader to a novel is the hope of warming his shivering life at flame of the death he reads about."
You have free articles remaining.
The critic Peter Brook, writing in The New York Review of Jan. 20, clarifies still further: "The novel should ... serve as an 'optical instrument,' through which the reader becomes the 'reader of himself,' understanding through fiction what is obscured to him in the perpetual wandering, the 'perpetual error,' that we call life."
Flaubert's novel "l'Education Sentimentale" ("Sentimental Education") provides an example. Frederick Moreau, the main character, has most of his life managed to be in the wrong place, at the wrong time, with the wrong people. During the June Days in Paris in 1848, where momentous events are taking place, he is outside the city, walking with a girlfriend he doesn't particularly desire. (On the other hand, had he been in Paris, he might have been hit by a stray bullet!) And why has he been obsessed for so many years by a bulky married woman old enough to be his mother? Meaning "has settled like dregs in the cup of (his) life."
Yet years later, after a life of "total absence of any fulfillment of meaning," Frederic and his friend Deslauriers can joke about their childhood pranks. "Everything that happens may be meaningless, fragmentary and sad, but it is always irradiated by hope or memory," Benjamin asserts. And, "the comprehending and experiencing of life's refusals is the source from which the fullness of life seems to flow." One might add that a sense of humor also helps.
Early on, Benjamin saw the end of the novel. Reading novels, he said, "requires a state of relaxation that is ever rarer." And "the gift of listening is being lost." The novel is yielding place to information, the first form of which was newspapers, which reduce all events to the same plane. He quotes the founder of the newspaper le Figaro as saying, "For my readers an attic fire in the Latin Quarter is more important than a revolution in Madrid."
From information, it is not very far to data and the social network. If "it is essential for information to sound plausible," as Benjamin stated, then anything at least plausible we hear over the social network is acceptable. This seems to be where we are now. Any questions?
Ed Rossmann lives in Aurora and has been an educator most of his life, including 17 years in high school.
Be the first to know
Get local news delivered to your inbox!