If you ever thought that the potentially life-saving, opioid overdose-reversing Narcan nasal spray only perpetuates drug-using behavior and therefore is part of the problem, I'd like you to tell that to the families of the 19 community members we have lost so far this year to opioid overdoses in Cayuga County. In two-thirds of these cases, Narcan was not available or administered, which could have saved their lives. Or you could tell it to the 36 people who have received Narcan during an overdose emergency and are alive today.
Everyone deserves to be saved, because opioid use disorder is a treatable disease. But we can only help and treat people when they are alive. The HEALing Communities Study has found creative ways to distribute Narcan during a pandemic, and the life-saving impact is demonstrated in increased bystander Narcan administration that has likely prevented 18 opioid fatalities in four months.
Rewind to May when we were in the middle of a pandemic, the economy was shut down, and people were isolated, lost their jobs and lost hope. We lost five souls to opioid overdoses in April, which indicated a spike in overdose fatalities compared to the prior months. We feared worse, as this was only the beginning of a public health crisis that quickly revealed its devastating impact on people suffering from mental health and substance use disorders.
The local HEALing team responded swiftly to the fact that virtually all Narcan training and distribution has come to a halt due to social distancing. Within a few short weeks, we set up the web page cayugacounty.us/narcan, where people can get trained on Narcan and request a free kit be mailed to their home. The Cayuga County Drug Free Community Coalition provided and mailed the Narcan along with other resource material. Data confirmed that this distribution method helped us reach all parts of the county, which was not the case before, when in-person training happened mostly in and around Auburn.
At the same time, the Cayuga County Sheriff's Office, with equipment support from the HEALing study, started Narcan training for inmates and provided them with a free kit upon their release from jail, as they are at high risk for overdose due to a lowered tolerance level.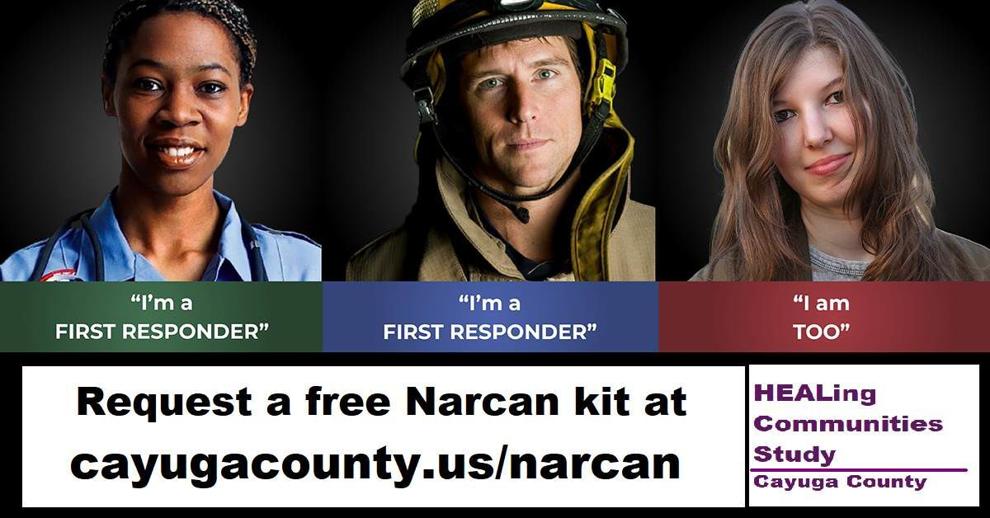 The HEALing team analyzed law enforcement data to determine overdose hot spots in Auburn and the rest of the county. This data informed our in-person outreach in specific neighborhoods that have experienced high volumes of overdoses in the past. We mobilized volunteers and organized four of these pop-up Narcan distribution events in Auburn before the Fourth of July weekend and one event before the Labor Day weekend in Moravia. Thankfully, we did not see a spike in overdose deaths during these holiday weekends.
Through this multi-pronged outreach, training and distribution approach, we trained 450 people in four months and provided them with free Narcan. Over 40% of participants have witnessed an overdose in the past, and more than a third stated that they are concerned about someone else overdosing. This tells us that Narcan is getting into the right hands, and has real potential to save someone's life. This is also underscored by actual data reported to the Overdose Detection Mapping Application Program that shows virtually no bystander Narcan administration in our county in the months before our initiative, but since May, out of 33 Narcan administrations, 18 have been attributed to people other than law enforcement or first responders. That means that more people now carry and administer Narcan if they witness an opioid overdose emergency and thereby save lives. We also believe that overdose witnesses administering Narcan have helped prevent a spike in opioid overdose deaths after the increase we saw in April.
Now that we know that people are successfully using Narcan, we want to make sure they continue to carry the life-saving nasal spray. We recently added a new function to our web page, cayugacounty.us/narcan, that allows people to let us know that they have used Narcan and request a new free kit in the mail. The page also contains information on the protections through the Good Samaritan Law when responding to an emergency, and how to get Narcan at local pharmacies with prescription coverage. All information provided is strictly confidential and not shared with third parties. Data analysis is done in the aggregate, without releasing identifying information.
We can all be first responders by carrying and administering Narcan, and give people suffering from opioid use disorder another chance to seek help and start their recovery journey. It could be a family member, friend or co-worker. Remember, the only thing you cannot recover from is death.
Life has been different during the COVID-19 pandemic. In Auburn, some numbers trace the differences better than others. 
Monika Salvage works for the Cayuga County Mental Health Department as the project director for the HEALing Communities Study, a multi-year, multi-state research study to reduce opioid overdose deaths through the implementation of evidence-based practices. If you are interested in learning more or getting involved, please call (315) 253-1522 or email msalvage@cayugacounty.us.