AUBURN — Like the items it sells, an Auburn secondhand business has found a new home.
The former Auburn Trading Post reopened April 30 at 263 Genesee St. as JD's Trading Post. It's operated by partners Douglas Flint and Joan Duegaw, who've been together about as long as they've been moving antiques, collectibles and other secondhand items. They started at D's Variety on McMaster Street around 1990, Duegaw said, before renaming the business the Auburn Trading Post.
Flint turned the McMaster Street business over to Jearldean Gray in 2013 and sold her the 20,000-square-foot brick building a few years later. Under her, it became Grandma Jaree's Emporium. In 2015, Duegaw opened another shop, JD's Trading Post, in Baldwinsville. Flint, meanwhile, brought the Auburn Trading Post to Cranebrook Drive in Aurelius, across from Fingerlakes Mall.
But by 2017, Duegaw was sick of driving to Baldwinsville from her new home in Union Springs. And Flint was facing escalating rent in Aurelius, he said. So after closing the respective trading posts they'd been running, the two started looking for a new, smaller location. They found it in the former Rose Bakery, which closed in December 2015 after more than 100 years in business.
Flint and Duegaw have filled the front of the building with items from their vast secondhand collection, and are remodeling the back of it so other vendors can rent space there.
Compared to McMaster Street and Cranebrook Drive, the smaller space is appropriate for what's become a smaller market for such items, Flint said.
"The internet ruined our market. You can get anything you want anywhere in the world," he said. "You just gotta concentrate on buying cheaper than you used to, and selling lower than you used to."
Flint and Duegaw adapted to e-commerce at first. At one point, the trading post owners had four employees doing nothing but eBay transactions, shipping 325 to 375 packages a week, Flint said.
You have free articles remaining.
Register for more free articles
Stay logged in to skip the surveys
But over the years, more than just the location of the secondhand market changed — its appeal did, too. Flint believes younger generations don't care about an item's value or craftsmanship as much as their predecessors. They'll opt for a new, some-assembly-required dresser that will break in a few years over an old, solid wooden one that will last them a lifetime, he said.
Instead, in today's Instagram-driven society, younger generations put the most stock in how an item looks, Flint said. The more visually interesting, the more valuable. Pointing to a standing beverage cooler that looks like a bull — a curious patchwork of red, yellow and green metal body parts that have barely begun to rust — Flint simply said, "This'll sell."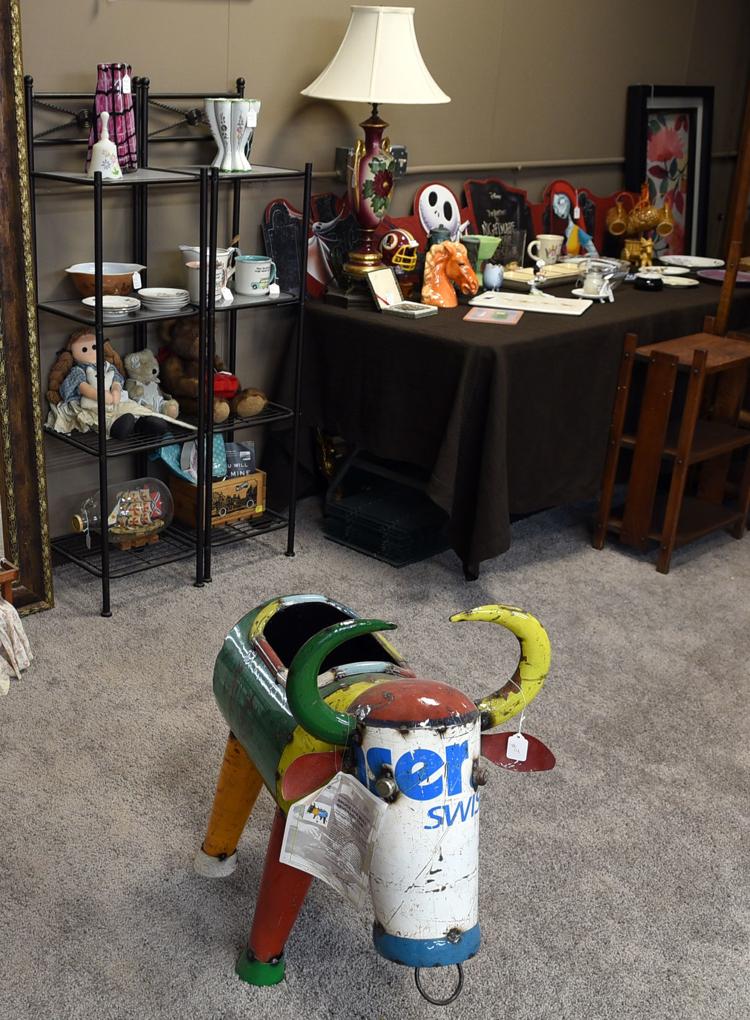 Flint said he and Duegaw hope to thin down their collection of secondhand items over the course of the year. They still field calls every day from people looking to clear out their relatives' estates, which the two prefer to buy in full. Flint and Duegaw sort through the items, saving what they think they can sell and donating the rest to the Salvation Army. 
One Port Byron house Flint and Duegaw found themselves clearing out belonged to a descendant of William Maurice Kirby, an Auburnian who fought in the Civil War and escaped capture by Confederate forces. The collection included Kirby's diaries, photos and other personal items. And in 1999, Duegaw's family discovered a 1914 Boy Scout Honor Medal that had belonged to her grandfather. Given to him for saving a boy from drowning, the medal was said by a Boy Scout historian to be rarer than a Congressional Medal of Honor. It sold for $10,601.01 on eBay.
Duegaw said she looks forward to more of those finds, and more fascinating stories behind them, at the new location of JD's Trading Post.
"We're excited to have a new location and continue to serve the community like we have over the past 30 years," she said.