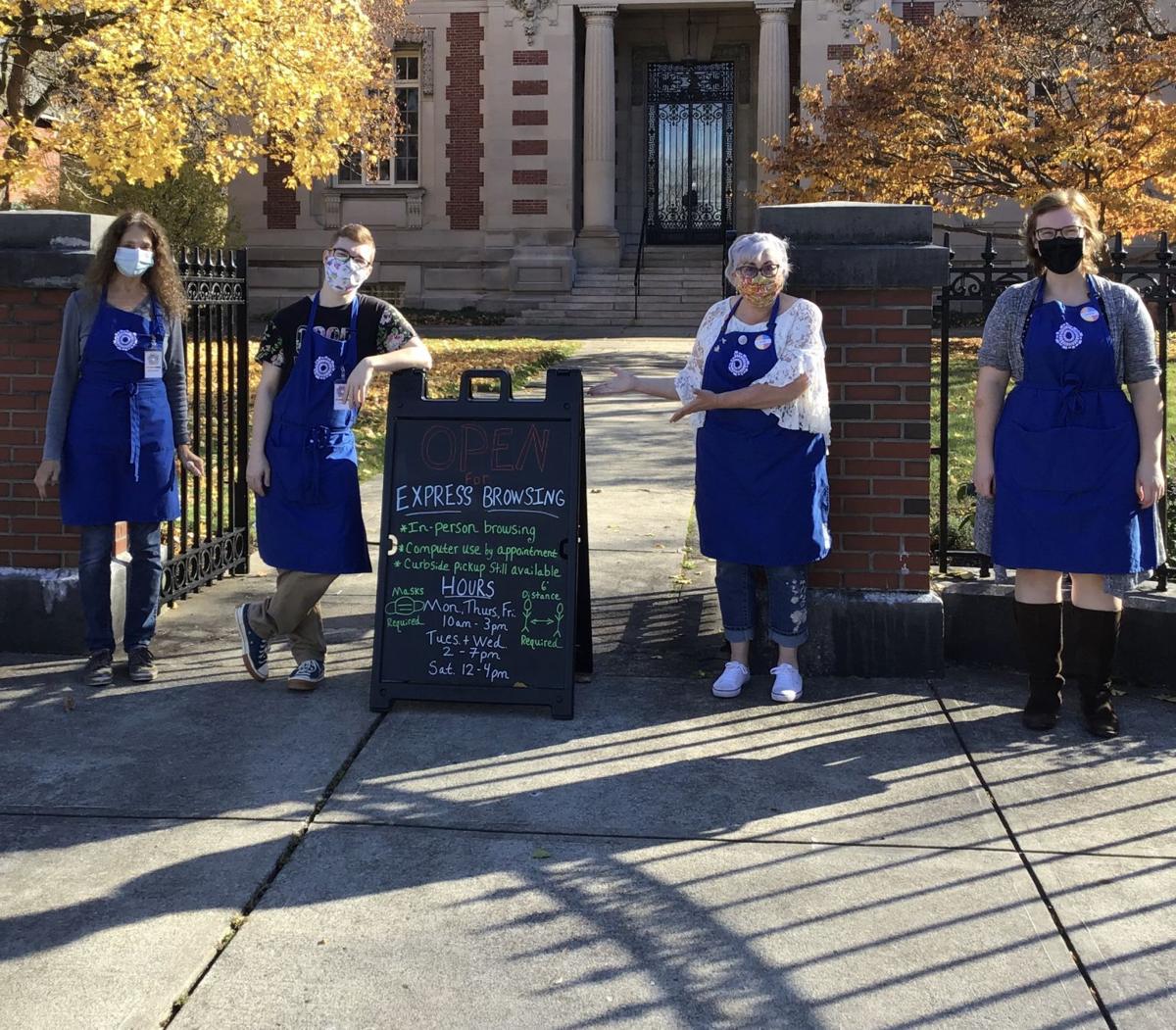 At the beginning of the month, Seymour Library entered stage three of our building reopening plan: express browsing. Library customers are now able to browse the library's collection in person or use one of our public computer stations by appointment. We have continued to offer curbside service and have changed our library hours to better meet the needs of our community. The library is now open from 10 a.m. to 3 p.m. Mondays, Thursdays and Fridays, 2 to 7 p.m. Tuesdays and Wednesdays and noon to 4 p.m. Saturdays. For more information about express browsing, visit the library's website at seymourlibrary.org/reopening.
We have loved seeing all of our library friends back in the building, browsing our collection and chatting with us about books! As the year draws to a close, library staff have compiled a list of our favorite reads of 2020. For many of us, it was not an easy task to pick just one book, so you can visit our website at seymourlibrary.org/staff-picks for the longer version of this list! Here are some of our picks, including books published in 2020, and some that we just read this year (we are always trying to catch up on our to-be-read lists).
"Anxious People" by Fredrik Backman
"A fun, but serious read about an out of luck "bank robber" and the group of people who are taken hostage after a failed bank robbery. While the story does have some moments that will make you laugh, the touching stories shared by the characters will stay with you long after you finish the book." — Jill
"Florence Adler Swims Forever" by Rachel Beanland
"Based on a true story, Florence Adler Swims Forever follows a family dealing with a tragic loss and a mother's decision to keep it a secret. Heartbreaking and bittersweet, Beanland captures the complexities of loss, illustrating through multiple perspectives how grief impacts everyone differently. Read this one with a box of tissues on hand!" — Jackie
"I Was Told It Would Get Easier" by Abbi Waxman
"Abbi Waxman's latest book, 'I Was Told It Would Get Easier,' is a humorous mother and daughter road trip looking at East Coast colleges. The novel is filled with likable, relatable, quirky characters and an alternating witty, first person-narrative. Waxman's insight into mother-teen daughter relationships is spot-on, showing the bumpy ride of being a parent and a teenager." — Kathy K.
"Jubilee: Recipes from Two Centuries of African American Cooking" by Toni Tipton-Martin
"Jubilee introduces us to black cooks, some long forgotten, who established much of what's considered to be our national cuisine. Through recipes and stories, we cook along with these pioneering figures, from enslaved chefs to middle- and upper-class writers and entrepreneurs. Includes more than 100 recipes." — Bill
"The House in the Cerulean Sea" by T. J. Klune
"'My quarantined heart is restored.' This one snuck up on me. A favorite book so far this year and sure to win awards for 2020. Klune can write!" — Kathy S.
"The Dutch House" by Ann Patchett
"This book is about a family. The love between a brother and sister are central to the storyline, as is their love for the house they grew up in. It is a pleasure to read and is relatable in terms of blended families, endurance and connections with one's home. I highly recommend it." — Janet
"The Stormlight Archive" by Brandon Sanderson
"This is an epic fantasy series, starting with 'The Way of Kings,' that involves magic, loyalty, betrayal, the quest for the truth and what is right as war starts to brew. The fourth book in the series, 'Rhythm of War,' will be released Nov. 17, and I can't wait!" — Mary L.
"The Long Bright River" by Liz Moore, "Writers & Lovers" by Lily King and "Friends and Strangers" by J. Courtney Sullivan
"The main characters of each book are trying to navigate life in their 30s. The women have a lot to deal with, new babies, family dysfunction, challenging jobs. I didn't want the books to end, I almost felt like the three women were family." — Chris
These titles are all available at Seymour Library and/or through one of our digital resources (OverDrive and Hoopla). To explore our digital collection, visit seymourlibrary.org/elibrary. Looking for more recommendations? Check out the "For Readers" section of our website for lists of bestsellers, new and upcoming releases, staff picks ( including "What We're Reading" staff pick videos and the library's podcast) and more. Visit seymourlibrary.org/for-readers.
Jackie Kolb is community services coordinator at Seymour Library in Auburn. For more information, visit seymourlibrary.org or call (315) 252-2571.
Be the first to know
Get local news delivered to your inbox!