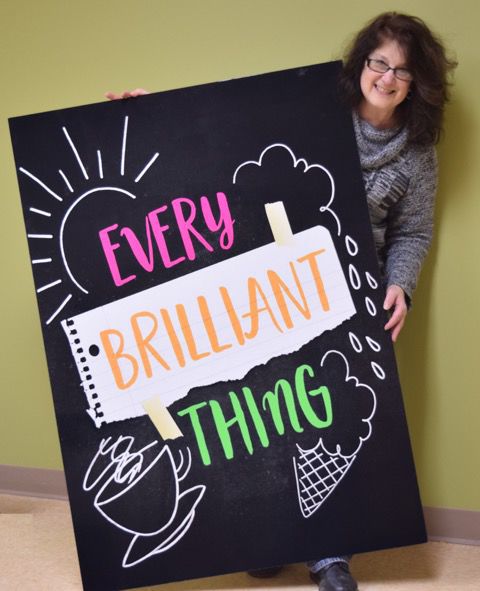 A play about a young girl's efforts to remind her mother that life is worth living will shine a light on mental illness Friday in Auburn.
Terri and Bart Wasilenko, co-presidents of the Cayuga County affiliate of the National Alliance on Mental Illness, are bringing the play, "Every Brilliant Thing," to Cayuga Community College. As May is Mental Health Awareness Month, they hope it provides an opportunity to start conversations about mental illness. 
Terri said the show is about a small family of a mom, a dad and a 7-year-old daughter. The dad tells the daughter that the mom is unhappy, doesn't want to live and is in the hospital.
"Thus the name of it, 'Every Brilliant Thing,'" Terri said. "She thinks of all the brilliant things, great things she can do for her mom to make her happy and feel that she's loved."
The play follows the life of the daughter as she grows up, as well as the hardships people go through when a family member struggles with mental illness, Terri said. As the daughter ages, she also comes to learn she has mental illness herself, and the play illustrates how she navigates that. 
It also talks about the impact of the stigma of mental illness, Terri added. 
Although one in five American adults and children will experience mental illness in their lifetime, Teri noted, stigma prevents many of them from seeking help.
"The whole idea, the crux of this is to begin a dialogue about mental illness — don't keep it in the shadow, don't keep it in the attic," Bart said. "We want people to see other individuals as people, not their illness."
Bart described the play as both moving and humorous.
"The play itself will make you laugh, it will make you cry, it will lift your spirits. Most of all, we want to get through — what we always say is, mental illness is a no-fault brain disorder."
The Wasilenkos hope the play will help dismantle stigma through its depiction of a family in crisis.
Lori Schneider, the executive director of NAMI of Sullivan County, performs the one-character production with the help of the audience.
"She's quite an advocate and she does an excellent job with this play," Terri said. 
The play will be performed in the round in Cayuga Community College's student lounge, allowing for participation from people who want to be a part of the show, Bart said.
"Every time it's performed, you'll get a different result because of the individuals that participate," he added.
Terri said people will have slips of paper with "brilliant" things on them, and when Schneider calls the number that's on a participant's piece of paper, it'll be their turn to jump in. Schneider will help direct them.
Advocates like the Wasilenkos and Schneider will be at the play and encourage attendees to approach them at intermission, or after the show, if they have any questions or want to talk. Resources and information related to mental illness will also be provided. 
Bart said the show may help encourage family members to suggest treatment to friends and family members who may be struggling with depression, for example. 
Terri said she hopes the show helps "people take a pause and think to themselves, 'Wow — that's what an individual goes through? That's what a family feels? Maybe I could be a bit more understanding.'"
Be the first to know
Get local news delivered to your inbox!