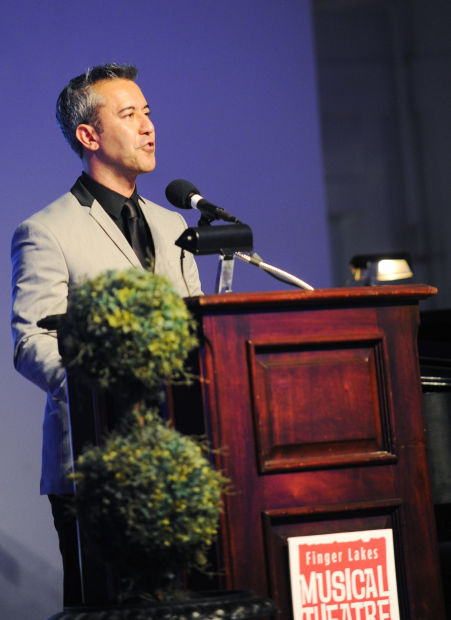 To our friends at The Citizen – you are correct. I missed an opportunity to keep the community informed about our latest news. It seems that this is the perfect moment for me to provide something far greater than just an update.
The Finger Lakes Musical Theatre Festival, envisioned by a network of community leaders and seeded in early 2008, was borne as a catalyst for economic revitalization in Auburn. Leveraging the success of the Merry-Go-Round Playhouse's legacy to date, the festival sought to bring awareness to the art form of musical theater, to grow a medium-sized arts company into a slightly larger one and to serve on the team of community partners dedicated to bringing new energy to Auburn's downtown core. The Schwartz Family Performing Arts Center was to become the tangible embodiment of that vision and affection. While the trials and tribulations of building the SFPAC played out over several years, something far greater was shifting beneath the surface.
In its inaugural year, the festival vaulted out of the gate. Ed Sayles created and introduced the new works series, The PiTCH. We added programming at two new venues (seasonal residency at Auburn Public Theater and the beautifully restored Theater Mack at Cayuga Museum) and created important diversity and distinction in our programming and artistic portfolio. Soon, celebrities including Taylor Dayne and George Wendt appeared on our stage and while in Auburn, enjoyed everything from ice cream at Tom Thumb to dinner at Michael's.
In 2014, Ed Sayles retired from his post of producing theater at the Playhouse after 34 years of service. The community stood to honor him each night during the curtain speeches of "Mary Poppins" and embraced a man who had made an indelible impact on Auburn and theater in the Finger Lakes. That same season, while Tom Wopat (the Duke himself) roped our hearts in "The Will Rogers Follies," plans for building the SFPAC were halted due to the exhaustive roller-coaster of litigation. By then, the Hilton Garden Inn was experiencing higher than expected capacity, several new restaurants had opened, The PiTCH had given light to 20 new musicals, five shows (two of them premieres) had played downtown, the bars and restaurants were active at 11 p.m. on a Tuesday night, and parking was increasingly scarce. There was an undeniable new energy in town.
In 2015, we produced our first non-musical, "Late Night Catechism," the world premiere of "Saturday Night Fever" and we were awarded NY Theatre Guide's award for Best Professional Regional Theatre in New York State. Trendy new living spaces along the vibrant downtown corridor and around the city created invitation for new residents and were met with strong interest and occupancy.
As we welcomed 2016, we embraced two new areas of study: a look at a possible new site for the long-awaited theatre and an analysis of internal and external conditions relative to our health, growth and long-term stability. Through a generous grant provided by the Emerson Foundation, we engaged the highly esteemed DeVos Institute of Arts Management to carry out the study and analyze the climate in which we might bring a new child into the world. This opportunity to engage with, learn from and ask questions of arts management gurus has proven to be invaluable. They have provided us with critical observation, analysis and feedback.
There are close to 40 theater destinations within a 150-mile radius of Auburn. We are proud of the fact that, despite this competition, the FLMTF attracts 54 percent of its patrons from outside of Cayuga County each year; they come for the art and the unique environment already provided by the playhouse. But we are also conscious of the fact that, while many performances at the playhouse sell out, opportunity remains to maximize participation in our current facilities before considering the addition of yet another theater to a fiercely competitive regional environment.
Once a theater is built, it must be actively programmed or it becomes a white elephant. As a nonprofit business, approximately $1 of every $2 we earn is raised from philanthropic sources. That means that, if we were to add another venue and increase our programming by 50 percent, we would also need to increase our fundraising by a significant margin just to make ends meet. Given the immense competition for discretionary spending and contributed income faced by all nonprofits in the wake of the Great Recession, we do not believe this is the responsible course of action at this juncture. This is simply not the time to build a new theater.
Additionally, maintenance of a new theater would fall to the Festival. The same resources we now spend on creating great art and educational opportunities for 125,000 young people in New York state would have a new mouth to feed: depreciation, maintenance, repairs and upkeep of another major facility. At a time when many regional theaters around the country are struggling to find resources to pay for core operations, we did not see this as a necessary, or indeed, responsible obligation to incur. The playhouse on the lake is, itself, an historic gem. But it is also in need of ongoing maintenance and attention, and is our first priority.
We believe in the power of arts and culture to add to the vibrancy and allure of cities. The 2015 Young Strategies Report, furnished by the Cayuga County Office of Tourism, stated that "Auburn has come a long way in recent years in terms of its overall visitor appeal. It is emerging as a hip small-urban center that captures the essence of the creative economy with ample unique dining, hip brew-pubs and clubs as well as theater, evening entertainment and heritage activities. ... Auburn has great appeal with GenX and Millennial travelers." I'd like to also recognize Auburn Public Theater, other arts companies, all of the local nonprofits, small businesses entrepreneurs and private investors – all who share in the same vision for Auburn and who have been been significant contributors not only to the theater but also to its health and success.
We are proud of the fact that the Finger Lakes Musical Theatre Festival/MGR Playhouse Inc. adds over $5 million to the local economy through direct spending by the theater itself, and another estimated $1 million through indirect spending by our audiences when they eat at Auburn's restaurants, stay in its hotels and B&Bs, and shop in its stores. Additionally, those revenues support 105 local jobs. We plan to continue this progress in partnership with Auburn tourism and local businesses, and believe this is possible without asking the community to spend millions on a theater that our festival would only fill with programming for several months per year.
After sitting with the research, seeing the writing on the wall and ultimately embracing this decision as proactive, responsible and necessary, it was time to reach out to our core family of stakeholders to update them on the institute's findings and our decision. We have spent the last several months working through this in a diligent, personal and thoughtful manner.
Simultaneously, Sir Tim Rice was in our rehearsal studios crafting "From Here To Eternity," a North American premiere that broke multiple box office records and created significant visibility for the festival and Auburn. The juxtaposition of these events was surreal, revelatory and ultimately served as the "a-ha" moment. In its early days, the success of the festival had been solely quantified and embodied in a vision of bricks and mortar. But it had become – and exists today as – something more profound. During its first five years, the festival had become a living force in Auburn. The festival helped bring new energy to downtown, created meaningful new attention around the art form of musical theater, allowed the company to mature in critical ways and became a community anchor in a network of partners dedicated to local revitalization. And all of that happened without a new venue.
So what does that mean for us today? It means that we are definitively far more than a building. It means that as Auburn continues to flourish, so will we. We have global reach and awareness. Broadway-bound musicals are having their premieres on our stage, and we operate one of the nation's largest professional touring youth theaters that blankets almost half of New York state. We are one of the largest producing professional musical theater organizations in New York state and one of the top five attractions in Cayuga County. At the height of our season, we employ and house upwards of 250 employees from all over the country and those employees make a significant economic impact on this city and local businesses. We are one of the many companies proudly headquartered in Auburn, contributing each day to its economic core and the local quality of life.
Currently, we are focused on streamlined operations, long-term fiscal health, creating distinction in our artistic programming, improvements and upgrades at the playhouse, leveraging the strength and power of our renowned youth theater, growing our subscriber family, creating increased opportunities for community engagement and expanding our attendance reach. We are proud of our legacy. We are still open and celebrating our acclaimed 2016 season with "Tenderly" and the upcoming rock 'n roll smash hit, "Smokey Joe's Cafe." And we look forward to the great potential that exists at the heart of this vibrant theater company and this loving community. Thank you to everyone who has been a friend and partner to us and who has supported this period of growth. The homepage of our new website says it best: "Strong Theatre. Engaged Community. Bright Future."
Smock is producing artistic director of the Finger Lakes Musical Theatre Festival
Be the first to know
Get local news delivered to your inbox!