The Southern Cayuga Anne Frank Tree Project will sponsor a variety of small group and Aurora and Hazard libraries discussions in October as part of our annual Community Read. We will be reading "All the Real Indians Died Off and 20 Other Myths About Native Americans" by Roxanne Dunbar-Ortiz and Dina Gilio-Whitaker. The small group format allows for social distancing and more personal conversations.
Our Community Read book selection began with Steve Baumes, Southern Cayuga Central School middle and high school social studies teacher, who recommended the book. Steve's introduction provided insight into his academic legacy that benefits both our school and community. Steve told the Southern Cayuga Anne Frank Tree board about his work with his professor Dr. Holly Rine:
"Dr. Holly Rine is an Associate Professor of History at Le Moyne College; and the Rev. Kevin G. O'Connell, S.J., Endowed Professor, 2020-2023. Dr. Rine offers courses at Le Moyne College focusing on Colonial History of the United States, Revolution and Republic, 1763-1800, Native American History, American History Survey I & II, World Civilizations I & II, and Historical Writing and Research. Throughout the courses that Dr. Rine teaches she works to challenge students to understand the diversity of peoples, experiences, and perspectives in both colonial and Early American History."
Steve continued, "Dr. Rine uses 'All the Real Indians Died Off' as one of her texts at Le Moyne. The book is written by two Native American scholars who draw upon their own experiences as Natives and share those with their audience in an incredibly vivid way. The stories/ 'myths' that they share throughout the book are all drawn from family members, professors and colleagues just to name a few. Both authors recount the myths and stereotypes about Native Americans. This helps to reclaim as they say, 'their stolen pasts' through scholarship, storytelling, relationship building, and acknowledging our ancestry."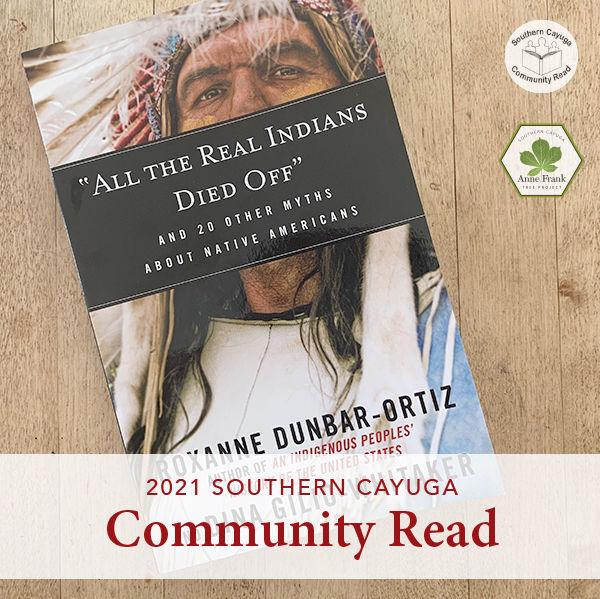 Steve concluded, "You can see how the academic and unique use of the authors personal experience made this a fitting choice to use in my classes. It is a clearly detailed and concise narrative of Native American history that will engage students in grades 7-12. I plan on using the stories included in the book throughout my classes this year and in the future to enhance my curriculum. These are the same reasons it will make an excellent Community Read."
The Southern Cayuga Anne Frank Tree board selected the book as the October Community Read and approved purchase of 40 copies of the book to be distributed at the Aurora and Hazard libraries. When I picked up my copy at the Aurora library, I was caught by the gaze of the Native American man on the book's cover. When I read the "Authors' Note" that began the book, I stopped at this passage:
"Finally, this book is born out of the belief that another world is possible when enough people understand how the miseducation of history contributes to the maintenance of systems of social injustice. We believe that people are hungry for a more accurate history and eager to abandon the misperceptions that result in racism toward American Indians. The dehumanization of one is the dehumanization of all."
Like the authors, the Southern Cayuga Anne Frank Tree Project believes that the dehumanization of one is the dehumanization of all. We also believe that when the community comes together to read and discuss issues framed by those who understand both academically and personally, we will begin to prevent injustice and promote equity within our community. The small group format that was necessitated by COVID will continue this year. Smaller groups, especially when many of the people know each other, leads to richer discussion and often plan to continue work on any issues raised in the conversation.
Elaine Meyers, of King Ferry, is a member of the boards of the King Ferry Food Pantry, ABC Cayuga and the Southern Cayuga Anne Frank Tree Project, and a member of the Southern Cayuga Garden Club. She coordinates a literacy support program at Southern Cayuga Central School.