SUMMERHILL — Summerhill Brewing needed to expand before much of Cayuga County even knew it existed.
The brewery opened humbly in September 2016 in the southeastern corner of the county. It started with a 20-gallon system, or roughly half a barrel, and its Champlin Road tasting room has only been open one weekend a month. But by the following March, owners Megan and Kurt McDonald and Sallee and Jeff Ten Eyck were overwhelmed by demand. Beers like Paper Money IPA and Iron Plow Porter had earned Summerhill such a thirsty following that expanding became necessary. And the brewery earned that following almost entirely through word-of-mouth within its community.
This spring, Summerhill Brewing will open a new facility on Route 90, a quarter-mile away from the old brewery. The new 3,000-square-foot building will include a seven-barrel system, which will be able to produce 10 times as much beer. Its spacious tasting room and outdoor seating area will similarly multiply the number of people Summerhill can serve. Speaking Thursday at the freshly sanded bar of their new facility, Summerhill's owners said the expansion will allow them to become a regular stop for their old customers in the community and a destination for new ones outside of it.
"We've gotten a lot of community support, and we intend to support our community," Megan said. 
Kurt, Summerhill's brewmaster, is husband to Megan and son to Sallee and Jeff. Each of the owners brings their own relevant background to running the business. Kurt studied chemistry at SUNY ESF and works as an operator at Cornell University's High-Energy Synchotron Source facility. Megan has practiced culinary arts for 20 years and feeds about 1,000 mouths a night as a dinner cook at the university's North Star Dining Hall. Sallee retired in 2014 after working for the USDA Farm Service Agency for 39 years. And Jeff graduated with degrees in agricultural science from SUNY Morrisville and environmental biology at ESF before working for the state Department of Agriculture & Markets and American Farmland Trust. He retired in September as Summerhill Brewing ramped up.
On the same property that would host both brewery sites, Kurt started making cider while he was growing up. Then, he and his parents started a small hop crop. Having those 80 plants led Kurt and Jeff to homebrewing. And once the McDonalds and Ten Eycks started hosting tastings with friends and family, the rave reviews encouraged the four to turn their hobby into a business. 
Kurt said he likes applying his knowledge of chemistry to making beer with local ingredients. Summerhill still sources some hops from the Ten Eycks' property, such as the Nugget and Tettnanger in Paper Money. But as the brewery expands, those plants will constitute an ever-shrinking percentage of the ones Kurt uses. The rest don't come from far away, though, as Summerhill sources from hop farms in Skaneateles and Ledyard. Only popular IPA hops like Mosaic, El Dorado and Citra will come from outside New York, said Jeff, whose assistant brewing duties include ordering ingredients. And because Summerhill will have a farm brewery license, 60 percent of those hops, malts and other ingredients have to come from within the state — 90 percent by the beginning of 2024.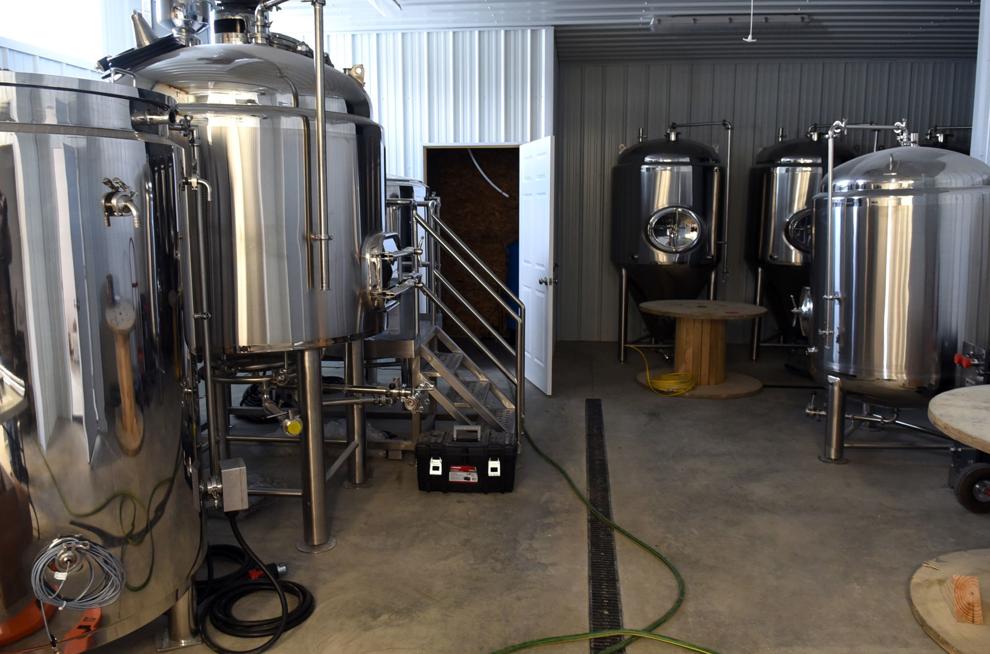 "We weren't sure how difficult it was going to be to source from New York," Jeff said. "It turns out it's not hard at all." 
Megan, meanwhile, runs Summerhill's social media and oversees the tasting room. Her culinary experience also comes in handy at the brewery, like when she helps Kurt and Jeff calibrate the amount of peppers they use in their chili beer. Soon, too, Megan will oversee Summerhill's food options, which she said will complement the beer menu and make use of local ingredients that are in season. She also recently became certified to teach yoga, which could join lawn games and walking and snowshoe trails on the list of possible attractions the brewery will add to its vast, scenic property.
Sallee handles the brewery's finances and event bookings. In addition to its tasting room hours, Summerhill regularly takes part in community functions, often partnering with businesses like Chateau Dusseau and Grisamore Cider Works in Locke, and 10-10 BBQ in Moravia. Local craft beverage producers are no exception to the strong community support for Summerhill, Sallee said.
As customers go, 90 percent of that support comes from less than 15 minutes away: Locke, Groton, Homer, Sempronius. Though that area covers four counties, it shares one common need, Jeff said.
"The area has needed a community gathering place," he said. "Summerhill seems like the middle of nowhere, but we're 10 minutes away from everywhere."
With such a strong local following, Summerhill has set out to serve beer drinkers, Jeff said, not craft beer drinkers. That difference means making sure the brewery always has most, if not all of its seven or eight staple beers available, such as Millard's American Ale (named after Summerhill native and 13th President Millard Fillmore) and Naked Neighbor Amber Ale (named after the nudists who come to the area for the Northeast Naturist Festival). Customers always want to try what's new, Kurt said, but they tend to go back to their favorite beers afterward.
With a system that's 10 times bigger, Kurt will be able to introduce a lot of new beers to Summerhill. The brewery will keep serving seasonal specials like Sugar Shack Stout, which is made with locally harvested maple sap, and its Irish red for St. Patrick's Day. But the brewmaster is keeping his options open for further experimentation — likely with his old, smaller system. Once his new system has the tasting room stocked, too, Summerhill may look at selling kegs to area accounts as a way of marketing itself outside the community, Jeff said. 
That is, if word-of-mouth about Summerhill Brewing doesn't continue to do all the marketing it needs.