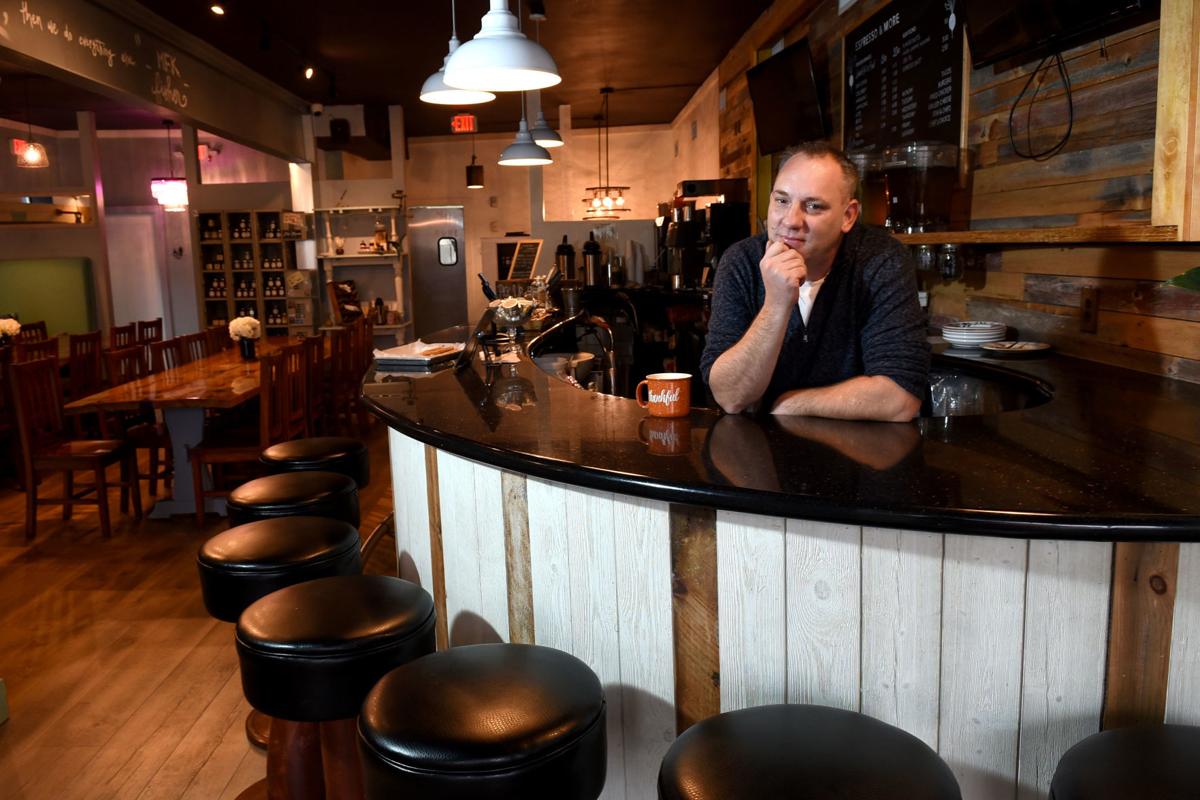 I spotted the Pure Market and Eatery sign last fall and made a point to stop in when this new Cayuga County Chamber of Commerce member hosted a Business at Noon event in January. In poking about, I was struck by the impressive number of products on the market shelves bearing labels from local and regional food producers. Throughout the shared market and restaurant space, I also noted the quiet integration of some smart sustainability practices well worth showcasing.
In doing some advanced research, I Googled "Pure + Auburn" and quickly discovered that there is far more to the Pure story than just this new downtown entity. In business-speak, the Pure group is a classic example of a "multichannel distribution system," through which customers are offered multiple ways to purchase the same products. When we sat down to chat, executive chef and owner Luke Houghton explained that the market and eatery concept was a newer channel. His first enterprise was the Pure Catering and Events operation started several years ago, providing high-quality event catering. Based upon customer requests, Luke launched Pure at Home, a service delivering the same food offered at Pure-catered events direct to subscribers' homes. The Pure Market and Eatery came next, providing two additional access points for the entrees, pasta, sides, soups and salads made on-site using mostly fresh, local, raw ingredients: One can dine at the eatery or take away prepackaged Pure meals from the market coolers to heat and eat at home. A recent innovation is the Pure branded product line of granola, preserves and jams dotting the market shelves.
Luke explained the natural efficiencies within this integrated structure. Catering food prep also creates products for the Pure at Home service, the takeout packaged meals and eatery menu items. There is little kitchen prep food waste because almost all the material will be used somewhere within the system. Luke explained that the Pure-branded preserved foods further strengthen the brand. If you see Pure labels in your fridge, it might remind you to stop by the market, or you might get a yen to dine at the eatery or take out prepared Pure meals. Maybe you consider subscribing for Pure at Home meal delivery service, and ultimately, you remember Pure Catering when you have an upcoming special event. Luke pointed out that a number of the items for retail sale in the market serve as "dry storage" for kitchen food prep. Pure chefs use items like pastas, tomatoes, oils, Syracuse Salt products and Farmer Ground Flour taken from off their own shelves as ingredients for the foods prepared for their various distribution channels.
Speaking of those local items that initially caught my eye, Luke and his team "curate" what they offer in the market, seeking high-quality foods from producers whose values resonate with those of the Pure team, ideally sourced as locally as possible. Among the products I noted: syrup from Dutch Hill Maple in Tully; Farmer Street Pantry items from Syracuse; Ithaca Milk cheese and Ithaca Hummus; Hiwire Honey from Lafayette; Stony Brook Wholehearted Harvest seed oils and snacks from Geneva; Finger Lakes Harvest shrubs (uncarbonated cold-extracted fruit drinks) that are popular mixed drink flavorings; Clean Slate Farm flavored balsamic vinegars from Tully; Red Jacket cold-pressed fruit juices from Geneva; and Farmer Ground Flour's organic, stone ground whole grain wheat flour, cornmeal and polenta, fresh-milled to order in Trumansburg. The market is an outlet for some blended tea selections from Finger Lakes Tea Co. in Waterloo; those same teas are served at the eatery. Another featured product line is hand-crafted Nostalgia chocolates from Rochester. All the served coffee drinks use varieties of Gimme! Coffee, an Ithaca roaster with its own great sustainability story.
When asked where his personal sustainability commitment sprang from, Luke stated that, as an experienced chef, it is "important because you see things like health impacts that are not caused by food products coming from local farms, but coming from industrial-scale agribusinesses. I buy from someone up the street because I know them personally and can hold them accountable." He cited the example of the lettuce he now procures from new hydroponic grower Farm Girl Greens in Sennett.
Abby and Mark Lepak were searching for a location to open an indoor hydroponic farm when the…
I remarked on the quote from famed chef Alice Waters hand-painted on the support beam bisecting the space: "Let things taste of what they are." Luke concurred with that sentiment: "I like to keep foods simple. Using locally grown produce makes a difference to the taste — things just taste better." He shared his observation that locally grown produce also lasts longer, pointing out that Farm Girl Greens' lettuce lasts well over a week, whereas salad greens procured from non-local growers often go bad in just a few days.
When asked about Pure's focus on using produce available "in season," Luke estimated that the menu is about "90% seasonal, but" — he laughed — "We only have two seasons." For example, he added, "You won't find asparagus on our menu until asparagus is in season locally." He admitted that the menu during non-growing months skews more heavily toward root vegetables, winter squash and Brussels sprouts that can be cold-stored. That's why he is so delighted to see the development of local food entrepreneurs like Farm Girl Greens to support the local farm-to-table movement and provide fresh produce year-round.
The vibe of the conjoined Pure Market and Eatery space is very relaxed, warm and welcoming. "Our whole design aesthetic is to make people feel good," Luke stated, "so we look for things that add to that good feeling." When I complimented the artwork dotting the walls, Luke responded, "Incorporating art into the eatery is big — it helps to develop positive emotions." Currently, Pure Market and Eatery is collaborating with the Schweinfurth Art Center to showcase a number of pieces by one of the center's featured artists, Timothy Rodrigo.
The service ware is all reusable, featuring mismatched pottery mugs and bowls and silverware, much of it gleaned from area secondhand outlets like the Thrifty Shopper. Sugar, honey, salt and pepper are self-served from bulk containers — no single-serve condiment packets or straws are offered. The thick tops of the pair of large refectory tables gracing the center of the space were crafted on-site using 200-year-old boards reclaimed from a barn near North Rose. Similarly, reclaimed wormwood boards form the round dining tabletop in the cozy corner nook we occupied for our interview. I noted the repurposed metal lockers showcasing the Pure brand bottled foods. Luke called my attention to the stacked apple crates serving as display cases and the reused metal pipe and fittings that support dry goods shelving. Overhead lighting is equally eclectic, incorporating mesh fruit baskets and even an old metal bed spring enclosing the bulbs. The team repainted an old bureau and cut openings into the top to separately collect trash, recyclables and compostable food waste, with a top shelf where diners can deposit soiled reusable serving items. Noting the opening for "compost," I inquired as to what Pure does with collected food waste. Luke explained that kitchen prep waste, comprised mostly of vegetables, goes to an area farmer for chicken feed. Luke admits that finding other methods to dispose of food waste, especially post-consumer food scrap from catering operations or the eatery, has been more problematic.
When asked to name his current sustainability challenge, Luke immediately responded: "Responsible food packaging." Pure prepared food products are packaged in either reusable or compostable bioplastic containers, and all takeout cold and hot cups are compostable, but Luke recognizes that this is an incomplete solution due to the lack of facilities to which to divert compostable material. Luke is mulling a reusable container program for the home delivery service since a number of repeat customers already give back their empties when they receive new deliveries.
What's next on the horizon for Pure? Luke indicated that he is considering developing a plant-based food hub, to respond to the growing demand for such products from area vegans and vegetarians. The catering group has considered revamping its menu to offer a full vegan menu option; Luke noted that they are fielding more inquiries to cater vegan weddings. Luke pointed out that the eatery's once-a-month vegan brunches have been their biggest days. When I expressed my appreciation for the vegan grilled cheese sandwich option, Luke disclosed that they have started quietly making their "cream" soups with non-dairy vegan bases, which offers vegans more menu options, and most folks simply cannot taste any difference in vegan "cream" soups.
When I asked how Luke and his team accomplish everything in their impressive multi-channel Pure food empire, he said, "We work really hard, and we have to be very organized." He indicated that Pure may expand a little bit in 2020, but for the most part, they will take some time to settle more firmly into the various Pure channels and operate "as is" for awhile. In the meantime, we can all admire the Pure team's impressive sustainability efforts.
AUBURN — If you like what you eat at Pure Market and Eatery, the new downtown business can s…
Be the first to know
Get local news delivered to your inbox!