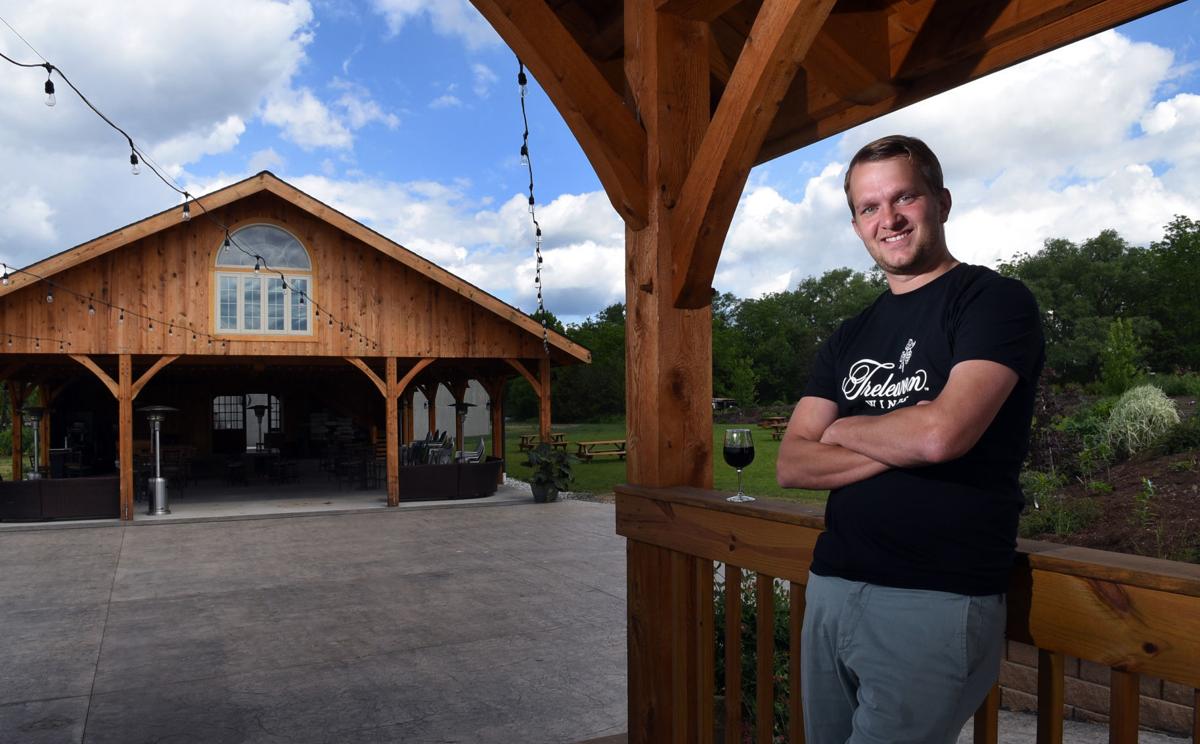 In our sustainability degree program, Wells College frames "sustainability" as making decisions that mindfully consider the human, environmental and financial impacts of our choices. Achieving sustainability within all three "pillars of sustainability" is admittedly aspirational and, some would argue, nigh onto impossible. As Nelson Mandela remarked, "It always seems impossible until it's done." This column showcases examples of area businesses embracing sustainable operational practices to show that making more sustainable decisions is indeed possible because these "stars" are already doing it.
For this inaugural column, I interviewed Vice President Lev Saltonstall to learn about the sustainability practices integrated at King Ferry Vineyards and Treleaven Wines. Along the way, Lev gave me a crash course in viticulture, explaining that what sets Finger Lakes vineyards apart from those in other regions is the focus on good vines producing a reasonably good yield of nice, clean fruit — something he admits "takes a fair amount of finagling." Of vineyard management, he said it is "always about passion, about creating the greatest grapes. Grapevines are not machines — you have to use techniques that work with the vines, to train them to help with the winemaking process."
Vineyard manager Cyrus Parseghian heads a full-time, three-person team that hand-tends their vines, becoming intimately familiar with all 27 acres of vinifera grapes under cultivation. The team follows best vineyard management practices and managers have collaborated over the years with Cornell researchers to ground-truth viticulture techniques that really work well. Cyrus' team learns the unique needs of each panel of grapes in order to provide consistent, attentive care.
Each part of a vineyard has varying soils and drainage; some areas naturally support "vigorous" grapevine growth, which Lev taught me is not the ideal state. Left unchecked, "vigorous" grapevines devote more energy to developing excessive shoots and dense canopy foliage. The team performs "balance pruning" — selectively pruning canes and "hedging" (cutting off vine ends) — to create moderate-sized vines that balance the amount of foliage and fruit, allowing more light and air to penetrate into the interior of the canopy, which in turn improves bud fruitfulness and cluster ripening, and lessens disease.
At 7 years old, Lev Saltonstall knew what he wanted to do when he grew up: He wanted to work…
You have free articles remaining.
Along with judicious pruning and "hedging," the vineyard crew employs the less common technique of palissage, hand wrapping and tucking shoot tips to further curb these plants' "vigorous" growth. While it seems counter-intuitive, the team's goal is to create "deficient" conditions in which grape plants instead apply most of their energy toward setting and developing fruit. Cover crops grown beneath the grapevines offer two benefits: They out-compete harmful weeds, eliminating herbicide use, and by absorbing some soil moisture, further contribute to "deficient" growing conditions.
The vineyard team employs "integrated pest management" practices using only plant-based treatments when necessary, but relying far more on staff's continual monitoring of the plants. Lev offered this example: While a home gardener would spray insecticides on an infestation of Japanese beetles in order to preserve their desirable foliage plants, in the vineyard, the periodic visitation of this particular "pest" is in fact somewhat useful. The insects graze on the vines' top foliage, then move on. No insecticide treatment is needed; such selective "hedging" by these beetles helps open up the canopy, a manual task vineyard staff might otherwise perform.
The vineyard maintains several compost piles in various states of processing to which are added winery pomace (leftover skins and seeds from expressing juice) mixed with charcoal from burning pruned canes. Finished compost becomes a soil amendment for "deficient" grapevines, avoiding additional fertilizer use. The New York ClimAid report projects more rainfall and higher humidity in our region as a result of climate change, conditions significantly affecting agriculture in general and grape growing in particular. Vineyard staff already see such impacts; fungicide treatments are sometimes needed to control powdery mildew during warmer, wet periods. To prevent drift of applied chemicals to unaffected plants, the vineyard invested in a LIPCO recycling tunnel sprayer. This unit treats two rows of vines at once within an enclosed curtain tunnel to prevent overspray, plus any spray missing target vines is collected from the opposite side of the tunnel and recycled, providing precision coverage with minimal waste.
Some vineyards focus on increasing yield in order to produce as much wine as possible. Treleaven Wines looks to maintain high quality vines and work with the unique needs of the plants to improve the quality of grapes produced, leading to perhaps a little lower volume of a superior wine product. Lev said their more sustainable, manually intensive vineyard practices are "not about (getting) the highest yield, as better quality practices with a lower yield may in fact gain a Brix or two at harvest time." (Brix refers to determining the sugar level in grapes as a way to measure the potential alcohol content of a wine before it is made.)
Both King Ferry Vineyards and Treleaven Wines hire local employees who are passionate about their work; Lev credits them as a major reason for the organizations' success. Their employees are fairly compensated above state minimums and management is exploring "living wage" levels. When considering other sustainable practices, everyone in both operations "continues to learn." When first installed, the 11.2-kilowatt photovoltaic installation on the winery roof produced about 30% of the winery's electricity. With the recent expansion to add the Hangtime event venue, Lev estimates that array now supplies about 15-20% of their total electricity, although he notes that their wholesale use of LED lighting and smaller stage amplifiers minimize that additional load. Lev noted the winery's care to limit stress on groundwater aquifers; he is investigating accessing surface water for some applications.
Executive chef Susanne "Cookie" Wheeler is big on "farm to table" for her Simply Cookie onsite events catering service, adding local produce as it becomes seasonably available, and even purchasing beef from neighboring McGarr Farms. She refuses to use Styrofoam, instead offering some compostable food serviceware and studying replacement options for other single-use items. One events employee monitors and separates out recyclables from the collected trash. Their diligence has led to two out of three dumpsters now being filled each week in the summer with recyclable bottles and cans instead of trash. Exploring separate collection of compostable food service waste is on the "to do" list.
All in all, the careful, broad-based attention paid to sustainability by everyone involved at Treleaven Wines and King Ferry Vineyards earns them our first Sustainability Star.