AUBURN — A 450-pound flatulent anesthesiologist is the villain of John Avanzato's newest book, "The Gas Man Cometh." 
A gastroenterologist named John Cesari is the hero, targeted by the odorous serial killer (no joke — he makes nurses faint in the first few pages). A reformed gangster from the Bronx, Cesari is a combination of James Bond, Mickey Spillane, David Addison (from "Moonlighting") and Avanzato himself — also a gastroenterologist from the Bronx. 
Sitting in a conference room of Auburn Community Hospital last week, the 58-year-old doctor with the New York City accent can't stop smiling as he talks about his hero.
"His go-to methods," Avanzato said, "are not always appropriate, or politically correct. If we were in a book store, and you and I saw somebody shoplifting a book, you would either call the manager or get on your cell phone and call 911. Our hero would pick up a hard cover copy of Harry Potter and go beat the guy into submission because his go-to instinct is to settle it now, forcefully."
Avanzato laughs and slaps his hands on the table.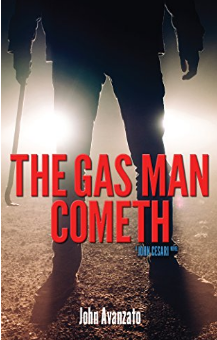 "The Gas Man Cometh" is Avanzato's fifth book published by KCM Publishing out of Manhattan. All of his stories feature Cesari, and Avanzato already has book six hammered out and ideas for new thrillers in the works. The doctor and author is filling a nearly lifelong dream, taking his imagination to paper and allowing others to come along for the ride. 
Writing is not something he ever thought about doing professionally. Avanzato's medical career had always come first. He opened up his own practice in Geneva after moving from the Bronx in 1991. After more than two decades, Avanzato said it was time for a change. He's since opened up an office in Seneca Falls and has also worked at Auburn Community Hospital for the past year. In 2014, he published his first book, "Hostile Hospital." 
"When I wrote the book, I didn't anticipate it being published," he said. "I wrote it because I had to do it. It was inside of me."
You have free articles remaining.
He began a writing routine, too, waking up at 4 a.m. and writing until about 7 a.m. Avanzato joked that sometimes he gets bed sores, sitting and writing for hours on end. When he'd finished the first book, he said he didn't know what to do with the pile of papers. He didn't know if it would make the cut.
After a long year of searching for an agent, he finally had a bite. 
KCM Publishing focuses on digital and print-on-demand distribution, and while Avanzato said it won't get him rich, his books are selling. He's found his hero particularly resonates with a female audience, and he uses Facebook and Twitter to get feedback from readers, sometimes assisting him with future books.
But cut away the handsome hero, the crime, the romance and the action, Avanzato said, a message about healthcare remains.
What makes Avanzato's books different, he said, is all of his stories center around health care and patient advocacy. Cesari takes on doctors and hospital bureaucracy in all of his adventures while providing some education about the importance of colonoscopies and endoscopies. 
Written in first person, Avanzato feels he can directly communicate with the reader through Cesari. He said first person creates more tension for the reader, making them feel like they're following someone around. It helps Avanzato, too. Those that know him, he added, tend to read Cesari as if they were hearing from Avanzato. 
"It's just so natural for me to write like that because when I speak as a physician, I'm speaking," he said. "It's me speaking, and even my accent now, when I'm reading the books, you're going to think, 'I heard that guy.'"
The same voice continues into his latest thriller, and as Avanzato considers winding down his work in the medical field, it will likely continue for many more books to come. 
"When you like what you're doing, it's not work," he said. "I'm having a ball."