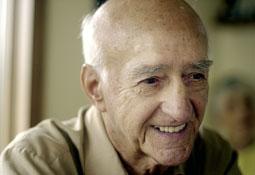 Christopher Spagnola doesn't talk much about his service during World War II.
Spagnola, 89, was awarded a number of medals while flying a bomber over Germany, including the Distinguished Flying Cross and the Air Medal. When his nephew wanted to frame them, Spagnola had to dig them out of the attic.
When he moved to a new home years ago, he got rid of his leather bomber jacket. Spagnola doesn't even know where his uniform is, though he said he can probably still fit into it.
"It's hidden away somewhere," he said.
Spagnola said he isn't trying to bury any memories or forget about the time he spent in the air. He does not have a problem telling people he commanded a B-24 bomber as a lieutenant colonel for the 44th Bomber Group. It is not like he is trying to hide the fact that his group flew support missions for the D-Day invasion.
He'll even joke about it.
"You know I am part of the greatest generation, don't you?" Spagnola asked with a smile at home on Owasco Lake before continuing in a more serious tone. "I just never really discuss it with anyone. I don't like to dwell on it. If you dwell on something like that, it will eat up."
But recently, Spagnola has been reminiscing more than usual about his service in the war. He flew to Washington, D.C., last month to be honored by the French government. He and other men from the 44th received the French Legion of Honor's Chevalier medal for major contributions toward the advancement of the allied army.
The ceremony was held at the home of France's ambassador to the United States.
On Oct. 15, the state of New York honored Spagnola with the Conspicuous Service Cross, an award that can only be presented to people with combat decoration. He was even given the key to the city of Auburn last week.
"All these awards have been given to me in the twilight of my years," Spagnola joked. "I've been so low-key about it for the last 60 years."
Born and raised in Auburn,
Spagnola flew 35 combat missions over Germany with a nine-man crew between 1944 and 1945. Many of those missions were during the day, when the squadrons faced flack fire and fighters, he said.
After three years of active duty in the Air Force, Spagnola stayed with the Air Force Reserve for 25 more. But he never flew again, although he did have a commercial license when he came home. Instead, Spagnola married his wife, Clementine, and started working at the Auburn Foundry. He eventually became president of the company.
When he was first contacted for the Legion medal, Spagnola said he was reluctant about the whole thing. But his nephew, Joe Lopiccolo, encouraged him to participate.
Spagnola said the ceremony gave him an emotional high.
"It's hard to describe the feeling," he said. "And the ambassador's house was really something to see."
Lopiccolo said that he is one of the few people who will persuade his uncle to discuss the war. A self-described history buff, Lopiccolo said it is important that veterans receive recognition for their sacrifices.
Lopiccolo said this is especially true for World War II veterans. Many of them are passing away. And like his uncle, many of them don't feel the need to talk about the war.
"They'll never talk about it themselves," he said. "They are very humble about it. But unless people tell these stories, they are going to be forgotten."
Spagnola plans to remember those years for a long time. He only retired from the foundry in 2006, after working there for 62 years. He and Clementine are taking a three-month vacation to South Georgia in a week.
"Now I get to enjoy the fruits of all my work," Spagnola said.