Fifty years ago, the number of women to officially run in the Boston Marathon was just one. 
Kathrine Switzer, then a student at Syracuse University, donned a race number and tackled the 26.2 miles in 1967, and this year, she's going to do it again. But this time, the race director won't try to push her off the course.
Ushering in a new era of female runners, Switzer opened the door to a race that now has more than 12,600 women participants, according to last year's Boston Marathon stats. Now with a new nonprofit organization called 261 Fearless Inc., which aims to empower women around the world, the 70-year-old Switzer will run this April alongside Auburn resident Katie MacIntyre and more than 100 other women.
"What was a dramatic incident 50 years ago became instead a defining moment for me and women runners," Switzer said in a release. "The result is nothing less than a global social revolution; there are now more women runners in the United States than men, and these women are both fearless and compassionate, wanting to help other women around the world achieve their goals."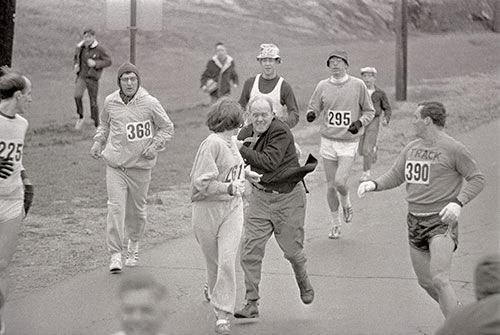 For MacIntyre, being a part of the marathon and the revolution is exciting. She originally applied to join Switzer's team last fall. She had just turned 40, and had gone to the doctor for a mammogram. The first results showed some abnormalities.
"When I filled out the application, I did not know if they were going to tell me if I had breast cancer," she said. "During that time of not knowing, maybe I just needed something big and bold to sign onto.
"Sometimes we need something different," she added.
When official results came back, MacIntyre was breast cancer-free, and she's been training ever since.
While this is her first marathon, MacIntyre is no stranger to running. She's been doing it ever since she was a little girl, when she'd win the family's Thanksgiving turkey after running the annual Turkey Trots in her native New Hampshire. Today, MacIntyre is also the race director for the Seneca Falls Right to Run 19K/5K, a race to benefit the National Women's Hall of Fame. Switzer is also a national spokesperson for the run.
To connect with Switzer and the other 261 Fearless runners, MacIntyre logs onto the team's training app, which connects all the runners through discussion boards, provides training tips and spells out a marathon training schedule. She said she generally runs a few miles Tuesdays, Wednesdays and Thursdays, and has a longer run on Saturdays. With two children, a full-time job as vice-president/marketing officer for Generations Bank and multiple volunteer roles, MacIntyre's training days start at 4:30 a.m.
The dark, cold winter days are a different training ground from where Switzer is, running in New Zealand's warm summer. But, MacIntyre said, she loves to run in the snow.
"I haven't had to wear my ski goggles yet, so it hasn't been so bad," she said. "Watch, I probably just jinxed myself, and there'll be a blizzard coming."
Besides the excitement of training for the Boston Marathon, MacIntyre is working to raise funds for 261 Fearless. She's raised about 64 percent of her goal of $7,261. The money will go toward setting up clubs, training programs and events for women runners across the globe — of whom many, according to the nonprofit, still live in "fearful places."
It's another race that women are still running. Though Switzer created strides half a century ago, "the race isn't over," MacIntyre said.
"I'm honored to have a place in the starting line with her," she said, "but it's not really a start or a finish. It's part of all the work that we need to keep doing, if that makes sense.
"I'm excited," MacIntyre added. "I think it's going to be great."