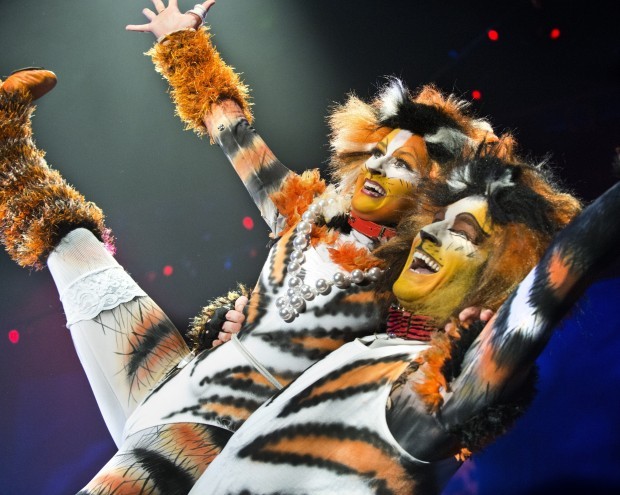 The Merry-Go-Round Playhouse's "CATS" may be a great show. It may be not only the best show of the 2013 Finger Lakes Musical Theatre Festival, but one of the best to take the Owasco stage in recent memory.
I don't know for sure, though, because I sort of hate this musical.
In life, there are two kinds of people: People who don't mind watching others dress up and act like animals, and those who feel like they could disintegrate at the very thought.
My aversion to anthropomorphism couldn't totally stop me from appreciating the litter of talent that brought Andrew Lloyd Webber's musical to amazing life. Like last year's August show at the Merry-Go-Round Playhouse, "Cabaret," "CATS" seemed to possess its cast with a deeply felt artistic duty — in this case, to infuse every hiss and every high kick with as much inhuman grace and ferality as they could. That force also functioned as a collective unconscious, unifying the frenzied choreography of "The Jellicle Ball" and the unsettling whispers of "The Naming of Cats" as though they were performed by the many limbs of one feline entity.
Maybe the strongest link to "Cabaret" is Josh Walden, who wowed as the Master of Ceremonies last year and does so again this summer as Munkustrap. KC Frederick's a whirlwind during Mistoffelees' second-act dance solo. And Taylor Dayne ambles sorrowfully to center stage as the hopeless Grizabella to turn in a soulful, showstopping rendition of "Memory."
Some uneven object scaling aside, the set is another Merry-Go-Round triumph of scene-setting, and the orchestra realizes all the richness of the synthesizers and rhythmic piano in Webber's distinctly early-'80s score.
Another highlight of the show, for me at least, was "Gus: The Theatre Cat," a one-upping duet between Lucy Horton's Jellylorum and Christopher E. Sidoli's Asparagus set against a high seas yarn visualized with an impressive drop-down painting backdrop. Horton and Sidoli's antics were so winning that I became self-conscious of suddenly enjoying people performing as cats so much. Then it hit me: It's the only time in the show they just acted like people.
Lake Life Editor David Wilcox can be reached at (315) 282-2245 or david.wilcox@lee.net. Follow him on Twitter @drwilcox.