AUBURN — A downtown Auburn doctor's office is taking a new look at primary care by adding addiction medicine and treatment to its services.
East Hill Family Medical, a federally qualified health care center, opened a new space on Genesee Street for addiction medicine on the same floor of its adult medicine office on Thursday. It was financed through a $170,000 grant from the U.S. Health Resources & Services Administration. 
At the ribbon-cutting event, local officials praised Cayuga County Coroner Adam Duckett for his work in securing the funding and creating a safe and healthy environment for those who need help with alcohol and opioid addiction. Duckett is also an addiction medicine specialist at East Hill and a family practice provider at Auburn Community Hospital.
"When you're with your primary care doctor, you're with them forever," Duckett said. "You want to be with a primary care office that understands your history, and understands what to look for to make sure that we can help make sure that you don't relapse."
It's a different and evolving outlook on a disease so often misunderstood. Duckett said he's integrated addiction services in an informal way through his practice during the last five years at East Hill, but he hopes the new space will help even more with longer hours, making addiction medication like Vivitrol available, and mental health counseling.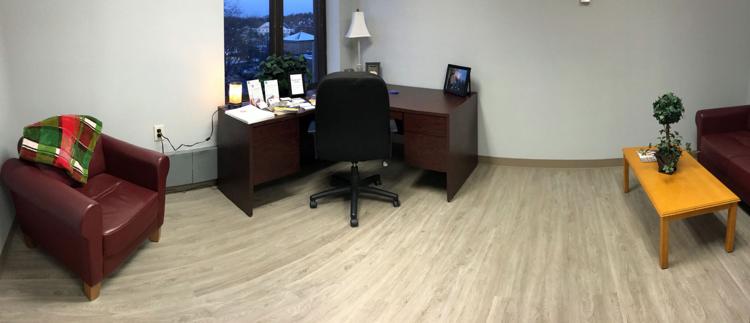 The office, which is located on the fourth floor of 144 Genesee St., has two full-time nurse practitioners and a full-time physician's assistant. Services are meant for those 18 and older. Duckett said he will be available in the office Tuesday and Thursday evenings, and depending on the response, he may open the office on Saturdays, too.
You have free articles remaining.
"Unfortunately, I think it's something that's going to be filling quickly," he said.
Just two floors below is the recently opened office for the Heroin Epidemic Action League. East Hill has leased that space to the grassroots organization working to fight drug addiction. A short walk away, inside 12 South St. is another space opened by Nick's Ride for addiction recovery meetings and support. Nick's Ride is another grassroots organization; Duckett works with both groups.
"We want to start working with every entity so that we can to make sure people don't fall through the cracks," he said.
At Thursday's ribbon-cutting, Cayuga County Sheriff David Gould said work like what Duckett and East Hill are doing shows that the stigma around addiction is changing. Drug use is not limited to the tunnel systems in New York City or Los Angeles, he said. 
"As far as investigations and arrests, we've really changed our attitude," Gould said. "Dealers are still going to be arrested. We know that. It's still illegal in our state to possess these drugs. But, we have an attitude change that people need assistance. They need help. They need therapy. They need treatment."
For now, the office is open 5 to 8 p.m. Tuesdays and Thursdays. Patients are encouraged to schedule an appointment, but walk-ins are welcome.