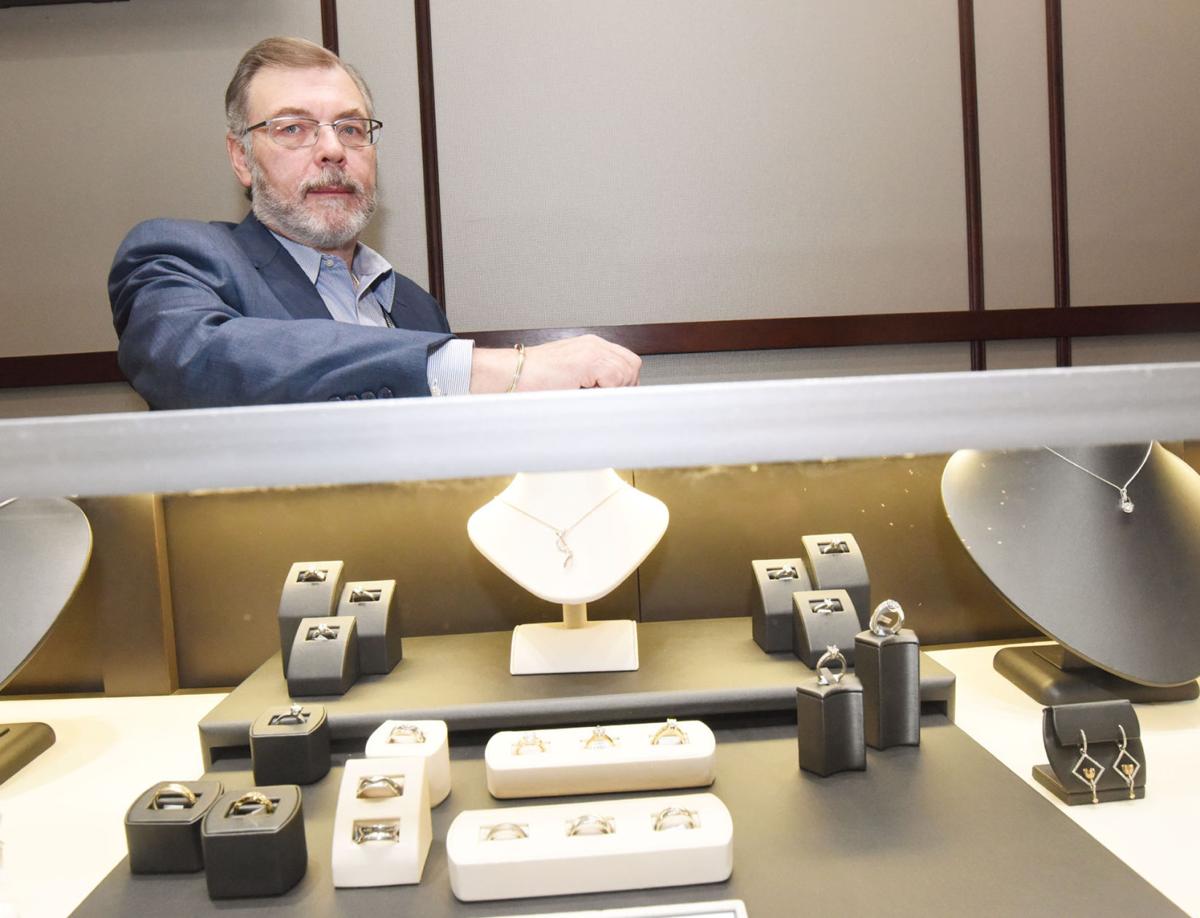 AURELIUS | Moving to Auburn has been all about timing for David West Nytch.
He and his wife, JoAnn, always had an eye on Auburn as a possible spot for their business, West & Co. Diamonds and Fine Jewelry. The two managed the brand for more than two decades in the Rochester suburb of Webster — more than an hour's drive from a longtime summertime favorite of theirs in Owasco Lake, David said.
They first considered a move closer to family ties in the central New York region in the '90s, but they saw a declining local economy and a jewelry market too crowded for their liking, David said.
They revisited the possibility one score and a recession later, and David now sees an improving Auburn with a stronger downtown.
The couple found a spot for West & Co.'s next chapter in the Auburn Floors building on Genesee Street. However, the historic structure remains under construction into commercial and upscale apartment space.
With renovations projected to continue into the summer, David has set up shop in Fingerlakes Mall, sliding his wares into the shell left by former tenant Littman Jewelers.
While Auburn Floors remains the plan, David said he might hang onto the mall location, which has been doing "pretty good" so far.
That would be two stores in an area still stocked with a few other options for jewelry. However, the 56-year-old thinks his wares rise above the rest.
"I think there's more than enough room for a really good jeweler because there isn't a really good jeweler in this area, meaning you have to go into Syracuse," he said before adding, "I have some of the things that everybody's got, but I always try to have some stuff that nobody's got — and I like it that way."
---
For David, moving out of Webster meant turning the page on a chapter he spent around 24 years writing as West & Co.'s designer, certified gemologist and master goldsmith — certifications, he said, that give him a well-rounded view of the industry.
He earned those accolades, and a De Beers Diamonds Today award, as part of a career that started with study at both Rhode Island School of Design and School for The American Crafts of Rochester Institute of Technology.
There was no talk of gemology or De Beers when David found his love for crafting as a teenager growing up in Vestal. Design, he said, "translates across any medium," as it did when David found joy in building crafts like models.
David said he was inspired by his grandfather, who was an architect and a partner at King+King in Syracuse. The muse shows in his work, the jeweler said.
"I really learned the basics of my designs from my grandfather," David said. "I've been either appraised or accused over the years by other designers of being very architectural in my style. That kind of makes sense because, you know, I learned by looking at buildings."
Making quirky, one-of-a-kind pieces is where David finds much of his joy. He said he started what is now Richards & West, Inc. in Rochester with a friend back in 1982. However, David said the company's push toward high-volume manufacturing made him unhappy, which led to an amicable split toward 1990.
He started West & Co. in 1991 after meeting JoAnn, who handles the financial and inventory sides of the business, he said. The two opened a few stores in Webster, including a larger, free-standing location in 2002.
Like other industries, however, selling jewelry changed "dramatically" with the Great Recession in 2007, David said. Selling jewelry pre-Recession, he said, was as easy as opening the doors and running a fair business.
The downturn, however, tightened wallets and consumer habits. As a jeweler, David said he was among the first in 2007 to get a glimpse of the struggles to come. 
"I knew something before the world knew something was up because in Christmas of 2007, our numbers were off," he said before adding, "After the Recession, people are a little more hesitant."
---
The Recession has forced the couple to adapt its plans to get a cottage on Owasco Lake.
In a perfect scenario, David said, he would get a house on the lake and work on designs from the cottage for a few days a week in the summer. That model is "no longer realistic," David said, because he has to work harder to maintain the business he had before the downturn.
They made the decision to close the Webster store in November 2014 before shutting the doors with a fire sale that ended last June.
Looking to move to Auburn, David learned soon after that the Auburn Floors building would be unprepared for West & Co.'s arrival. He said the couple was faced with a few options as he and JoAnn await the completion of the remodel: Wait, retrofit an office space or slide into the Fingerlakes Mall to catch the holiday traffic.
The third has worked out so far since opening a few months ago — enough to consider keeping their spot at the mall with longer hours than the planned downtown location, David said. 
"There's something to be said for this mall. It's not a bad mall," he said. "It's kind of hit its own little bit of a rough patch, but that can always change. We'll just play it by ear and see."
Staff writer Greg Mason can be reached at (315) 282-2239 or greg.mason@lee.net. Follow him on Twitter @CitizenMason.