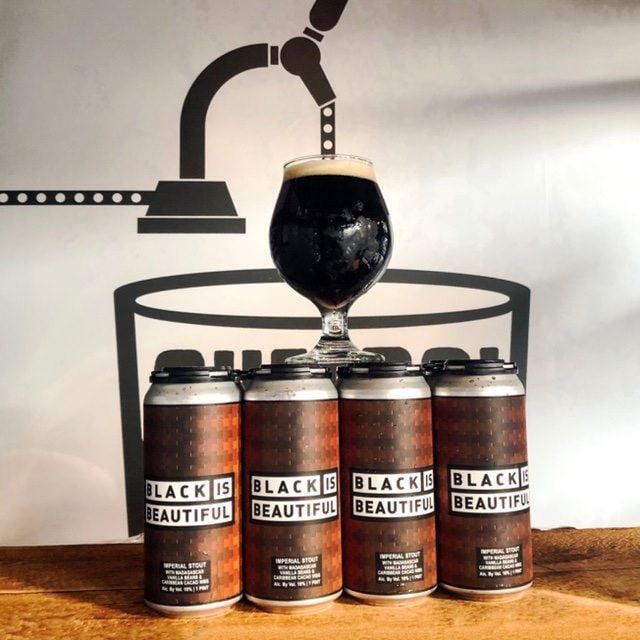 Brewery collaborations, like almost everything else in the world, have been a little different since COVID-19.
Before the pandemic, brewers would frequently get together and make beers at each other's facilities, give them cute portmanteau names and maybe reach some new customers.
Since COVID-19, however, social distancing has prevented brewers from getting together. But it hasn't prevented them from collaborating — and doing so for good causes.
This spring, hundreds of breweries collaborated with Brooklyn- and East Bloomfield-based Other Half to make All Together, an India pale ale whose proceeds support hospitality workers affected by the pandemic. Among the local breweries to make versions of All Together were Prison City Pub & Brewery and Next Chapter Brewpub in Auburn, Aurora Brewing Co. in Ledyard and Lunkenheimer Craft Brewing Co. in Weedsport. Like last year's Resilience, an IPA collaboration led by Sierra Nevada Brewing to raise money for Camp Fire relief, All Together gave participating breweries the same recipe to follow. So in addition to supporting those who've lost work since March, it was just a fun experiment, showing how each brewery can make even the same beer just a little bit differently.
This weekend, two breweries in Cayuga County are releasing their versions of another collaboration. But this time, the beer isn't just about supporting good causes. It's also about change.
A virtual forum on racism, featuring young Auburn voices, began Thursday, July 2, on the Facebook page of Auburn Public Theater.
Black is Beautiful is a worldwide collaboration led by Weathered Souls Brewing, of San Antonio. It provides the recipe for the beer, an imperial stout. And in return, the black-owned brewery is asking participants to donate all proceeds to local organizations that work toward equality and inclusion — and also to commit to that work themselves.
For Prison City and Aurora, that made brewing Black is Beautiful a "no-brainer," as Aurora co-owner Mark Grimaldi said. 
Craft beer is an industry dominated by white men, both he and Prison City co-owner Dawn Schulz noted. Though Black people are about 12% of the U.S. population, there are only about 80 Black-owned craft breweries in a country with more than 8,200 of them. That's less than 1%. And that's a statistic Schulz will no longer be complicit in, she said.
"Our industry deserves more from us," she told The Citizen. "Our community deserves more from us. Our Black brothers and sisters deserve more from us."
Prison City's version of Black is Beautiful, which features Madagascar vanilla beans and Caribbean cacao nibs, was released Friday in cans and on draft.
The State Street brewpub is donating proceeds from the beer to two local programs led by Black women: The Beverly L. Smith Empowerment Initiative and "Behind the Woman." The first is a leadership organization founded by Melody R. Smith Johnson, of Auburn, and the brewery's donation will fund a scholarship for La'Ronica Craven, a student at Wells College. The second is a WCNY show in which Dr. Juhanna Rogers highlights diverse women leaders from the region. Schulz called the show "a powerful piece of work that is driving diverse dialogue and collaboration."
Aurora, meanwhile, is still deciding where it will donate proceeds from its version of Black is Beautiful, Grimaldi said. The beer, which was conditioned on blueberries, marshmallows and flaked sea salt in addition to Caribbean cacao nibs and Madagascar vanilla beans, will be released next week. Aurora is also aging some in W.L. Weller bourbon barrels for release in a year or so.
Both of these anchors of downtown Auburn find themselves in parallel situations as the COVID-19 pandemic seizes everyone in its devastating grip.
The opportunity to brew Black is Beautiful arrived as Grimaldi was looking for an outlet for emotions he's been experiencing since the killing of George Floyd during an arrest by Minneapolis police officers in May. At times sad, at other times angry, Grimaldi wanted to help but didn't know how. He was also moved by the peaceful demonstrations of solidarity for racial justice in Auburn, he said.
"I went back and forth in my head trying to figure out a way to get the brewery involved in not only donating, but also doing more in supporting racial equality," he said.
Black is Beautiful provided that way, but Aurora won't stop helping there. For instance, Grimaldi would like to invite people of color to brew days in hopes of inspiring some to enter the industry. 
He's less concerned about the people who take issue with Aurora brewing Black is Beautiful. Grimaldi has yet to receive any backlash, he said, but "we don't need that type of people as customers anyway." Prison City, on the other hand, has already seen people say they'll no longer buy its beer or come to the brewpub, Schulz said, along with other racist comments.
"We can only hope and pray that everyone will take the time to really listen, watch, hear and learn," she said. "And maybe through this awareness, we (all) can start to bridge the gap."
---
What's on tap
Mark Grimaldi and Joe Shelton's Ledyard brewery is currently open for curbside pickup but not on-premise consumption. Though the profit margins on cans are slimmer than those of draft sales, Aurora is selling out of all its beer within about a week of release, Grimaldi said, and canning weekly to meet the demand. The brewery also offers statewide shipping, which the Liquor Authority is permitting during COVID-19. Aurora hopes to open for outdoor seating in a few weeks, and limited indoor seating and food in late August. The patio area has been expanded and redone, with new tables and chairs to seat more people. An overhang will also be added for outdoor seating in bad weather. Meanwhile, Aurora is undergoing major infrastructure changes during COVID-19. They include gutting the inside of the barn and rebuilding the taproom, which will be bigger with higher ceilings, a larger bar, a new tap wall, new bathrooms and a new pizza oven. The owners not only hope to bring pizza back, but also offer items like paninis, charcuterie and tacos. Other changes include building a new cold storage room and an addition to the barn on the property. The addition will house water holding tanks and treatment and filtration systems so the new deep well there can supply the brewery consistently, as well as a gray water recycling system for flushing toilets. The brewery has also redone its entire septic system.
The tasting rooms at the Weedsport and Sodus Bay locations of Derric and Kristen Slocum's brewery are open in accordance with the state's reopening guidance, so face masks and social distancing are strictly enforced. But Lunkenheimer sales remain mostly to-go, Derric said, which "accommodates the restrictions and seems to be the comfort level for most." Available cans include Elderberry Kölsch, which won a bronze medal at the 2020 New York State Craft Beer Competition, and Exit 40 Pale Ale, which won a gold and a silver there. Lunkenheimer's second rendition of the All Together collaboration with Other Half, this one a more traditional IPA, is available as well. (See Untappd for a full menu.) The Sodus Bay location has plenty of outside space for social distancing in addition to scenic views, Slocum continued. In Weedsport, meanwhile, the brewery has started moving to its new location across North Seneca Street, and hopes to be there fully by the end of the summer. 
After offering pickup and delivery during the pandemic, the Genesee Center brewpub reopened for on-premise consumption with an expanded patio in June. In accordance with the state's guidance, it offers a total of 71 seats inside and out. Owners Scott and Michelle DeLap thanked the city of Auburn for its support. They also plan to offer live music each weekend this summer. Other recent developments include the first hard seltzer from Next Chapter, Chapter Lucy Rose Raspberry, which will be followed by more in the coming weeks. The brewpub has also invested in a slushy machine for wine, beer and nonalcoholic slushies, which have been "a big hit so far," Scott said. Next Chapter's version of All Together IPA is still available there as well.
Live music has also returned at Summerhill, along with yoga under the tent outside from 7 to 8 Wednesday evenings. The southern Cayuga County brewery has changed its summer hours to 3 to 8 p.m. Thursdays, 1 to 9 p.m. Fridays and Saturdays, and 11 a.m. to 6 p.m. Sundays. Summerhill said its customers have been doing well with social distancing and other guidance, though some need reminders from time to time. Though seating in the tasting room is limited, there is plenty of space outside, and most of it is under cover of a tent or porch. Aside from social distancing and other sanitation measures, the only major change in the brewery is the replacement of its popcorn machine with prepackaged snacks. Food trucks also continue to visit. New beer options include John Lemons Blueberry Fields, a blueberry and lemon tea ale, and a low-alcohol ginger rhubarb ale called Abigail's Tonic that's releasing within the next month. Also popular has been Just the Tip, an IPA that uses the new growth from spruce trees in the same way as hops.