AUBURN — Children's eyes lit up Friday morning as they selected a new pair of pajamas and a new book from donations made to their classroom.
An Auburn medical practice with a goal of making a difference in the community brought donations of new pajamas and books to an Early Head Start classroom of 2-year-olds at Cayuga/Seneca Community Action Agency.
After a career practicing law wasn't as fulfilling as she hoped, Dr. Heather Wasileski decid…
The five children in the classroom crowded around a gray plastic tub filled with about 20 pairs of pajamas and 20 books.
Dr. Heather Wasileski and her staff helped distribute the items with classroom teachers — holding up books and pajamas for the kids to choose from. Children excitedly selected items that piqued their interest. For one boy it was a book about Disney Pixar's "Cars" while one girl selected a book about Disney's "Frozen" movie.
Children then huddled together with adults to listen to the stories their new books held, at one time pointing out pirate ships and octopuses to one another in a book about pirates.
The donations were collected by a medical practice run by husband-and-wife duo Dr. Wasileski and Dr. Gabriel Lurvey at Health Central, 37 W. Garden St., through a nonprofit called Pajama Program. The nonprofit connected the doctors to Cayuga/Seneca Community Action Agency as a donation site.
Patrizia Lafler, the agency's family partnership coordinator, said the agency gets a few Pajama Program donations a year, but this was special.
You have free articles remaining.
"We were on board right away," Lafler said, "this is local, this is different."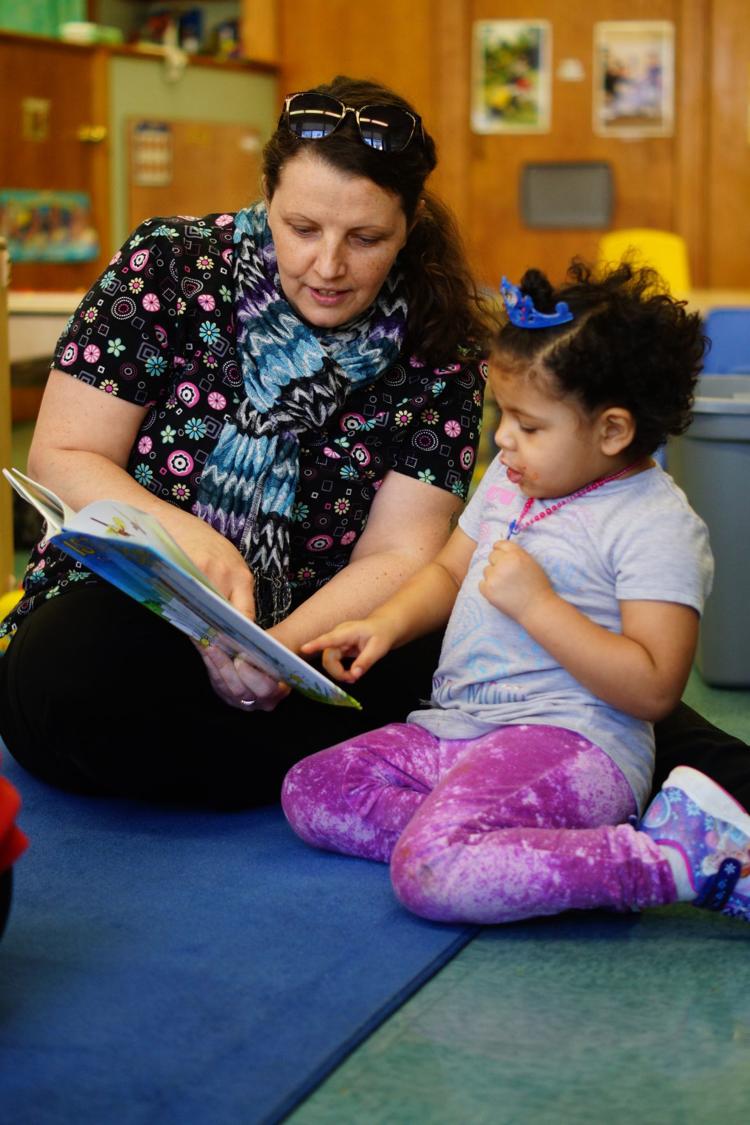 Kristin Roberts, one of the classroom's teachers, said it was exciting to see her students receive the pajamas and books. She noted it was perfect timing, as the classroom is doing a spirit week next week with a pajama day. Families are also coming in to volunteer for different read aloud times next week.
"Kahni won't let his pajamas go," Roberts laughed, as one of her students brought his pajamas over to a mirror and held them up to look at himself as if he were wearing them.
Dr. Wasileski said a few students even told her they now had something to wear for pajama day, which she thought was cute. With three sons of her own that she and her husband read to every night, she sees the value in a clean new pair of pajamas and a bedtime story. 
"It's just nice to have a comforting ritual at bed time," she said. "Having an adult read to them at night is just kind of a magical time."
Her office is interested in continued charity involvement, Dr. Wasileski said, adding that she wants staff members to help by picking causes they're passionate about because she believes it's important for medical offices to be involved in the communities in which they practice.
Dr. Wasileski hopes other businesses may be inspired to give back to the community more, noting some already have. Other offices in the same building as her medical practice also made pajama and book donations, in addition to those made by patients.
Amanda Welch, a nurse at the medical practice, said the office hopes to donate more pajamas and books in the future and maybe even to partner with the agency in other ways to meet needs through volunteerism.