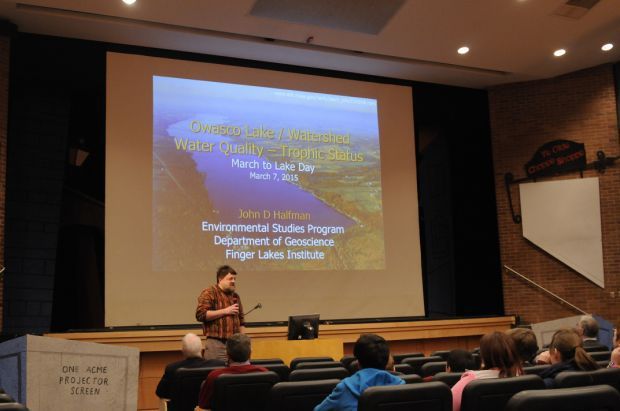 John Halfman's annual report on Owasco Lake called 2016 "a year of recovery." While drought conditions distressed homeowners and farmers alike, the lack of rain gave the lake time to heal by preventing nutrients and sediment from running into the watershed.
While the news appears good at first, Halfman, who is a professor at the Finger Lakes Institute at Hobart and William Smith Colleges, found that blue-green algae, or cyanobacteria, proliferated in 2016. 
"It's just recently that you've had big blooms nearshore, and they are huge," Halfman told Owasco Lake Watershed Management Council members and state Department of Environmental Conservation officials at a meeting late January. "They are a thousand times, 10,000 times the concentration that I see offshore."
Blue-green algae is old. Also known as cyanobacteria, it formed about 1 billion years after Earth. About 3.5 billion years later, it's surviving and thriving all across the globe, including in Owasco Lake.
Halfman has studied the lake since 2005, and for the past few years, blue-green algae has become an integral part of his annual reports. While many researchers and scientists have a certain amount of reverence for one of the oldest organisms on the planet, in Owasco Lake, the bacteria has become a kind bogeyman — or bogeything.
Many times, the bacteria do appear to have human-like tendencies. For example, they compete with other algae for sunlight, and thus survival. They float. They've developed characteristics so that other organisms do not like to eat them. They prefer warm water and warm air, and they prefer calm, sunny days after a good rainstorm. Halfman often describes the bacteria as "waiting," for their ideal conditions, which happen to be the same conditions most people enjoy, too.
Over time, the bloom season in Owasco Lake has increased. Halfman reported that in 2012, the DEC reported one week of blooms. In 2013, there were three weeks. In 2014, 2015 and 2016, there were six weeks of blooms. Halfman said this could also be due to more eyes on the water looking out for blue-green algae. Still, concentrations have increased from an average of 165 micrograms per liter in 2014 to an average of 3,150 micrograms per liter in 2016. 
The blooms are becoming more toxic, too. The most prolific toxin in Owasco Lake's blue-green algae blooms appears to be microcystin. The liver toxin was found at levels as high as 1,800 micrograms per liter last year. The highest measured in 2014 was just 75 micrograms per liter.
Those levels are scary, considering the DEC's threshold for microcystin recreational concentration is 20 micrograms per liter, and the U.S. Environmental Protection Agency's health advisory levels for the toxin in drinking water is 0.3 micrograms per liter for children under the age of 6.
"It is a concern that it appears the concentrations of the blue-green algae appears to be increasing from year to year," said Eileen O'Connor, director of Cayuga County's Environmental Health Division. "That is a concern. It seems like the blooms are greater and with a greater concentration. That just shows the urgency of us all within the watershed, doing our part to reduce nutrients."
For something that has been around for so long, cyanobacteria know how to adapt. That's what's had scientists scratching their heads, because typically cyanobacteria grow in lakes with poor water quality. While Halfman said Owasco Lake is on the verge of becoming a mesotrophic, or medium quality lake, it's still considered oligotrophic — water that is clear and with very few nutrients.
And there's the rub. Nutrients, specifically phosphorous, are considered one of the most important ingredients to making blue-green algae.
"When algae make themselves, they need one phosphorous for every seven nitrogens," Halfman said. "It will continue that growth until one runs out. Phosphorous will run out way before nitrogen runs out, and that limits growth."
Halfman has studied the nutrients coming into Owasco Lake and the nutrients flowing out. Almost every year the lake has received more phosphorous than it shipped out. In 2016, Owasco Lake gained 0.8 metric tons of phosphorous, Halfman reported, and that's in a dry year. 
"What you want to make the lake better is many years of less comes in than goes out," he said.
But one year alone won't solve the lake's problems. Halfman said it will take Owasco Lake about five water retention times to renew itself. What does that mean? Halfman said if you completely drained Owasco Lake, it would take two years for it to fill back up to its present-day levels. That two-year period marks one water retention cycle. So, he added, it would take 10 years for Owasco Lake to renew itself.
In a statement to The Citizen regarding Halfman's report, the DEC said it "is aggressively working with state and local partners to curtail phosphorous loading. Nutrient mitigation measures are already underway to reduce nutrient levels in the lake."
The DEC also cited a $600,000 state grant awarded to the Owasco Watershed Lake Association and its partners that "will evaluate the factors triggering cyanobacteria blooms in the lake, including phosphorous and nitrogen, food web interactions, and the life cycle and movement of the blooms."
OWASCO — State representatives met at the Owasco Town Hall Monday afternoon to learn where t…
Owasco Lake has frequently been under the DEC's impaired status threshold of 20 micrograms per liter of phosphorous. Halfman said there were several times the lake's levels were over that number, but for the most part, Owasco Lake has stayed below. Halfman isn't convinced that the 20 micrograms per liter of phosphorous is an appropriate guideline for Owasco Lake, though. 
You have free articles remaining.
"Do you want a lake that is as clean as Skaneateles?" he asked the council members last month. 
"In which case, you want to be below eight to 10 (micrograms per liter)," he said. "You want a lake that's still productive enough to have good fisheries, but not so productive that you're eutrophic? Eight to 10. So, depends on what you want."
In a statement, DEC said the state "is evaluating the most appropriate nutrient target, or endpoint, for Owasco Lake with resources provided by the $600,000 in state funding. The endpoint will be informed by the work currently underway."
DEC said its primary focus is "on eliminating blooms from the lake, as well as predicting blooms."
Steve Lynch, director of planning & economic development, said he, too, feels there has to be more control of nutrients from all sources going into the lake. 
"We want to be going in the right direction, regardless of the weather," he said. "The inputs into the lake have been going on for over 200 years, so you can't turn that ship around in a year. But, we have to take the steps that we know are going to make the changes."
According to Halfman, most of what's coming into the lake is from nonpoint sources such as runoff from homes, farms, golf courses — nutrients snaking their way down tributaries and into the lake. His biggest concern, he said, is Concentrated Animal Feeding Operations, or CAFOs. Typically referring to dairy farms in Cayuga County, CAFOs have 300 or more animals that are kept confined for 45 days or more. 
Though most CAFO operations have storage tanks that hold at least six months of manure, winter can be a challenging time for farmers. At the January council meeting, Halfman showed the group a picture of manure that had been spread on snow near Firelane 20, an action that had occurred in the watershed a few years prior. Spreading on snow can easily allow the manure to become runoff. 
"I would put the heavy emphasis on CAFO operations," Halfman said. 
Pointing to the picture, Halfman said that one spread added a metric ton of phosphorous to the lake, more than all the phosphorous added to the lake last year. 
But for farmers like Greg Rejman, who owns and operates the CAFO Sunnyside Farms in the town of Venice, hearing that CAFOs are on the target list makes him frustrated. Rejman has about 4,300 milking cows and about 500 acres of his farm are in the Owasco Lake watershed. 
Rejman has a passion for farming, and that includes being a steward of the land and the water. He has a methane digester with about seven months of manure storage. His farm includes permanent grass fields to cut back on the flow of mud and dirt. He plants cover crops to also cut back on erosion, costing him about $102,000 or more each year on his 3,400 acres. 
"We're all here for clean water," Rejman said. "We're all in this together. Overall, I'd say that farmers are willing to work with people on it. A lot of it hasn't been proven that CAFOs are causing the water quality issues, but if it is proven, or if there's areas we can improve on, we're definitely game to work with people on it. We've done a lot over the years, and we continue to improve everything we do every year. That's just the nature of the way farming works."
Rejman acknowledged that there are always some "bad apples out there," but overall, he said, pointing the finger at CAFOs is not the answer.
Steve Ammerman, public affairs manager for the New York Farm Bureau, said a Cornell University paper published around the same time of Halfman's report, shows that the state's dairy producers "reduced overall phosphorous usage by 6.6 million pounds between 2004 and 2013." 
In Halfman's report, there are examples of those reductions showing up in Owasco Lake. In the Benson Tributary, for example, Halfman said phosphorous levels from a nearby CAFO operation have been reduced dramatically. 
"He did things," Halfman said about the farm. "He cleaned up his act. He should be asked, 'What did you do?' Whatever he's doing, it's helping, and other farmers might want to do the same thing."
Other potential sources of pollution, like wastewater treatment facilities and septic systems, are doing a good job, Halfman added, of reducing their nutrient loading into the lake. O'Connor said everyone should look at how they may be contributing nutrients, and do their best to minimize it.
"If everybody does that, I think we will see improvements over time," she said. "Everybody is responsible."
Staff writer Gwendolyn Craig can be reached at (315) 282-2237 or gwendolyn.craig@lee.net. Follow her on Twitter @gwendolynnn1.